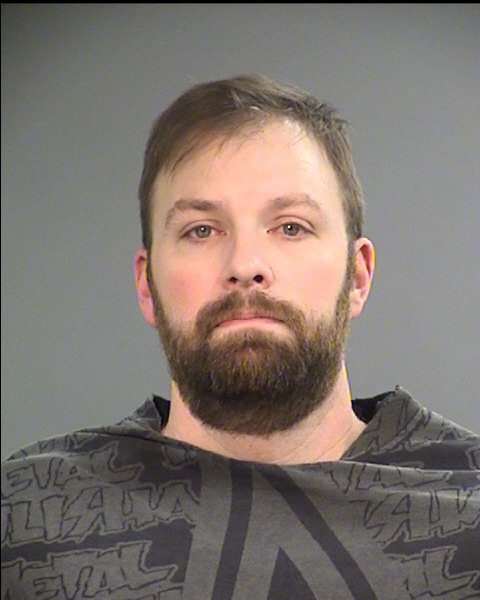 The Black Collar Crime Series relies on public news stories and publicly available information for its content. If any incorrect information is found, please contact Bruce Gerencser. Nothing in this post should be construed as an accusation of guilt. Those accused of crimes are innocent until proven guilty.
Donald Biggs, youth pastor at Mtn. Church in Medford, Oregon, pleaded guilty Friday to "one count of transporting with intent to engage in criminal sexual activity."
The Mail Tribune reports:
A former Medford youth pastor faces 10 to 15 years in prison after admitting he secretly recorded a juvenile in a bathroom.

In a U.S. District courtroom in Medford filled with youths, parents and church leaders he betrayed, Donald Courtney Biggs, 39, pleaded guilty Friday to a single felony count of transporting with intent to engage in criminal sexual activity.

The guilty plea spares Biggs, formerly a youth pastor at Mtn. Church in downtown Medford, and dozens of victims Biggs allegedly recorded in secret, from a weeks-long trial that was set to start later this month.

In his green Jackson County Jail uniform, Biggs made no statements and avoided eye contact with the audience. No victims made statements during the hearing, but U.S. District Judge Ann Aiken told victims she will allot as much time as needed to accommodate them at a sentencing hearing currently set for June.

Biggs has remained lodged in the jail since January 2015 following an investigation of inappropriate texting with minor girls in the church, according to earlier news reports.

The reports of inappropriate texting with minor girls led investigators to find recordings of adult and juvenile women in various stages of undress, according to Assistant U.S. Attorney Amy Potter, who is prosecuting the case.

The single charge specifies that Biggs recorded a juvenile exiting the shower during a March 2013 church trip to Huntington Beach, California, Potter said. As part of the negotiated agreement, nine other transportation and child pornography charges were dropped.

….

Outside the courthouse, Mtn. Church lead pastor and founder Jim Wright expressed a mix of anger, faith in the justice system and the need for forgiving hearts as he supported victims and parents. At his services last weekend, after recent news updates brought feelings about the case back to the surface, he cautioned his congregation not to let healthy anger become bitterness.

"I've been walking these families through this for three years," Wright said, adding later that children in his congregation, many now young adults, "have had to walk through incredibly deep valleys."

Wright also expressed frustration, which he said was mostly for the families, that Biggs dragged out his case since early 2015. He said he believes Biggs pleaded "under the notion of a deal, not a contrite heart."

Though Wright put his congregation's feelings of betrayal far ahead of his own, Wright said Biggs had been someone he trusted. Biggs had been Mtn. church staff for roughly six years, but Wright had known Biggs for close to two decades. Wright started Mtn. Church 11 years ago.

….
On February 7, 2018, the Mail Tribune reported:
Three years after a Medford church burglary sparked the seizure of dozens of videos of minors undressing inside his home, a former youth pastor is scheduled to stand trial on child pornography charges in federal court later this month.

A judge denied a motion Tuesday to reschedule Donald Courtney Biggs' Feb. 26 trial, according to filings in U.S. District Court in Medford. Dozens of witnesses will be called to testify against the former Mtn. (Mountain) Church youth pastor in a trial anticipated to last two weeks.

Recent filings by U.S. attorneys provide new details in the case against Biggs, 39, alleging he secretly took videos of minor girls changing at his home during church events and on church trips to California between June 2012 and March 2014. Biggs faces nine counts of using or attempting to use a minor to produce a visual depiction of sexually explicit conduct, and three counts of transportation with intent to engage in criminal sexual activity.

The more than 40 witnesses federal prosecutors intend to call include minors Biggs had been tasked with supervising at church activities, their parents and church employees.

Minors who participated in church activities are anticipated to testify that Biggs often encouraged "messy" activities or pranks that would require kids to change or shower during church activities, and would advise girls to bring a change of clothes, according to prosecutors. At church camps, Biggs allegedly would design "punishments" such as covering a kid in syrup and flour.

Minor girls and minor boys would use different bathrooms, and boys were often ostracized or isolated from the group, court documents allege.

Other witnesses U.S. attorneys have interviewed describe one-on-one meetings between Biggs and minor girls at the church and coffee shops, the documents say. Biggs would pick up minors from school to take them to lunch without parents' knowledge or consent, would give girls back and shoulder rubs, would instruct girls to lie to their parents about where they were going, and would buy them clothes, the documents claim. Biggs allegedly texted some girls several times a day with phrases such as "love you to the moon and back," "You are beautiful," "I love you" and "Missed you last night," according to court documents.

Inappropriate text messages sparked the investigation, according to a document filed Monday.

At the end of November 2014, police first investigated Biggs following a report of inappropriate texts between him and a minor, but police prematurely closed the investigation without reading the messages after the victim's father told police there was nothing wrong.

Police reopened the inquiry Dec. 26, 2014, when the church relayed a letter from a victim's grandparent alleging Biggs used "coercion techniques," saying at different times he'd buy the girl clothing, solicit photographs or tell the girl "she made him sad or made him cry." Biggs allegedly used software to wipe the contents of his phone before submitting the device to a digital forensic search, according to court documents.

When confronted, Biggs allegedly threatened that the church "would go down in flames" if they got him in trouble, according to a church employee prepared to testify. The church placed Biggs on leave by the beginning of January 2015.

Medford police arrested Biggs Jan. 15, three days after he triggered the church's burglary alarm allegedly to steal computer hard drives. During police questioning, prosecutors say, Biggs made admissions that shifted investigators' focus toward recordings.

….