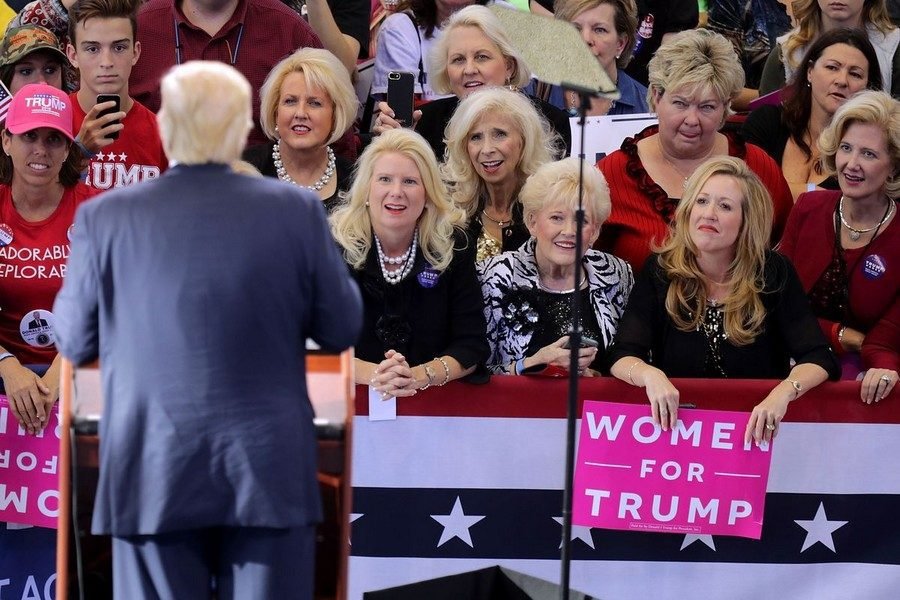 Guest Post by ObstacleChick
Dear Evangelical Christian Sisters,
You were my classmates, my friends at church, my relatives. We came of age in the 1980s when MTV, Madonna, Michael Jackson, Magnum PI, and Shaker sweaters were all the rage. We permed our hair and used a TON of hairspray. Nancy Reagan's "Just Say No" campaign against drugs was targeted at us, and we were terrified of HIV and AIDS. Boy George and David Bowie showed us a gender bender look, and within a decade our gay friends started coming out of the closet.
I left Evangelicalism, but you stayed. As Southern Baptist churches ramped up their complementarian teachings and the Moral Majority increased its efforts, you became more conservative in your political beliefs. You rallied behind the anti-abortion movement. You denounced feminism as destructive to the family. You were vocal in excoriating President Bill Clinton for lying about his affair with Monica Lewinsky (technically a sexual harassment situation as President Clinton was in a position of authority over Ms. Lewinsky). Many of you attended Christian colleges, got married, had kids. Some of you sent your kids to Christian schools not unlike the one we attended, teaching Fundamentalist Christian doctrine and creationism instead of science. Others of you chose to homeschool your children.
Most of you I have not seen in person since I moved a thousand miles away to start a new life in 1994. As social media took off and expanded, we have connected in a virtual way. Where I probably would never have heard about most of you or seen what you were doing, now I can see what your lives are like, what you do for fun, what you think is important enough to post on social media. Darn, you all look old. I guess I do too.
When you posted about marriage being between one man and one woman, I saw it. Every time you posted about the evils and horrors of abortion, I saw it. I saw when you voiced your support for Donald Trump and when you made fun of the Women's March. Those of you who remained silent through the era of the 2016 election – I saw you too. I like to think that you were conflicted, but I do not know for sure. When news reports showed children being separated from their parents in detention centers, I saw your posts talking about border control and following the law. Every time you post some pithy meme about putting "God" or mandatory prayers or Ten Commandments posters or plaques saying "In God We Trust" in a school, prison, town hall, or any other public property, I saw that too and wondered how we sat through the same history and civics classes yet you completely misunderstood the Establishment Clause (but then, history was my favorite subject and I was the history state champion for Tennessee Association of Christian Schools, and yes, I admit to being a jerk).
Now I see you, sisters, posting your support for Brett Kavanaugh, a man who has been accused of sexual abuse. You say you stand with Brett Kavanaugh. You post articles saying it's a con job by the Democratic party to support the "communist/Satanic/progressive sacred cow" of abortion. You call his accusers unreliable, you say they are unreliable, you ask where their witnesses are. I was especially sad to see you, my friend, posting in support of Kavanaugh, my friend who cried in anguish to us in high school when you revealed that your grandfather had raped you throughout your childhood – does sexual abuse only count if penetration occurs? Is that the line? Everything else is just . . . boys being boys? My heart breaks for you, and I can't understand why you, of all people, don't stand in solidarity with other women who were sexually abused as teenagers or young women. None of you waited until you heard Dr. Ford's testimony to call her a liar, a pawn of the Democrats, someone intent on "taking down" a conservative candidate just because of politics. You automatically assumed Kavanaugh was not guilty rather than listening to evidence and letting the whole situation play out.
Is the issue of abortion so important to you ladies that you are willing to turn your back on women who may have been sexually abused? Do you want forced prayers and Christian religious symbols so badly in the public forum that you denigrate women who come forward saying that Mr. Kavanaugh sexually abused them? Some of your posts blame "the left" for telling us which women to believe – the Democrats and Democrats only. I'm not sure where you came up with that information. I can't help but see the irony – the inconsistency – in your condemnation of President Bill Clinton two decades ago and your support of Brett Kavanaugh today.
Let me assure you, I do not care what your party affiliation is or whether you have one. If you tell me that some man shoved his "junk" in your face without your consent, I will support you. If you tell me someone pushed you down on a bed, covered your mouth, and tried to tear off your clothes, I will support you. If you tell me that a stranger grabbed your posterior in the subway, I will support you. If you tell me someone raped you, I will support you. You do not need to show me your voting record. You do not need to show me your social media posts supporting candidates or issues one way or another. I will support you. Why? Because it is the right thing to do. Because I value your right to ownership of your own body. Because I value your right to consent. Because I believe you should be heard, your story, all of it, regardless of who else was involved.
Do I believe you would do the same for me? I do not know. Maybe it depends on the situation and who was involved. And that makes me sad. It reaffirms my disgust with the religion that I walked away from so long ago.
OC