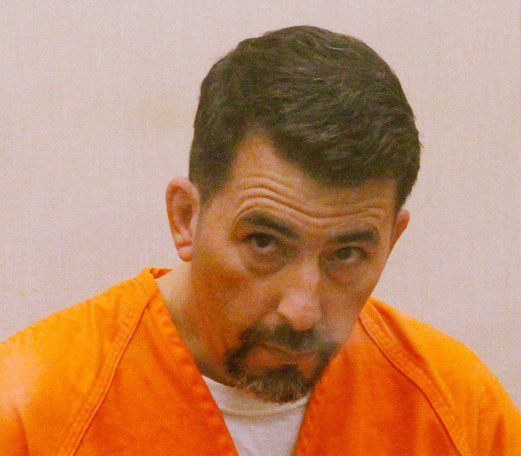 The Black Collar Crime Series relies on public news stories and publicly available information for its content. If any incorrect information is found, please contact Bruce Gerencser. Nothing in this post should be construed as an accusation of guilt. Those accused of crimes are innocent until proven guilty.
Malo "Victor" Monteiro, former youth pastor at Faith Baptist Church in Wildomar, California and former assistant pastor at Menifee Baptist Church in Menifee, California, stands accused of sexually abusing numerous children over a twenty year period. On August 16, 2018, Monteiro pleaded not guilty to all charges.
Three women have gone public with allegations that Monteiro sexually molested them while employed as a youth pastor at Faith Baptist Church — an Independent Fundamentalist Baptist (IFB) institution.
Joe Nelson, a reporter for The Press-Enterprise wrote a feature story detailing the allegations. What follows is an excerpt from his report:
April Avila said she was 14 when her youth pastor at Faith Baptist Church in Wildomar began grooming her for sexual abuse.

It started out as horseplay with Malo "Victor" Monteiro, who was twice the girl's age. He would throw a playful jab to her arm, teasingly touch or tug at her hair, call her pet names, and often ask her to help with special projects and work.

Then, things got intimate.

Malo "Victor" Monteiro, 45, of Colton was arrested July 27, 2018, on suspicion of sexually assaulting several underage girls, members of his youth group at Faith Baptist Church in Wildomar, from 1999 to 2017.

"What was once a friendly punch to the shoulder became a caressing touch. He would often wrestle me to the ground in response to teasing, his hands ending up in the wrong places. He would splash water on my shirt or push me into a pool or the ocean and then stand and watch as I walked out, laughing and ogling the entire time," Avila, 32, said in an "open letter" she recently posted on Facebook.

Two other alleged victims of Monteiro, as well as Monteiro's sister-in-law, Kathy Durbin, also have posted their stories on Facebook. Durbin claims to have been sexually abused in her teens by the church's former bus director, which was never reported to police, even though church pastor Bruce Goddard and his wife knew about the allegations.

The four women went public with their stories following Monteiro's July 27 arrest by the Riverside County Sheriff's Department on suspicion of molesting several teenage girls from the church over an 18-year period, from 1999 to 2017. They said they hope that by coming forward, any others who have endured similar abuse will be encouraged to come forward as well.

….

Less than 10 days before Monteiro's arrest, one of his alleged victims, Rachel Peach, filed a lawsuit against Faith Baptist Church in Riverside County Superior Court, alleging the church was negligent in allowing the abuse to occur. Peach claims her relationship with Monteiro started in the fall of 2007, when she was 15, and advanced to sexual intercourse in the summer of 2008.

Monteiro, according to the lawsuit, threatened Peach, telling her if anyone found out "it would damage her reputation and he would simply deny it." She claims the church was aware of other inappropriate sexual relationships between youth pastors and their congregants and should have known Monteiro had been sexually abusing her.

Bruce Goddard, pastor of Faith Baptist Church, did not return repeated telephone calls seeking comment.

Grooming started with texts
Although the Southern California News Group typically does not identify alleged victims of sexual abuse, Avila, Peach and another woman, Lea Ramirez, have come forward publicly with their stories. Ramirez claims she was 14 when she began receiving inappropriate text messages from Monteiro, who is married and has four children.

"I was confused because he was a married man, but flattered that he was thinking about me. He was my youth pastor, after all," Ramirez said in her Facebook post. She said she never had sexual intercourse with Monteiro, but added that he would make her feel guilty when she refused.

"He then became very persistent and would say things like, 'Stop pretending you don't want it.' 'You're all talk and no game.' 'You're just a tease,' " Ramirez said in her Facebook post. She said Monteiro was the reason she left the church when she was 15.

Durbin, Monteiro's sister-in-law, alleges she was a victim not of Monteiro, but of the church's former bus director — a man whom she considered a father figure and whose family she often babysat for. He initiated a sexual relationship with her in the early 1990s, when she was 15. He frequently complimented her on her looks, bought her gifts, and was someone Durbin could confide in. Father-daughter-like kisses on the cheek turned into kisses on the lips, and then the two started having sex.

"I didn't like it. I felt awkward and it was uncomfortable and gross," said Durbin, 43, who now lives in Montana with her family. "I was emotionally his little girl, and so I let him have what he wanted to keep this father-daughter relationship going. I didn't realize it at the time, but looking back, it's very clear that he had groomed me."

When Goddard learned of the relationship, he did not contact police, but instead moved the bus director, who was never charged with any crime and therefore is not being named, to another church out of state, according to Durbin. She said Goddard's wife, Tammy Goddard, blamed her for what happened and called her a "homewrecker."

"She just assumed it was my fault. I just remember sitting there crying and feeling so completely alone. I remember regretting telling Pastor Goddard," Durbin said in her Facebook post.

She said she and Monteiro both attended the church as teens, and that Monteiro was aware of what happened to Durbin because he was dating her sister, whom he married.

"Victor has used my story and the cover-up of my situation to keep multiple teen girls quiet about what he was doing to them," Durbin said. "Victor told these girls my story and that nothing happened."

….
You can read the entire story here.
You can read a previous story about Pastor Bruce Goddard here.