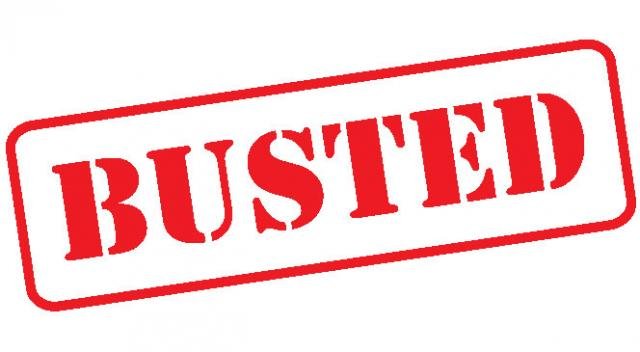 The Black Collar Crime Series relies on public news stories and publicly available information for its content. If any incorrect information is found, please contact Bruce Gerencser. Nothing in this post should be construed as an accusation of guilt. Those accused of crimes are innocent until proven guilty.
Gregory Reese, pastor of Mountain View Assembly of God Church (in Missouri?), was arrested last week and charged with three counts of second-degree statutory sodomy and one count of fourth-degree child molestation. Reese is accused of sexually molesting a minor girl.  Last year, one of the church's youth workers, James Lindsey, pleaded guilty to statutory sodomy of a child less than 12 years old.
The West Plain Daily Quill reported at time:
A Mtn. View man charged with one count of statutory rape of a person less than 14 years old and three counts of statutory sodomy of a person less than 12 years old was sentenced to 18 years in prison after entering a plea agreement Thursday in Howell County.

James Adam Lindsey, 29, pleaded guilty to one count of first-degree statutory sodomy with a person less than 12 years old and was sentenced by 37th Judicial Circuit Court Judge Don Henry.

Lindsey was charged Jan. 5, 2017, with statutory rape and two counts of statutory sodomy. On Jan. 23, an additional charge was filed against him after discovery of an alleged second victim.

According to probable cause statements, Lindsey allegedly had sexual intercourse with a child less than 12 years old between Nov. 5, 2016, and Dec. 28, 2016, while he and his girlfriend were babysitting several children in Lindsey's apartment. During the same time period, he is accused of having deviant sexual intercourse with the girl.

The other alleged incident, deviant sexual intercourse, took place with a boy less than 12 years old during July 2016. He reportedly told both victims the assaults were a secret between them.

Lindsey was reportedly named as a suspect in several Division of Family Services (DFS) reports of child molestation with five victims ranging in age from one to nine, most of them under the age of five. According to the reports, Lindsey is reportedly a serial pedophile who had been sexually assaulting children for six years prior to the charges. Three different reports from DFS in Dent County allege he had sexually abused four other children from 2011 to 2014.
(The church has no web presence.)
The West Plains Daily Quill later added:
A family member of one of the victims, who read about Reese's charges in Friday's edition, contacted the Quill to ask why it wasn't made public that Reese was a pastor at the Assembly of God Church in Mtn. View. During the phone call, the woman also reported that Reese wasn't the first church member to have been charged with sexual assault against a child.

The family member said she was concerned because church members had not been informed of charges against either Lindsey or Reese and she wondered if there might be other victims.

The information that Reese was a pastor at the church was released by the Associated Press after the Quill had gone to print.

The family member said Lindsey had reportedly served as a youth pastor in the church. However, after Reese was made aware of an allegation from a young girl that Lindsey had touched her inappropriately, Reese removed Lindsey from contact with children as a youth pastor.

According to the woman, Lindsey was later reinstated by Reese after his replacement didn't work out. He and Reese were close friends, she added, and she tried to avoid any personal interaction with Reese after the case was resolved.

In an effort to avoid Reese, she said she spoke with officials with the Ava Assembly of God Church while seeking rent assistance but was directed back to Reese. She said she told church officials why she didn't want to speak to Reese, telling them he had "covered stuff up," and offered them information from police reports and court records about Lindsey's case. However, she said they still directed her to Reese.