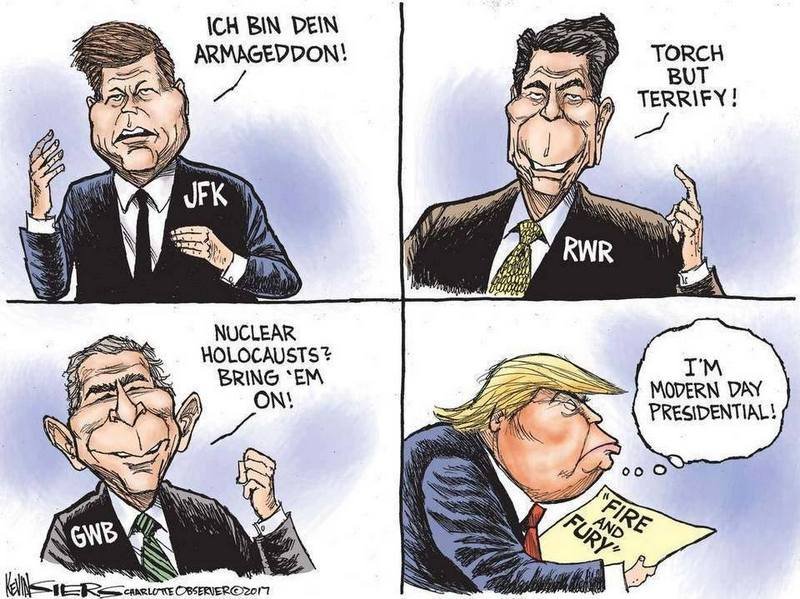 Warning! Snark ahead, mixed in with serious-as-a-heart attack political commentary, and seasoned with a few choice words for Donald Trump. You have been warned. Now, full steam ahead, matey.
Most Evangelicals believe that there is coming a day when Jesus will return to the earth and rapture away True Christians®. Once the true followers of Jesus are safe in God's internment camp, Jesus and his Father will unleash on the inhabitants of earth the horrors recorded in the book of Revelation. After seven years of non-stop slaughter and devastation, the Great Tribulation will end with Jesus again returning to earth. Jesus will arrive on a white horse, bringing with him an army of angels. He will do battle with the Beast, False Prophet, and their followers. Jesus, of course, wins this battle. Jesus is a W-I-N-N-E-R!  He kills everyone remaining on earth, and then casts the Beast and False Prophet into the Lake of Fire. Jesus will then reign on earth for 1,000 years (the millennial reign of Christ). At the end of this period, the Beast and False Prophet will be let out of the Lake of Fire so they can once again deceive the inhabitants of earth. This leads to another epic battle against Jesus and the forces of evil, with Jesus winning once again. Jesus always wins in this story. Afterward, Jesus will make a heaven and a new earth for True Christians®. Everyone else is cast into the Lake of Fire where they will be eternally tortured by the Christian God. Never, ever forget that this God, knowing human bodies will not withstand the horrors of Hell, plans of giving every non-Christian a new fire-proof body. All the pain, without melting flesh and eyeballs, said the Son of God — supposedly.
Did you get all that? Now, Evangelical eschatology is more complex than what I wrote above — Evangelicals fight amongst themselves over the finer points of the End Times — but that gives you a good idea of what most Evangelicals believe will happen sometime very soon — but not before the last season of Game of Thrones.
Central to Evangelical eschatology is the belief that people currently living in Israel (and New York) are God's chosen people; that they are Abraham's descendants spoken of in Genesis 22:15-18:
 And the angel of the Lord called unto Abraham out of heaven the second time, And said, By myself have I sworn, saith the Lord, for because thou hast done this thing, and hast not withheld thy son, thine only son: [Abraham had agreed to murder his son because God asked him too] That in blessing I will bless thee, and in multiplying I will multiply thy seed as the stars of the heaven, and as the sand which is upon the sea shore; and thy seed shall possess the gate of his enemies; And in thy seed shall all the nations of the earth be blessed; because thou hast obeyed my voice.
Evangelicals take these verses literally — kinda.  Evangelicals believe that these verses literally reference God's chosen people, the Jews. Yet, they get all metaphorical when someone points out that these verses also literally say that the descendants of Abraham will be numbered as the "sand which is upon the seashore."  One website estimates that there are about 5,000 billion billion (5 sextillion) grains of sand on earth's beaches. According to a BBC news report, roughly 107 billion people have lived on earth. If we take the aforementioned Bible passage literally, this number should actually be more than 5,000,000,000,000,000,000,000. Cue music, let the Bible literalists start dancing with their index fingers in their ears.
Not only does the Bible say how many Jews will live on earth, it also tells us exactly where they will live:
In the same day the Lord made a covenant with Abram, saying, Unto thy seed have I given this land, from the river of Egypt unto the great river, the river Euphrates: The Kenites, and the Kenizzites, and the Kadmonites, And the Hittites, and the Perizzites, and the Rephaims,1 And the Amorites, and the Canaanites, and the Girgashites, and the Jebusites. (Genesis 15:18-21)
According to the Bible, Moses — who took 40 years to cross a Walmart parking lot — led the Israelites out of Egypt to the land promised to Abraham. The location of that land is described this way in Numbers 34:
And the Lord spake unto Moses, saying, Command the children of Israel, and say unto them, When ye come into the land of Canaan; (this is the land that shall fall unto you for an inheritance, even the land of Canaan with the coasts thereof:) Then your south quarter shall be from the wilderness of Zin along by the coast of Edom, and your south border shall be the outmost coast of the salt sea eastward: And your border shall turn from the south to the ascent of Akrabbim, and pass on to Zin: and the going forth thereof shall be from the south to Kadeshbarnea, and shall go on to Hazaraddar, and pass on to Azmon: And the border shall fetch a compass from Azmon unto the river of Egypt, and the goings out of it shall be at the sea. And as for the western border, ye shall even have the great sea for a border: this shall be your west border. And this shall be your north border: from the great sea ye shall point out for you mount Hor: From mount Hor ye shall point out your border unto the entrance of Hamath; and the goings forth of the border shall be to Zedad: And the border shall go on to Ziphron, and the goings out of it shall be at Hazarenan: this shall be your north border. And ye shall point out your east border from Hazarenan to Shepham: And the coast shall go down from Shepham to Riblah, on the east side of Ain; and the border shall descend, and shall reach unto the side of the sea of Chinnereth eastward: And the border shall go down to Jordan, and the goings out of it shall be at the salt sea: this shall be your land with the coasts thereof round about.
Got all that? Me neither. Fortunately, Wikipedia has a map of the land irrevocably promised to Abraham and his descendants, the Jews.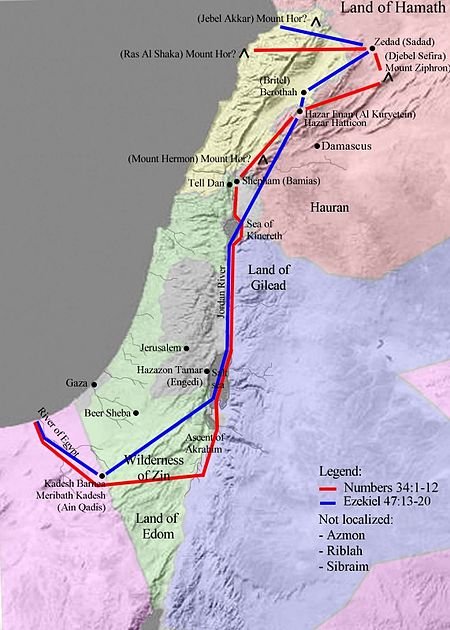 In May 1948, the nation of Israel was established with the blessing of the United States and other Western powers. Oh, and God approved too. This partitioning of land pushed Arabs into what is called the West Bank and Gaza Strip. The goal was to have independent Arab and Jewish states. This, of course has not happened. Instead, the Palestinians and Jews have been fighting one another for over five decades, leading to bloodshed and death. While both parties are to blame for the carnage, I can't ignore the fact that Israel actively persecutes the Palestinian people, leading some people to charge Israel with genocide. One thing is increasingly clear, Israel has no plans to walk away from the West Bank and Gaza. This, and other parcels of Middle Eastern land, was promised to them by Jehovah. End of discussion.
In 1981, after military skirmishes in 1967 and 1973, Israel annexed from Syria a parcel of land called Golan Heights. Israel's action was widely criticized at the United Nations, but Israel gave the international community a big fuck-you and said, this land is ours. End of story.
For the past seventy years, the aforementioned Bible verses have provided a foundation for the United States' foreign policy towards Israel, Palestine, and the Middle East. Ponder that thought for a moment. Here we are, the greatest military power on the planet, and our foreign policy is determined by some verses in a religious text written by Bronze Age sheepherders. Evangelicals, in particular, loyally and resolutely support Israel. Many Evangelicals do so because the Bible says in Genesis 12:1-3:
Now the Lord had said unto Abram, Get thee out of thy country, and from thy kindred, and from thy father's house, unto a land that I will shew thee: And I will make of thee a great nation, and I will bless thee, and make thy name great; and thou shalt be a blessing: And I will bless them that bless thee, and curse him that curseth thee: and in thee shall all families of the earth be blessed.
Millions and millions of American Christians believe that their health and prosperity depends on the United States supporting the nation of Israel. They fear God cursing them if the United States fails in their God-given blessing duty to the Jews. This is made worse by the fact that many of our political leaders buy into this nonsense. This is why Israel can literally get away with murder and the United States will not do anything. The U.S. continues to give Israel billions of dollars in military and foreign aid. Israel is a nuclear power, and they are because aid from the U.S. gave them the means to do so.
This brings us to President Donald Trump. Trump knows 81 percent of voting Evangelicals voted for him in 2016.  Ever the calculating psychopath, Trump knows that he will need the Evangelical vote again if he expects to be re-elected in 2020. The president has spent the past two years fawning over Evangelicals, giving them big wins on Supreme Court/federal court appointments, abortion, LGBTQ issues, and other hot button social issues. The man is a degenerate, but Evangelicals love him anyway. As long as he coddles Evangelicals and beckons to their every call, they will continue to love and support him. And in doing so, they have sold their souls to the devil and ceded any moral ground they may have previously held.
Evangelical Christianity has been co-opted by the Republican Party. Yes, there are pockets of progressive Evangelicals here and there, but they have been unable to mount an effective counter attack to Trumpism. My advice to progressive Evangelicals is for them leave their churches, taking their money with them. Start a new denomination or join up with mainline progressive Christians. The U.S.S. Evangelical is sinking with Captain Trump at the helm, and it's time for thoughtful Evangelicals to abandon ship.
Since taking office, President Trump has made two decisions affecting Israel that have Evangelical preachers walking around with a perpetual boner. First, he recognized Jerusalem as the rightful capital of Israel. This decision, of course, caused outrage among Palestinians locally and Arabs/Muslims across the globe. This decision alone was enough to fuel a war in the Middle East. Fortunately, cooler heads have prevailed, mainly due to the fact that the United States has not yet officially moved its embassy to the City of David, Jerusalem.
Second, the president recently said that the United States recognizes that the Golan Heights belong to Israel, not Syria. When I heard this, I said to my wife, how stupid can this dumb ass be? Does he not know or care what might happen as a result of this decision? I know, I know, rhetorical questions. Trump is too stupid to know that one of the underpinnings of U.S. policy is the belief that one day the Christian God will fight and defeat non-Christians in the Battle of Armageddon; that this battle will take place in the Middle East. All the president cares about is his bank balance and getting re-elected. War? Sure, bring it on. War is good for the American economy!
The president may be clueless, but some of his cabinet members aren't. Last week, Secretary of State Mike Pompeo — an Evangelical Presbyterian Christian — was asked the following question during an interview on nutter Pat Robertson's Christian Broadcasting Network (CBN):
Today's being Purim, a celebration. Jews worldwide and here in Jerusalem are talking about the fact that Esther 2,500 years ago saved the Jewish people with God's help from Haman. And now 2,500 years later there's a new Haman here in the Middle East that wants to eradicate the Jewish people like just like Haman did: the state of Iran. Could it be that President Trump right now has been sort of raised for such a time as this, just like Queen Esther, to help save the Jewish people from the Iranian menace?
Pompeo replied:
As a Christian, I certainly believe that's possible. It was remarkable – so we were down in the tunnels where we could see 3,000 years ago, and 2,000 years ago – if I have the history just right – to see the remarkable history of the faith in this place and the work that our administration's done to make sure that this democracy in the Middle East, that this Jewish state remains. I am confident that the Lord is at work here.
Let this be a warning to those who revel in the thought of Trump being impeached. The next in line is vice president Mike Pence, also an Evangelical Christian. Unlike Trump, Pence is a cold, calculating, educated Fundamentalist. Both he and Pompeo, along with other Trump cabinet members and political operatives hold Evangelical eschatological beliefs. This should scare the shit out of us. Global warming? No worries, because if these Bible thumpers get their way the earth is going to be turned into the location for the theater production of Cormack McCarthy's book, The Road.
Still think religious beliefs aren't harmful and don't pose a threat to the rest of us? Still think Evangelicals are a bunch of irrational people with quaint, but irrelevant, beliefs? If you have read this far, surely it has dawned on you that Evangelical eschatological beliefs pose an existential threat to the future of humanity. I am not overplaying my hand here. God's chosen people, Israel, and God's city on a hill, the United States, both have nuclear weapons. So does Russia. Do you know that millions of Evangelicals believe that a war against the United States and Russia is prophesied in the Bible? I don't have enough time to wade into this issue, but let me be clear, once the first ICBM or other nuclear weapon is launched, the world as we know it ceases to exist.
Theology matters, my atheist and non-Christian friends. We must not ignore that which can lead to our demise. We must politically push back against political leaders and policies that find their power in the pages of the Protestant Bible. Our future depends on secularism winning its battle for the heart of soul of the United States. As long as Evangelicals continue to attack the separation of church and state and demand the establishment of a theocratic state — and make no mistake about it, Evangelicals want God-rule — we must roll up our sleeves and fight. Imagine what the world will be like if we don't.
About Bruce Gerencser
Bruce Gerencser, 61, lives in rural Northwest Ohio with his wife of 40 years. He and his wife have six grown children and twelve grandchildren. Bruce pastored Evangelical churches for twenty-five years in Ohio, Texas, and Michigan. Bruce left the ministry in 2005, and in 2008 he left Christianity. Bruce is now a humanist and an atheist. For more information about Bruce, please read the About page.
Bruce is a local photography business owner, operating Defiance County Photo out of his home. If you live in Northwest Ohio and would like to hire Bruce, please email him.
Thank you for reading this post. Please share your thoughts in the comment section. If you are a first-time commenter, please read the commenting policy before wowing readers with your words. All first-time comments are moderated. If you would like to contact Bruce directly, please use the contact form to do so.
Donations are always appreciated. Donations on a monthly basis can be made through Patreon. One-time donations can be made through PayPal.