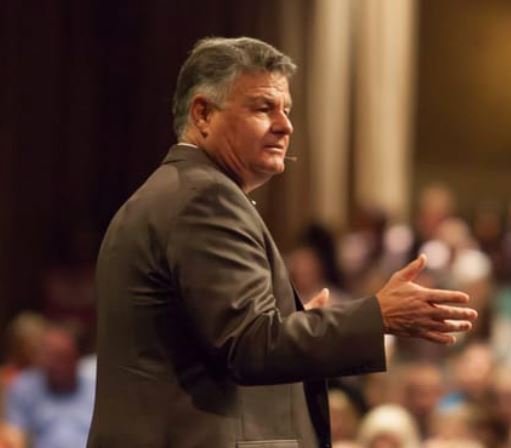 The Black Collar Crime Series relies on public news stories and publicly available information for its content. If any incorrect information is found, please contact Bruce Gerencser. Nothing in this post should be construed as an accusation of guilt. Those accused of crimes are innocent until proven guilty.
A year ago, I posted a story detailing sexual abuse allegations against Les Hughey, pastor of Highlands Church in Scottsdale, Arizona. The alleged sexual abuse occurred decades ago while Hughey was youth pastor at First Baptist Church (now Crosspoint Community Church) in Modesto, California. This revelation forced Hughey to resign as pastor of Highlands Church. At the time, Hughey release the following statement:
Over 40 years ago, as a church intern in California, I sinned and harmed the most important relationships in my life. I was unfaithful to my God, my wife, and the ministry, and was rightly removed from that church.

I engaged in consensual relations with fellow college-aged staff. With God's help, my wife's forgiveness, and discipline and counseling from church authority, I sincerely repented and we put our lives back in order. Unfortunately, it's impossible to undo what happened, so I instead accept and live with the consequences, even now so many years later.

My family and the authority over me at my church are aware of this history. I thank God for his forgiveness and grace.

Pastor Les Hughey
Hughey, according to the Arizona Republic, lied about the victim being "college-aged staff." The Republic reported at the time:
Carey Fuller was shocked to see the news about Hughey. For decades, she thought she had been the only one to receive one of what Fuller called his "famous full-body massages." That massage crossed the line when he groped her genitals, she told The Republic.

Hughey, then a youth group leader at Scottsdale Bible Church, was attractive and charismatic, Fuller recounted. He was married and in his late 20s at the time, she said.

"Everyone always wanted to be around him," she said. "It was always a gift to be around Les."

Fuller said she was honored to be selected as one of the few who were invited to hang out in the church van one night during a mission trip to Mexico when she was 18.

She happily accepted when Hughey offered her one of his "famous" massages, but she didn't know what to do when it suddenly went too far, Fuller said. Somehow, no one noticed in the van's dim light, so she figured it had must have been an accident.

"I wasn't a strong enough person and I didn't want to offend anyone there," Fuller said. "I didn't think to call him out, so I just laid there."

Fuller said she didn't realize that what had happened to her was sexual assault until she saw an article on azcentral.com Sunday.

Within hours, she learned at least five other women she had known during her time in the youth group said they had experienced the same thing, she said.

Her best friend, Juliet Buckner Pekaar, was one of them.

Hughey pulled the same "massage" ruse when they would travel together on band trips when she was 16, Buckner Pekaar said. The abuse continued until she married another youth pastor at the church when she was 19.

"His power was in making you think you were the only one," Buckner Pekaar said. "Nobody ever talked to each other, so there was just this shame and depression."

Neither of the women reported the incidents to police, they said.

Buckner Pekaar said she did attempt years ago to tell Scottsdale Bible Church staff members about Hughey's actions, but she said she stopped after their reaction made it clear they weren't interested.

…
I concludes the April 2018 post with this: Dare I ask the proverbial rhetorical question: can a leopard change its spots? According to a May 4, 2019 story by Erin Tracy in the Modesto Bee, the answer to this question is a resounding NO! Tracy writes:
A Modesto youth pastor accused of sexual abuse in his church here decades ago continued to prey on young women after moving to Arizona, a Scottsdale police report issued this week alleges.

The 100-page report compiled by Scottsdale Police Detective Tara Ford contains interviews with more than a dozen victims and witnesses who described sexually predatory behavior, including full-body massages, by Les Hughey during his time as a high school youth pastor at Scottsdale Bible Church in the mid to late 1980s.

The report was submitted to the Maricopa County Attorney several weeks ago for consideration of charges against Hughey, said Scottsdale Police Sgt. Ben Hoster. The county attorney's office did not return calls for comment about what charges Hughey could face.

The investigation began last April after The Bee broke the story about Hughey's alleged sexual misconduct during the time that he worked as a youth pastor at a popular church in Modesto.

Scottsdale police conferred with Modesto police on the investigation, but no reports were filed here.

Hughey, in his 30s and 40s at the time under investigation in Arizona, would tell dirty jokes and stories and normalized back rubs among the youth so it didn't seem inappropriate when he requested massages from the teenage girls, some as young as 15, according to the report.

He was able to get the job at Scottsdale Bible Church and work at several other churches before that because his alleged sexual abuse of girls at First Baptist Church in Modesto was covered up, according to a victim and two witnesses. First Baptist has since become CrossPoint Church.

Tracy Epler told The Bee last year that Hughey was her youth pastor at First Baptist in the late 1970s, when he coerced her into having sex when she was a 17-year-old virgin.

Four other women at First Baptist said Hughey would give them back rubs that bordered on fondling.

Epler confided in church leaders, but instead of an investigation, Hughey got what Epler described as a hero's sendoff, a "one-man Academy Awards show."

Hughey went on to work at churches in Sonora and Little Rock, Arkansas, before working at Scottsdale Bible Church for about a decade prior to founding Highlands Church, also in Scottsdale.

Hughey created what victims and witnesses interviewed by Scottsdale police described as a cult-like culture during his time as a youth pastor at Scottsdale Bible Church.

They described Hughey as charismatic and charming, the "life of the party." He sang and played the guitar in a band and had a "sort of celebrity status and a way of drawing people in."

They also described a man who could be cutting, tempestuous and narcissistic.

….

Hughey preached purity but created a sexually charged environment, according to victims and witnesses. Back rubs among the youth were encouraged, and sexual jokes were common.

Hughey used choir and mission trips to begin physical contact with the girls through full-body massages. This is how the grooming started, several of the women said.

All of the women interviewed said that within the youth group there was an "in crowd," Hughey's "inner circle," that got to stay up late with him during mission and choir trips and sit up front with him in the van he'd drive on the trips.

Fuller said she wanted nothing more than to be part of Hughey's inner circle, to be "one of the cool kids." Being invited at night into his van, which he'd sleep in during the trips, was like "reaching the pinnacle."

The first and last time Fuller accepted an invitation to his van, she was one of his staff during a trip to Mexico in 1989. There were others in the van, but it was dark.

Fuller said she gave Hughey a back massage and then they switched. Hughey started at her feet, worked his way up her legs, and touched her vagina through her shorts and underwear, according to the report. She jumped, then froze, and Hughey moved his hands back to her calves. She thought it must have been an accident, but then Hughey made his way back up her legs, rubbing her buttocks and in between her thighs.

Fuller said she doesn't remember how it ended or how she got back to her bed.

"The next day, she didn't want to see him, talk to him or make eye contact with him," the report reads.

While it pained her to do it because she was "blackballed" from the group, Fuller quit upon their return to Scottsdale.

The physical contact often would start with the girls giving Hughey massages. He was usually wearing only shorts or swim trunks and would instruct them to straddle him and massage his buttocks and thighs, then eventually he'd tell them to lie down so he could give them a massage, according to the report.

During her interviews with Scottsdale police, Jennifer Parrella described hearing about "Les' famous massages" before she experienced one inside Hughey's van during a mission trip to Mexico when she was 15.

She said there was another male staffer there as well as a teenage boy and that they were all making fun of her because Hughey had to instruct her on what to do.

When Hughey massaged Parrella, she said, she remembers feeling "he was heavy on top of me" and that he touched the side of her breasts.

Juliete Buckner Pekaar said Hughey massaged her on several occasions during church functions and after babysitting at his home. One of the incidents occurred during a choir trip to California. During the trip, they were staying at a cabin when Hughey gave her a massage.

"He sat on her butt, unlatched her bra, and then started touching the sides of her breasts, and then touched her at the groin area, before actually touching her vagina outside her clothing," Ford's report reads.

None of the women reported having sex with Hughey, although one said her memories of that time are too repressed to know for sure whether she did. She also was being molested by her father and said she was "the perfect target for Les."

Hughey resigned as senior pastor of Highlands, the church he founded, days after The Bee broke stories about Hughey's behavior at both First Baptist Church and Prescott Bible Church.