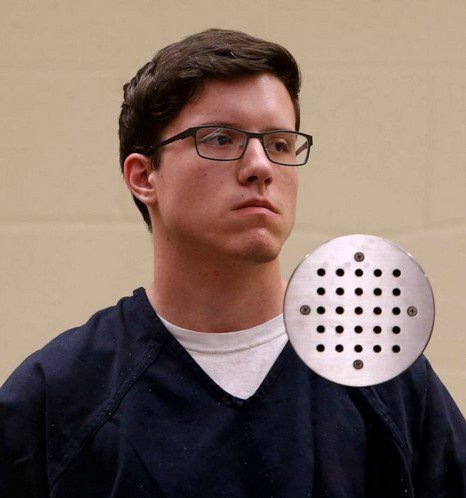 The Black Collar Crime Series relies on public news stories and publicly available information for its content. If any incorrect information is found, please contact Bruce Gerencser. Nothing in this post should be construed as an accusation of guilt. Those accused of crimes are innocent until proven guilty.
John Earnest is a committed member of Escondido Orthodox Presbyterian Church in Escondido, California.  The Calvinistic church is affiliated with the Orthodox Presbyterian Church (OPC) — a Fundamentalist denomination. Earnest's father in an elder in the Escondido church. On April 27, 2019, John Earnest entered a Jewish synagogue and opened fire, killing one worshiper and wounding several others.
John T. Earnest, the accused synagogue shooter, may have summed it up best himself.

"If you told me even 6 months ago that I would do this I would have been surprised," he allegedly wrote in an online manifesto before last weekend's attack on the Chabad synagogue near San Diego.

On Tuesday, Earnest entered a not guilty plea in court. Wearing glasses and dark blue jail-issued clothes, the 19-year-old was assigned a public defender as he faces one count of murder, a count of arson of a house of worship and three counts of attempted murder.

He will be held without bail while investigators, family and friends continue to piece together Earnest's baffling, and seemingly sudden, departure from the world he once knew.

How, and when, they wonder, did the piano playing, academic overachiever from a churchgoing family of lifeguards, go so wrong?

"How our son was attracted to such darkness is a terrifying mystery to us," Earnest's family wrote in a statement released this week. They said their son's "actions were informed by people we do not know, and ideas we do not hold."

Former classmates also say they were perplexed by the turn of events. The Earnest in court Tuesday is unrecognizable from the high school boy they knew two years ago.

Back then he was known as the guy who was so smart that he didn't bother to take notes in advanced chemistry and physics, but still aced every exam; so quiet that some teachers were startled when he spoke.

"I walked the same hallways as this guy, read the same textbooks, drove around the same areas, and essentially had the same upbringing," one student posted on the online forum Reddit, "but he became a murderer?"

….

According to law enforcement officials, Earnest used an "AR-type assault weapon" to shoot the victims. Prosecutors told a judge Tuesday that Earnest donned a tactical vest and helmet during the attack and had extra magazines of ammunition with him. The shooting, they said, was captured on video and abruptly ended when either his gun jammed or he was unable to reload. He fled the scene and called 911 on himself, making statements about the incident that San Diego District Attorney Summer Stephan described as "consistent with the charges."

….

In the online manifesto, Earnest allegedly wrote he was inspired by an attacker who killed scores of people at a New Zealand mosque and Islamic center on March 15. The teen said he conceived of and executed his own assault within a month. The assault on the synagogue was April 27.

The manifesto reflects a long-simmering, extreme hatred of Jews. His expletive-filled rant refers to Jews as degenerative, genocidal, ugly, cursed and corrupt. He blames the Jews for a multitude of what he considers societal problems, from communism to pornography. He added bigoted and racist comments about many other ethnicities, religions and races.

Earnest brags of what he calls his European ancestry — his "magnificent bloodline." He claims that his violence is condoned by his Christianity. He rails against law enforcement. He lists Adolf Hitler as one of his inspirations.

The teenager's family said they were disgusted by his actions, writing in their statement, "He has killed and injured the faithful who were gathered in a sacred place on a sacred day. To our great shame, he is now part of the history of evil that has been perpetrated on Jewish people for centuries."
Before he allegedly walked into a synagogue in Poway, Calif., and opened fire, John Earnest appears to have written a seven-page letter spelling out his core beliefs: that Jewish people, guilty in his view of faults ranging from killing Jesus to controlling the media, deserved to die. That his intention to kill Jews would glorify God.

Days later, the Rev. Mika Edmondson read those words and was stunned. "It certainly calls for a good amount of soul-searching," said Edmondson, a pastor in the Orthodox Presbyterian Church, a small evangelical denomination founded to counter liberalism in mainline Presbyterianism. Earnest, 19, was a member of an OPC congregation. His father was an elder. He attended regularly. And in the manifesto, the writer spewed not only invective against Jews and racial minorities but also cogent Christian theology.

So the pastor read those seven pages, trying to understand. "We can't pretend as though we didn't have some responsibility for him — he was radicalized into white nationalism from within the very midst of our church," Edmondson said.

Earnest's actions on Saturday in Poway — where he allegedly killed one Jewish worshiper and injured a rabbi, a child and another synagogue-goer — have spurred debate among evangelical pastors about the role of a certain stream of Christian theology in shaping the young man's worldview, which allegedly turned deadly on the last day of the Passover holiday.

Christian leaders across denominations condemned the attack, saying violence against others and white supremacy are completely antithetical to Christian beliefs. "Anti-Semitism and racist hatred which apparently motivated the shooter . . . have no place within our system of doctrine," the OPC denomination said in a statement.

But while some said Earnest's background in the church has nothing to do with his alleged crime, and the church shouldn't have to answer for him, others called for a moment of reckoning.

Some drew comparisons to Muslim communities asked to account for terrorist actions and worried that they could be in the same position when the shooter claims to be a faithful Christian.

"When there's an act of 'radical Islamic terror' — somebody claiming they're motivated by their Islamic faith — if we're going to call upon moderates in Muslim communities to condemn those things, we should do the same. I wholeheartedly, full stop, condemn white nationalism," said Chad Woolf, an evangelical pastor in Fort Myers, Fla., who was one of the first to join in heated debate online about how the attack reflects on evangelicalism. "We should recognize that somebody could grow up in an evangelical church, whose father was a leader, and could somehow conflate the teachings of Christianity and white nationalism. We should be very concerned about that."
Earnest could face the death penalty, if convicted.
For further information