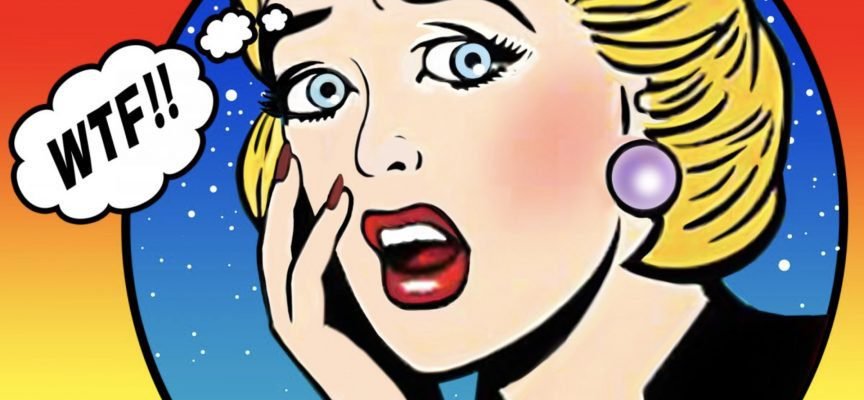 Guest post by ObstacleChick
We have already covered some basic WTF-worthy aspects of Evangelicalism. Here are a few more WTF-worthy items for your enjoyment.
Sunday School/Bible Study
These were small groups segregated by age group, or by gender, or by marital status. Larger churches would have children's Sunday school classes segregated by school grade. Children's classes would be focused on a Bible story, perhaps singing, and an age-appropriate craft or game. Teens were generally segregated by gender and school grade, and life issues would be discussed in "context" with Bible verses. Adult classes could be segregated by gender or by marital status (couple's classes) where life issues would be discussed in "context" with Bible verses, or Bible stories would be discussed in general.
Sword Drills
Students stand, Bible in hand at their side. The moderator calls out a Bible citation. The first student to find the verse and read it allowed correctly scores a point. (KJV Bibles only; no tabs separating books of the Bible allowed).
Pledging Allegiance to the American flag, Christian flag, and the Bible
This was done every day during Vacation Bible School and was done occasionally at church and occasionally at school. As an adult, I realized that this was a part of indoctrination of children into the concept of Christian Nationalism, that the USA was founded as a Christian nation and that our initial purpose has gone astray due to laws allowing "sin" and due to immigration of people who are not True Christians. And liberals – let's not forget the liberals.
Vacation Bible School (VBS)
Summer Jesus-themed fun for the 12-and-under crowd, complete with Kool-Aid (the literal and the figurative). There was generally a theme for the week (or 2 weeks depending on the church and their ability to muster up volunteers) with Bible stories, games, songs, and crafts. Children were encouraged to invite friends, and churches often advertised with mailed fliers and banners outside the church. A successful VBS ended in a plethora of baptisms the following Sunday.
Youth Retreats
An emotion-filled trip for the middle school and high school "Youth Group" to go on with the purpose of saving souls and reminding us to live our lives for Christ (i.e., don't have sex, drugs, alcohol, cigarettes; don't listen to rock music or see rated-R movies; witness to friends; be "in the world but not of the world"). By the end of the trip there would be a lot of crying, and a successful youth trip ended with a plethora of baptisms scheduled for the following Sunday service.
Revivals
Often, a guest pastor or pastors, and sometimes guest musical groups, would be invited to preach with the goal of scaring, I mean, saving souls. Members would be encouraged to bring guests. Revivals could last for a weekend or for an entire week with special programming. Successful revivals ended in a plethora of baptisms scheduled for the following Sunday service.
Communion
Communion, also known as the Lord's Supper, was celebrated with grape juice and crackers/wafers. Supposedly before Jesus was arrested, he shared a meal with his disciples. He broke bread and told them that the bread was his body, broken for them, to eat in remembrance of him. He told them to drink wine, as it was his blood shed for them, to drink in remembrance of him. Baptists believe this is a symbolic gesture of Christ's offering his body as sacrifice for our dirty, filthy sins. In our church, only baptized members of our particular congregation were allowed to participate in communion, which was conducted quarterly (closed communion). Baptists eschewed alcohol so grape juice was substituted for wine. We (made fun of) disagreed with Catholics who thought that the bread and wine actually converted into the body and blood of Christ through Jesus' Power.