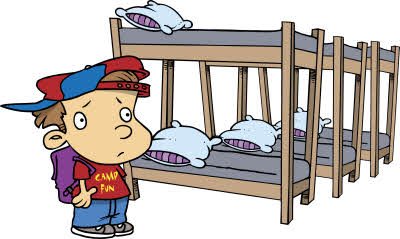 Many former Independent Fundamentalist Baptist (IFB) church members can remember attending summer youth camps during their teenage years. (Please see Camp Chautauqua, Miamisburg, Ohio.) I attended camp every summer between my seventh and tenth grade school years. The summer after seventh grade, I attended an Ohio-based Bible church youth camp. The next year, I attended Camp Patmos — a General Association of Regular Baptist Churches (GARBC) camp. The following two years, I attended Camp Chautauqua in Miamisburg, Ohio — a camp facility owned and operated by the Ohio Baptist Bible Fellowship.
I always looked forward to attending camp. It was one week out of the summer when I could get away from home and meet up with friends from other churches, meet new acquaintances and, most of all, fall in love. While there were plenty of girls to date at my home church, camp afforded me the opportunity to meet and pursue new loves. At the end of every camp, my new girlfriend and I traded addresses, promising to write one another. Surely, our "love" would survive until next year's camp, right? Alas, such relationships died by the time the church bus turned out of the camp's driveway headed for home. Forty-five years later, I am still waiting for that beautiful black-haired girl from Elyria to write me. Something tells me that she won't be writing, and much like her redheaded flame, she found that absence does not make the heart grow fonder, and a nice-looking boy at church is a lot more appealing than the promise of letters to come.
In 2016, I wrote a post detailing my experiences at Camp Chautauqua:
I have many fond memories of the two summers I spent at Camp Chautauqua. The spiritual emphasis was intense and played an instrumental part in my call to the ministry. A number of the big-gun Baptist preachers preached at the evening chapel services. I can still remember Peter Ruckman's sermons, complete with his famous chalk drawings. I also remember John Rawlings, then pastor of Landmark Baptist Temple (now Landmark Church) in Cincinnati, preaching one night, and during his sermon he told an illustration about cleaning shit out of the barn when he was young. He actually said the word SHIT!! Needless to say, I was stunned. Later in life, I learned that some Christians didn't think shit was a curse word, especially when used to describe animal manure.

Camp brought upwards of a thousand youth together for one week. Camp Chautauqua had a lot of real estate for meandering teens to get lost in. Follow me for a moment…It's the 70s. A thousand teenagers, ninth through twelfth grades. Lots of real estate in which hormone-raging teens could get lost. Well, use your imagination. The highlight of youth camp for me was the girls.

….

The first year I went to Camp Chautauqua, Gene Milioni, the pastor of Trinity Baptist, was our cabin counselor. He was pretty easy to outwit. The next year, the youth pastor, Bruce Turner, was the cabin counselor, (please see Dear Bruce Turner) and he proved to be every bit our match. He was not so far removed from his own youth that he had forgotten the dangers of putting a bunch of teenage boys and girls in proximity to one another.

Practical jokes were an everyday occurrence. The jokes were fun to pull on others, but payback could be brutal. From stolen bedding and purloined light bulbs to shaving cream in sleeping bags, practical jokes were a part of what made camp a great experience. And besides, I was a pretty good joke perpetrator.

The music was another highlight of camp. Most of the churches that brought their teens to camp were mid-size to large churches, so the music talent level was superb. Wonderful music. To this day, I think some of the best singing I have ever heard was at Camp Chautauqua.

If I had a negative experience at camp, I don't remember it. Perhaps, this is the wistful remembering of an old man trying to recall what happened 45 years ago during the glory days of his youth. Perhaps my fond memories are a reflection of the fact that camp, for me and for many others, was a respite from our fundamentalist churches and family dysfunction. Camp was the one week out the year that I got to hang out with my friends and meet new people without having adults watching my every move.
This summer, thousands of IFB teenagers will go to camp. Some teens will attend camps at the facilities mentioned above. Others will attend camps such as the Bill Rice Ranch or The Wilds. My wife's family is deeply ensconced in the IFB church movement. Many of her relatives send their teens to the Bill Rice Ranch — an uber-fundamentalist camping program. Some IFB churches, wanting to preserve their INDEPENDENT status, hold their own camps. I did this for several years in southeast Ohio. We would rent a camp for a week, and then invite like-minded churches to attend. The last camp I participated in featured a preacher from Fort Wayne who believed Christians could be demon-possessed. He spent the week excusing all sorts of bad behavior as demon possession. By the time the week was over, I wanted to strangle the man. Come the next Sunday, I made sure the teens and adults from my church who attended the camp knew that I totally disagreed with the notion of Christian demon possession.
Over the weekend, I pondered my experiences attending IFB youth camps, and whether my feel-good camp experiences covered up something insidious; that these camps, regardless of how much fun campers have, are tools used by IFB churches and pastors to indoctrinate children and teenagers. IFB church leaders know that they must draw in children and teens before they can be indoctrinated. Thus, camp advertising materials focus on all the fun campers will have, and not the fact that there will be hours-long Bible studies, devotionals, church services, and afterglows (highly emotional after-service campfires). High-powered IFB evangelists, youth pastors, and conference speakers are brought in to evangelize the lost and indoctrinate the saved. Most camp attendees will return to their home churches "on-fire" for God. Perhaps former IFB church members will remember the Sundays after camp when attendees were paraded in front of their churches and asked to give testimonies about what God had done for them over the past week. Passionate testimonies of conversion or getting right with God, complete with tears, are often heard. Adults shout "AMEN!", praising God for the work he has done in the lives of church teenagers. Yet, in a matter of weeks or months, life for these "changed" teenagers returns to normal, just in time for the church's annual youth revival or other event meant to stir religious passions.
Many IFB teenagers become immune to indoctrination, enjoying the fun and enduring the Jesus stuff. Others, such as myself, become caught up in a constant cycle of sinning and getting right with God; a continual striving for holiness and perfection. The ultimate goal of camps, youth revivals, youth rallies, and youth conferences is to thoroughly indoctrinate teenagers so they will actually "feel" God calling them to full-time service as pastors, evangelists, missionaries, and Christian school teachers. Those feeling "called" will be further indoctrinated, hopefully leading them to "feel" God calling them to attend an IFB college. (Many IFB preachers see teens called into the ministry as the highwater mark of their ministries, the passing on of the Fundamentalist Baptist torch.) Countless IFB preachers felt the "call" of God at youth camp. While I felt the "call" during a service preached by IFB evangelist Al Lacy, there's no doubt summer youth camp played an instrumental part in my decisions to become a preacher, attend Midwestern Baptist College, and pastor Evangelical churches for twenty-five years.
How about you? Did you attend IFB summer youth camp? Please share your experiences in the comment section. Non-IFB church camp stories are welcome too!
About Bruce Gerencser
Bruce Gerencser, 62, lives in rural Northwest Ohio with his wife of 41 years. He and his wife have six grown children and twelve grandchildren. Bruce pastored Evangelical churches for twenty-five years in Ohio, Texas, and Michigan. Bruce left the ministry in 2005, and in 2008 he left Christianity. Bruce is now a humanist and an atheist. For more information about Bruce, please read the About page.
Are you on Social Media? Follow Bruce on Facebook and Twitter.
Thank you for reading this post. Please share your thoughts in the comment section. If you are a first-time commenter, please read the commenting policy before wowing readers with your words. All first-time comments are moderated. If you would like to contact Bruce directly, please use the contact form to do so.
Donations are always appreciated. Donations on a monthly basis can be made through Patreon. One-time donations can be made through PayPal.