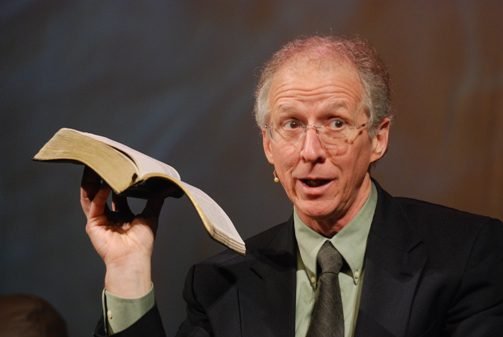 It is normal, beautiful, fitting, natural, and normative, according to Scripture, both explicitly and — I would say — implicitly in many places, for a married couple to have children. This was God's plan from the moment of creation; it was part of what was "very good." "God blessed them. And God said to them, 'Be fruitful and multiply and fill the earth.'"
….
This is the whole drift of God's word: children are a gift; children are a blessing. When they are withheld, it is a heartache — sometimes even a judgment.
….
What a sadness when many modern women, shortsightedly I think, choose to forgo that blessing, while millions would literally give their right arm to have it. That's observation number one: it's just the way Scripture leans.
….
Of course, we don't know whether we will have a disabled child or not, who changes our lives forever. Of course, we don't know whether a child will break our heart with unbelief. Of course, we don't know if our child will live six hours and then die. And of course, we do know that our children will demand enormous, focused attention. We do know that to raise a child in the Lord demands spiritual desperation and prayer and focus and attention. We do know that there will be financial demands from our lifelong commitment to this child. We do know that there will be thousands of hours that you must deny yourself an immediate felt need in order to do good to this child.
But from the standpoint of God's word, none of those possible heartaches and none of these guaranteed stresses are reasons not to have children, because the Bible does not share the modern viewpoint that the aim of life is the avoidance of hardship. On the contrary, the assumption of the Bible is that through many tribulations we enter the kingdom (Acts 14:22), and that the testing of our faith produces steadfastness (James 1:3), and that there's joy to be found through giving ourselves away. Jesus said, "It is more blessed to give than to receive" (Acts 20:35).
In other words, almost all the arguments for not having children are built on a worldview radically different from the Bible's worldview.
….
There's another problem with presuming to think that we can do more good by not having children — like, for climate change. The problem is: we simply do not know whether our child will be a debit or a credit to the human race — a curse or a blessing, a taker or a giver. We don't know. He may be a freeloader with a big carbon footprint, or he may be the genius who invents the very means of saving millions of lives. Who do we think we are? My goodness, who do we think we are to predict that our children will be a loss rather than a gain for the world, and for the glory of Christ, whom we can believe and pray to?
We don't know, and it's not our business to know. Our business is to give them life and raise them up and do what we can to build into them every dream and every possibility and power and blessing for the world — and for the glorifying of God.
And my final observation is that not one couple in a thousand decides to have children by sitting down and calculating the effect of their child on global warming, or the replacement rate for the population so that thirty years from now the workforce will be big enough to sustain the aged, or whether we will certainly have enough resources to establish the child in a fruitful location. It just doesn't happen that way — not for 99 percent of couples. And I'm suggesting it shouldn't happen that way; we're not smart enough for it to happen that way, and the Bible doesn't encourage us to have children with that mindset.
— John Piper, Desiring God, Are Christian Couples Required to Have Kids? August 3, 2020