Repost from 2015-2016. Edited, updated, and corrected.
It's 4 AM and, like every night, I am still awake.
The sounds are so clear this time of night:
The tick-tock of Big Ben on the nightstand,
Cars as they drive through the sleepy rural town we call home.
A sound machine softly plays in the background, a nightly ritual that lulls my lover to sleep.
The wind is blowing briskly as the wind chimes sing their harmonies into the fall night.
I can feel the cold draft from the wind as it pushes its way through the window frames of our 140-year-old home.
She is covered up, trying to warm herself as cold air blows over her head.
She lies beside me, just as she has these 42 years.
I look over at her and remind myself of what a great life we've had.
We have faced many battles that left us bruised and bloodied, but we survived. That's what we are — survivors.
The Bible is right, there is a love that endures. She and I have that enduring love. Until death do us part, we promised each another one hot July day so many years ago.
Recent events have brought us face to face with our mortality, my mortality, her mortality.
What if it is cancer? What if there are surgical complications? What if the hourglass is close to running out? Dare we ponder our own mortality and bitter end?
Come what may, I've had a good life. Whether I live till Christmas or another 20 years, I am grateful for the life she and I have shared.
Forty-four years ago, a beautiful young girl dared to flirt with a brash, outspoken redheaded boy. And just like that, in the blink of an eye, we lie here in the stillness of the night, our lives shaped and filled by our shared experiences.
I think of our children and our grandchildren. I want to wake her up and say, we did well, we have more treasure than the richest man on earth.
I won't wake her; she needs her sleep.
I hope she knows that I love her.
It's almost 6 AM and I can feel the drugs beginning to win the battle. Sleep will soon come, and if I awake another day will be mine.
Isn't that all any of us can hope for?
Just one more day . . .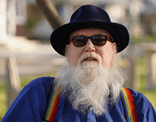 Bruce Gerencser, 64, lives in rural Northwest Ohio with his wife of 43 years. He and his wife have six grown children and thirteen grandchildren. Bruce pastored Evangelical churches for twenty-five years in Ohio, Texas, and Michigan. Bruce left the ministry in 2005, and in 2008 he left Christianity. Bruce is now a humanist and an atheist.
You can email Bruce via the Contact Form.
Your comments are welcome and appreciated. All first-time comments are moderated. Please read the commenting rules before commenting.