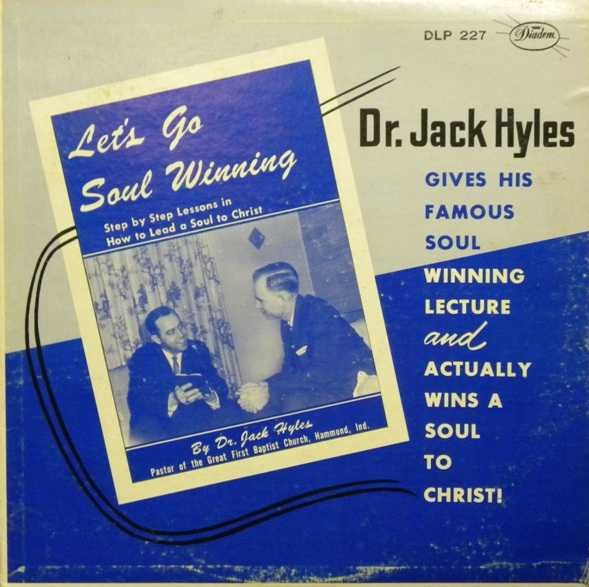 The fruit of the righteous is a tree of life; and he that winneth souls is wise. Proverbs 11:30
Soulwinning — the art, the endeavor of sharing the gospel with sinners and leading them to put their faith in Jesus Christ. A metaphor for evangelism or witnessing. (It is not a word found in the English dictionary.)
Soulwinner — a person whose purpose, desire, and motivation is to share the gospel with sinners and lead them to put their faith in Jesus Christ. (It is not a word found in the English dictionary.)
The Bible makes it clear that every church should be a soulwinning church and every Christian should be a soulwinner.
And he said unto them, Go ye into all the world, and preach the gospel to every creature. Mark 16:15
Go ye therefore, and teach all nations, baptizing them in the name of the Father, and of the Son, and of the Holy Ghost: Teaching them to observe all things whatsoever I have commanded you: and, lo, I am with you always, even unto the end of the world. Amen. Matthew 28:19-20
Matthew 28:19,20 is commonly called the Great Commission. While some may argue that the Great Commission was given ONLY to the eleven disciples, most sects and pastors think the Great Commission is a command given by Christ to every Christian in every generation, until Jesus returns to earth.
Why is it then that most Christians never verbally share the gospel with another person? I am not talking about inviting people to church so the head soulwinner, the pastor, can preach the gospel to them. I am not talking about nonverbal, just let your light shine or any of the other excuses Christians give for not verbalizing the gospel to those who do not know Jesus Christ as their Lord and Savior. Why is it that most Christians never, one time, in a clear, concise way, share the good news of the gospel with a lost, hell-bound sinner? Isn't not doing so a direct repudiation of the Great Commission — a direct command given by Jesus to his followers?
The Independent Fundamentalist Baptist (IFB) church movement has turned soulwinning into fine art. Churches hold soulwinning conferences and clinics. These special events are used to light a fire under church members who are not soulwinners. They are also used to train members in the best soulwinning methods and techniques. Technique matters. IFB Evangelist Dennis Corle bragged to me that he could win a soul in five minutes. According to him, all a soulwinner had to do is follow the script. Follow the script, use proper technique, and you too can be a great soulwinner like Dennis Corle.
No one was a bigger promoter of soulwinning than the late Jack Hyles — the former pastor of First Baptist Church in Hammond, Indiana. Hyles was famous for telling stories like this:
A few years ago I was in a Bible Conference in Houston, Texas. After a morning service, I returned to my room at one of the large motels on the north side of Houston. To my surprise, the door to my room was open and I heard singing coming from the bathroom. After checking the room number with my key, I realized I was in the right room. Perhaps someone else was in the wrong room.

I hollered through the door, inquiring who was there, only to find it was the Negro maid cleaning out the bathtub. She was actually down in the tub cleaning out the ring.

I asked her if she were a Christian. She said, "Mercy, no! I am as mean as the devil." I got my Testament out and showed her the plan of salvation. All the time she was in the bathtub. After I showed her how to be saved, she knelt in the tub and received the Saviour.

I have laughed many times about this and have jokingly said, "I guess I am the only preacher in the world who ever won a lady in a bathtub!" This is just another of the many unusual experiences that God gives to soul winners. We should be on the lookout constantly for people who need the Saviour.

I have won people to Christ in train stations, in bus depots, on airplanes, in grocery stores, in barber shops, in shine parlors, in service stations, in garages, in school buildings, on ball diamonds, and in many other places. There are many hungry hearts waiting for someone to tell them the story.
You can read more of Hyles's soulwinning stories here. Hyles was a powerful preacher and a masterful storyteller. He was also a pathological liar.
For decades, Hyles and First Baptist Church conducted what they called Pastor's School — a week-long event used to motivate pastors and church leaders to win more souls. Under the leadership of John R. Rice and Curtis Hutson, the Sword of the Lord held Soulwinning Conferences all over the country. These conferences were used to encourage and motivate pastors and churches that had forgotten Jesus's command to go into all the world and preach the gospel to every creature.
From the 1960s-1980s, countless IFB churches experienced explosive growth as they went into the highway and hedges and compelled (without vampire powers) sinners to put their faith in Jesus. In the 1970s, many of the 100 largest churches in America were IFB churches.
Today? First Baptist Church in Hammond, once the largest church in the world, no longer conducts Pastor's School, The Sword of the Lord no longer holds soulwinning conferences all over the country. Most of the IFB churches that made the Top 100 list in the 1960s-1980s are shells of what they once were. Some have even closed their doors. What happened?
In 1976, I enrolled at Midwestern Baptist College in Pontiac, Michigan to study for the ministry. Midwestern, a small IFB college, was known for producing preachers who were great soulwinners. Tom Malone, the founder and chancellor of Midwestern, was also the pastor of nearby Emmanuel Baptist Church. Every student was required to attend Emmanuel.
For many years, thanks to its bus ministry, Emmanuel experienced explosive attendance growth, and was listed as a Top 100 church. Emmanuel saw high attendance days of over 5,000. Soulwinning was the lifeblood of the college and church. Students were required to go out soulwinning at least once a week, and each week they required to account for their soulwinning activities, by filling out a slip that detailed how many doors they knocked on, how many people they witnessed to, and how many people they led to Christ. Many students, myself included, lied about their soulwinning activities. Fake it till you make it, right?
Midwestern held a soulwinning contest while I was student there. Students competed with each other to see who could win the most souls. The winner of the contest usually won a hundred or more souls. Every student was required to participate in the soulwinning contest. One year, the college put up a big banner and a chart that was used to track who was winning the most souls. In the mind of Tom Malone, soulwinning was all that mattered.
Today? Midwestern has sold off its buildings. A developer had turned the main school building into a senior center, and the dorm has been turned into an apartment complex. The handful of students who remain meet for classes at Shalom Baptist Church in Orion Michigan. Emmanuel, a church that once bragged about being a Top 100 church is no more. Its church facilities are up for sale.
What happened? Why is Emmanuel closed, Midwestern a shell of what it once was, and the IFB church movement facing steep numerical decline?
If you ask IFB pastors this question, they will likely tell you that the WORLD is the cause for the attendance decline. People love sin more than they love Jesus. They might even point the finger at Evangelical mega churches and their slick marketing, worship bands, and relational sermons. Where they will never point the finger is at themselves. In their minds, they are the true church, preaching the true gospel. They seem unable to see that it is their theology and methodology that has led to their precipitous decline.
Instead of preaching a transformative, holistic gospel, many IFB pastors preach what is commonly called decisional regeneration — also known as easy-believism or one-two-three, repeat after me. Salvation became a simple transaction between a sinner and God — believe these propositional truths and thou shalt be saved. Sinners were told to pray a prayer:
Dear Lord Jesus, Thank you for dying on the cross for my sins. Come into my heart and save me from my sins. Thank you for forgiving my sins and giving me eternal life. I am trusting you to take me to heaven when I die. Amen.
According to countless IFB churches and pastors, if people pray this prayer, they become, in that moment, born-again Christians. Millions and millions of Americans have prayed a prayer such as the one above. From Billy Graham crusades and Campus Crusade outreaches to Southern Baptist churches and IFB churches, the sinner's prayer contained the magic words that made one a child of God. This bastardized version of the gospel filled churches with people who had no idea about what it meant to a Christian or a member of a Christian church.
The sin of the soulwinning movement and the IFB church is that they thought that winning souls was just a matter of using the right techniques. Pastors taught church members to use certain formulas such as The Roman's Road to lead people to saving faith in Christ. Got Questions, a Fundamentalist website explains The Roman's Road like this:
The Romans Road to salvation is a way of explaining the good news of salvation using verses from the Book of Romans. It is a simple yet powerful method of explaining why we need salvation, how God provided salvation, how we can receive salvation, and what are the results of salvation.

The first verse on the Romans Road to salvation is Romans 3:23, "For all have sinned, and come short of the glory of God." We have all sinned. We have all done things that are displeasing to God. There is no one who is innocent. Romans 3:10-18 gives a detailed picture of what sin looks like in our lives.

The second Scripture on the Romans Road to salvation, Romans 6:23, teaches us about the consequences of sin – "For the wages of sin is death; but the gift of God is eternal life through Jesus Christ our Lord." The punishment that we have earned for our sins is death. Not just physical death, but eternal death!

The third verse on the Romans Road to salvation picks up where Romans 6:23 left off, "but the gift of God is eternal life through Jesus Christ our Lord." Romans 5:8 declares, "But God demonstrates His own love toward us, in that while we were still sinners, Christ died for us." Jesus Christ died for us! Jesus' death paid for the price of our sins. Jesus' resurrection proves that God accepted Jesus' death as the payment for our sins.

The fourth stop on the Romans Road to salvation is Romans 10:9, "that if you confess with your mouth Jesus as Lord, and believe in your heart that God raised Him from the dead, you will be saved." Because of Jesus' death on our behalf, all we have to do is believe in Him, trusting His death as the payment for our sins – and we will be saved! Romans 10:13 says it again, "for everyone who calls on the name of the Lord will be saved." Jesus died to pay the penalty for our sins and rescue us from eternal death. Salvation, the forgiveness of sins, is available to anyone who will trust in Jesus Christ as their Lord and Savior.

The final aspect of the Romans Road to salvation is the results of salvation. Romans 5:1 has this wonderful message, "Therefore, since we have been justified through faith, we have peace with God through our Lord Jesus Christ." Through Jesus Christ we can have a relationship of peace with God. Romans 8:1 teaches us, "Therefore, there is now no condemnation for those who are in Christ Jesus." Because of Jesus' death on our behalf, we will never be condemned for our sins. Finally, we have this precious promise of God from Romans 8:38-39, "For I am convinced that neither death nor life, neither angels nor demons, neither the present nor the future, nor any powers, neither height nor depth, nor anything else in all creation, will be able to separate us from the love of God that is in Christ Jesus our Lord."

Would you like to follow the Romans Road to salvation? If so, here is a simple prayer you can pray to God. Saying this prayer is a way to declare to God that you are relying on Jesus Christ for your salvation. The words themselves will not save you. Only faith in Jesus Christ can provide salvation! "God, I know that I have sinned against you and am deserving of punishment. But Jesus Christ took the punishment that I deserve so that through faith in Him I could be forgiven. With your help, I place my trust in You for salvation. Thank You for Your wonderful grace and forgiveness – the gift of eternal life! Amen!"

Have you made a decision for Christ because of what you have learned through the Romans Road to salvation? If so, please click on the "I have accepted Christ today" button below.
Soulwinners are told to stay on point, reiterating the points in the soulwinning plan. If unsaved sinners ask questions not related to salvation, the questions are to be ignored and sinners steered back to the soulwinning plan. They are to give sinners just enough information to get saved. Their questions would be answered later after they were baptized and became a part of the church.
Think for a moment about what I have written here. Doesn't all of this sound similar to a sales program used by Amway or some other direct marketer? Work the plan! Stay on point! Press the prospect to make a decision! Don't let them ask questions! Close the sale!
When I was in college, I sold Kirby vacuüm cleaners. My Dad sold them for many years, and I thought, like father, like son. Every Saturday, the local Kirby office would hold mandatory sales meetings for their salesmen. These meetings were pep rallies meant to motivate salesmen to sell more vacuüm cleaners. They even sang songs with lyrics like There's power, power wonder-working power in a Kirby, sung to the tune of the There's Power in the Blood.
Bruce Gerencser, 66, lives in rural Northwest Ohio with his wife of 45 years. He and his wife have six grown children and thirteen grandchildren. Bruce pastored Evangelical churches for twenty-five years in Ohio, Texas, and Michigan. Bruce left the ministry in 2005, and in 2008 he left Christianity. Bruce is now a humanist and an atheist.
Connect with me on social media:
Your comments are welcome and appreciated. All first-time comments are moderated. Please read the commenting rules before commenting.
You can email Bruce via the Contact Form.