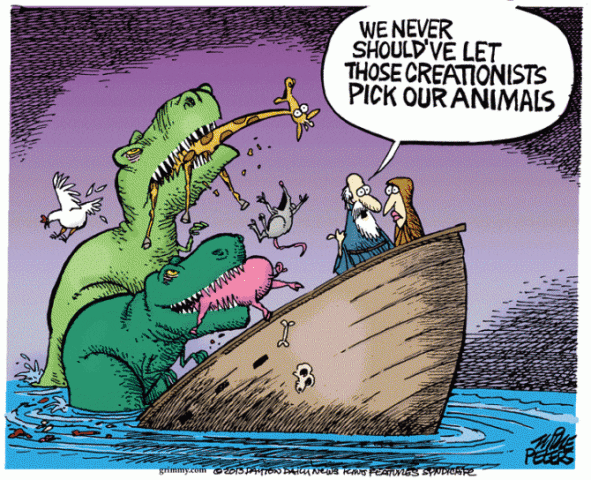 People often wonder how all of the animals could have fit on the ark. Often, "bathtub arks" are loaded down with various species of animals, rather than the biblical kind, which is approximately at the family level of biological classification. Noah didn't need to bring lions, leopards, and tigers onto the ark, just a single pair from the cat kind. We see so many illustrations of large creatures packed tightly into a little boat. But this image is inaccurate too. Noah's ark was so much larger than it is usually depicted, and many of the animals were probably smaller than are shown in popular pictures.
But the biggest hurdle people have when they see any of our displays of the ark (or visit the Ark Encounter) is seeing dinosaurs depicted on the ark (or in stalls in the Ark Encounter). Due to evolutionary indoctrination, many people can't picture man living alongside dinosaurs, or if they do, they think of the Jurassic Park/World movies and view all dinosaurs as wanting to trample or eat people. Even if they overcome or set aside this stumbling block, we still get questions of how dinosaurs could even fit on the ark, particularly when considering the massive dinosaurs, especially the sauropods. Other oft-cited "problems" with dinosaurs on the ark are feeding the herbivores the massive amounts of vegetation that the adults eat, feeding the carnivorous ones (and avoiding being eaten by them), and cleaning up after them.
It makes more sense to think that God would have sent to Noah juveniles (or sub-adults) or smaller varieties within the same kind. Consider the following advantages to bringing juveniles or smaller versions of a creature: they take up less space, they eat less, they create less waste, they are often more docile and easier to manage, they are generally less susceptible to injury, and they would have more time to reproduce after the flood. And considering this last point, wasn't that the end goal of bringing them on board the ark: to keep them alive and to ensure that they would "be fruitful and multiply on the earth" (Genesis 8:17)? Bringing a full-sized dinosaur that only had a few years left and/or was past its reproductive prime seems illogical and wasteful. Neither of those is characteristic of God.
Regarding carnivorous activity, we know from the fossil record (most of which is a testimony of the worldwide, globe-covering flood) that some animals were carnivores in the post-fall/pre-flood world. But even if carnivory was prevalent in the late pre-flood world, it is still possible the animals that God sent did not eat meat or were omnivores that could have survived for one year without meat. There have been modern examples of animals normally considered to be carnivores that refused to eat meat, such as the lion known as Little Tyke. Additionally during times of war or natural disaster when meat was unobtainable, zoos and wildlife parks have utilized meat substitutes1 like nuts, peanut butter, coconuts, beans, soy, and other legumes as their protein-source feed for the animals.2
However, if some of the ark's animals did eat meat, there are several methods of preserving or supplying their food. Meat can be preserved through drying, smoking, salting, or pickling. Certain fish can pack themselves in mud and survive for years without water—these could have been stored on the ark. Noah may have also brought mealworms and other insects onto the ark as food, and these can be bred for both carnivores and insectivores, providing even necessary amino acids, like taurine. Cricket or grasshopper flour could be baked into breads, as could the ground seeds of gourds. And plants like amaranth and quinoa yield high protein feed. Yeast paste and dried seaweed also contain high amounts of protein and taurine, so Noah quite likely had many options available to him. And occasionally in desperate times, like during the Nazi siege of Leningrad in 1941, even obligate carnivores (in this case, a tiger) have switched to vegetarian diets and survived for several years.
For the plant-eating dinosaurs, the animals brought on board could have eaten compressed hay, other dried grasses, dried vegetables, seeds and grains, legumes, etc. Another factor that may have reduced food consumption for both vegetarian and carnivorous dinosaurs is that they went into a state of hibernation/brumation or torpor. Many reptiles today begin to eat less, reduce their metabolic rate drastically, and then "sleep" for long periods of time when the weather gets a little cooler, virtually eating nothing and waking up only for brief periods to drink before reentering brumation. Often the best conditions for this state are humidity, temperatures between 50° and 68° F (10° and 20° C), and low-light conditions. The outside weather at the time of the flood (rainy and thus likely cool) combined with the lower-light interior compartments of the ark would make ideal hibernation/brumation conditions on the ark. If any of the dinosaurs and other reptiles and amphibians went into brumation, then food requirements would have been severely reduced.
— Troy Lacey, Answers in Genesis, Dinosaurs on the Ark: How It Was Possible, April 28, 2021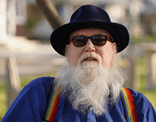 Bruce Gerencser, 64, lives in rural Northwest Ohio with his wife of 43 years. He and his wife have six grown children and thirteen grandchildren. Bruce pastored Evangelical churches for twenty-five years in Ohio, Texas, and Michigan. Bruce left the ministry in 2005, and in 2008 he left Christianity. Bruce is now a humanist and an atheist.
You can contact Bruce via email, Facebook, Twitter, or YouTube.
Your comments are welcome and appreciated. All first-time comments are moderated. Please read the commenting rules before commenting.