Today, I received the following card from someone local to where I live:
I am not sure why the sender would feel "anxiety" over sending me an anonymous card. The "worst" that thing that could happen is that I would share the card on my blog, exposing the sender's words to critique and, perhaps, ridicule.
The sender did list a street address (no city or zip code) on the envelope. A cursory Google search revealed two local locations for this address: Bryan and Bowling Green. This doesn't mean, however, the sender lives in one of these communities. Local mail is processed through the Detroit, Michigan processing center. So, the sender may live somewhere farther away from my home. Or, she could have had layovers at the Detroit or Toledo airport and mailed the card from there. I say "she" because the handwriting seems to be that of a woman.
The sender calls me "Mr. Bruce." This usage is somewhat odd: perhaps the person has never met me face to face, is an immigrant, from the South, or believes in using proper form. My grammar Nazi grandmother and I traded numerous letters when I was a child. Her letters to me were always addressed to "Master Bruce Gerencser," and later in life to "Rev. Bruce Gerencser." (Man, do I miss Grandma's letters!)
The sender signs her name saying, "In Christ's Love." I assume from that that she is a Christian, and I will use that assumption for the rest of what I say about this card.
The sender believes her God has laid something on her heart that she wanted to share with me:
I pray for you
I pray for your heart
I pray that you may know you are a blessing
I pray that you may know that you are loved
I have been told thousands of times over the years by Christians that they are "praying" for me: praying that I will get saved, praying that I will come back to Jesus, praying I will get right with God, praying God will kill me, etc. Lots of praying, but as of the writing of this post, not one Christian prayer mentioning Bruce Gerencser has been answered — not one. Either God ain't listening or doesn't care, or there is no God, and all these prayers made it as far as the ceiling before bouncing back to earth.
The sender says she is praying for my "heart." I assume she is using the word "heart" in a spiritual sense; that my "heart" is lacking or defective in some way. I reject the idea that humans have spiritual "hearts." The same goes for us having "souls." But, setting that aside for a moment, how could the sender possibly know the true condition of my "heart"? The Bible says that man looks on the outward appearance, but God looks on the "heart." (I Samuel 16:7) I assume the sender is judging my heart's condition based on what she sees and knows about me outwardly: that she has concluded, based on her external observations, that I need a "heart" transplant.
I was in the Christian church for fifty years. I pastored Evangelical churches for twenty-five years. By all accounts, my "heart" was in the right place for most of my life. I slavishly and devotedly loved and followed Jesus, the eternal, virgin-born, miracle-working, crucified, resurrected, coming-again-in-power and-glory Son of the one true God. My "heart" yearned to be filled with the Holy Spirit. My "heart" ached for those dead in trespasses and sins. I diligently preached the Christian gospel and evangelized sinners, hoping that none should perish and that all should come to repentance (2 Peter 3:9). I wasn't "perfect," but tried to be, walking in humility, truth, and holiness, without which no man shall see the Lord. And when my "heart" felt conviction over sin? I repented, applying 1 John 1:9 to my life.
Yet, at the age of fifty, I walked away from Christianity. I am now an atheist, one who opposes the religion he once believed and practiced. By Bible standards, I am a heretic, an apostate, a reprobate, an enemy of God; one who has spit in the face of Christ and done despite to the spirit of grace (Hebrews 10:29). What changed? Did Satan secretly in the night remove my Christian "heart" and replace it with an "atheist" heart? Of course not. What changed was my "mind." I once believed, and now I don't. The only thing wrong with my mind is that I don't remember things as well as I used to. Other than that, I am the same Bruce post-Jesus. I have weighed Christianity in the balance and found it wanting. What once made perfect sense to me no longer does (Please see The Michael Mock Rule: It Just Doesn't Make Sense.)
The sender says that she is praying that I know I am a "blessing." A blessing to whom, exactly? I am most certainly not a "blessing" to Evangelical Christians. Everything I write is in opposition to their beliefs and practices. Quite frankly, I am not sure what the sender means by this statement. I am the village atheist, well-known for my opposition to Christianity. More than a few Evangelical zealots wish I would stop being such a "blessing" to others. 🙂
Finally, the sender is praying that I will know that I am "loved." This is where the proverbial pancake becomes slathered with syrupy Christianese. I suppose I should be glad she didn't use the word "unconditional" to modify the word "love." (Please see Does God Love Us Unconditionally?) Perhaps the bigger question is whether Christians should love me. After all, I am leading people astray, causing countless people to walk away from Christianity. I know the Bible says Christians should love their enemies, but what does the sender really mean when she says she's praying that I will "know I am loved?" By God? By Jesus? By Christians?
God is a myth, Jesus is dead, and if I had to judge Christianity based on how I have been treated by the supposed followers of Christ over the past thirteen years, I would conclude that Christianity is a morally bankrupt religion. Mahatma Gandhi was right when he said: I like your Christ, I do not like your Christians.Your Christians are so unlike your Christ.
To the sender I say this: I am fine just the way I am. There's nothing wrong with my "heart." I am loved by people who matter to me, and they know I love them in return. I am "blessed" by having them in my life. I don't want, need, or desire to "loved" or "blessed" by Christians, especially anonymous senders of cards. (I do have several Christians in my life I deeply love.) If the sender truly wanted to connect with me, she would have let me know who she was. Instead, she sent me an anonymous cryptic message that God allegedly laid upon her heart. If she knows me at all and has read my writing, she surely knew how I would respond to her "message."
As I finished up this post, it dawned on me that this card could be from a Christian who is sending messages to random people; I was just one of her lucky targets. The fact that she said she had a "touch of anxiety" suggests that this person does, in fact, know me. She knows that I am an anxiety-causing kind of guy. 🙂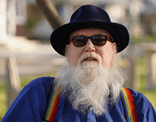 Bruce Gerencser, 64, lives in rural Northwest Ohio with his wife of 43 years. He and his wife have six grown children and thirteen grandchildren. Bruce pastored Evangelical churches for twenty-five years in Ohio, Texas, and Michigan. Bruce left the ministry in 2005, and in 2008 he left Christianity. Bruce is now a humanist and an atheist.
You can contact Bruce via email, Facebook, Twitter, or YouTube.
Your comments are welcome and appreciated. All first-time comments are moderated. Please read the commenting rules before commenting.