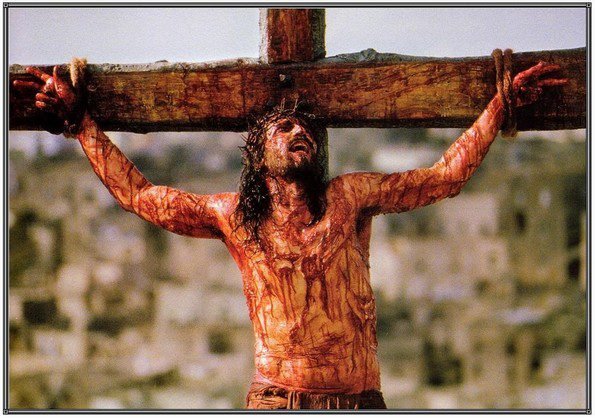 Snark Ahead! Easily offended Evangelicals should avoid reading this post. You've been warned!
One way Evangelical preachers shame complaining congregants into silence is to remind them of Jesus' suffering on the cross for sin. One such example of this kind of thinking was posted on the Seeking His Kingdom blog (now defunct). In a July 18, 2016 post titled Why Do You Make Me Suffer?, Andi Garcia — a woman who believes she is "supposed to share His [God's]  message and to let others know that we are to seek Him at all times" — had this to say about those who complain:
I said to a coworker who are we to question God about anything? Like when will He answer our prayer or ask Him why do we suffer? Why this or that?..I said did any of you ever think that our little problems, the problems our kids give us, are nothing compared to what He suffered for us all. I continued on and said I have 3 kids plus myself and yes worry for them and the problems they may have or situations they may put me through and it hurts me, of course, I'm their mother…BUT..He..He carries all of our sins …ALL OF OUR SINS for us. Can you imagine that suffering?? I said so whatever problems we have or our kids put us through aren't problems..we shouldn't worry, we shouldn't complain, we shouldn't ask WHY DO YOU MAKE ME SUFFER? See, 2 weeks ago I was going through some things with my 2 older children, 19 and 23, and I actually asked Him, I said it out loud, God why do you make me suffer? As soon as it came out, I slapped my hand to my mouth and legit, heard this in my thoughts, You are suffering? I felt ashamed. So I took some inventory and thought I'm alive, I wake up with no pain, I have a home, I have my 3 kids with or without problems, I have a job, food to eat, a car, the list goes on. I sat back that night and said I'm sorry about a million times because I thought to myself, if I hurt for my 3 kids when something or someone hurts them or their behavior is less than acceptable, can we imagine what He feels for every single one of us who sin? We will never know that pain.

I told myself, I will never complain or think that I suffer. I also will always remember the immense love He has for us, His children. Amen? Amen!!!
Now, Garcia is not a preacher, but her post reflects that she has been taught to never, ever voice complaints about whatever difficulty she might be facing. Just remember what Jesus suffered on our behalf, Evangelical preachers say, as if saying this is supposed to magically take away pain, suffering, heartache, and emotional distress. This thinking flows from the belief that Jesus is the answer for every question and he is cure for every ailment. As former Evangelicals well know, the curative power of thinking about a man being beaten and executed is grossly overrated.
According to the Bible, a man by the name of Jesus was beaten and executed for crimes against the Jewish people. Jesus' suffering took place over a short period of time. Yes, if the Bible account is accurate, Jesus suffered greatly before he was executed. I certainly don't want to minimize his pain and agony, though I have to wonder if Jesus, being God in the flesh, perhaps made it look like he was horrifically suffering, but in reality he actually turned off all his pain receptors and felt nothing. I know that's what I would do TODAY, if I could. No more pain! Regardless, his suffering was short-lived. After he was taken down from the cross and placed in a borrowed tomb, the Bible tells us he went to Hell to preach the gospel to its captives. (Ephesians 4:7-10, Luke 23:39-43, Luke 16:19-31, 1 Peter 3:18-20) The traditional English version of the Apostles' Creed states:
I believe in God the Father Almighty, Maker of heaven and earth.

And in Jesus Christ his only Son our Lord; who was conceived by the Holy Ghost, born of the Virgin Mary, suffered under Pontius Pilate, was crucified, dead, and buried; he descended into hell; the third day he rose again from the dead; he ascended into heaven, and sitteth on the right hand of God the Father Almighty; from thence he shall come to judge the quick and the dead.

I believe in the Holy Ghost; the holy catholic* Church; the communion of saints; the forgiveness of sins; the resurrection of the body; and the life everlasting.

Amen.
According to God's inspired, inerrant, infallible Word and the Apostles' Creed, after his evidently fake death, Jesus took a vacation to Hades/Paradise to do some soul-saving preaching. And then, several days later, on a Sunday, Jesus — in Arnold Schwarzenegger-like fashion —  walked out of the grave and said I'm back! Time to start a new religion! His body should have shown the marks of a man brutally beaten, but all that remained for people to see were the holes in his hands, feet, and abdomen — reminders of his recent crucifixion. Evidently, no plastic surgeon was available, so Jesus had to go through his last forty days on earth with ugly-looking hands and feet. I wonder if he wore socks with his sandals to cover the holes in his feet?
Was Jesus' suffering worse than any human has ever experienced? Of course not. Only those who are religiously blinded to reality dare to make such false assumptions. Having watched numerous people die, I can tell you that some of them suffered far greater agony and pain than Jesus. Think of all the horrific things you have watched people experience or you have gone through. Are all of these experiences, to quote Garcia, "little problems" and "nothing compared to what He suffered for us all"? Are Garcia and others like her diminishing the suffering of others, treating their agony as little more than inconveniences?
This kind of thinking finds its roots in Evangelical belief about the purpose of this life. Most Evangelicals think that their present life is little more than preparation for the life to come — eternal life. According to Amos 4:12, Hebrews 9:27, Ecclesiastes 12:13, 14, and other verses, life is all about preparing to meet God. Through frequent reminders from pastors that this life is temporary and transitory, Evangelicals are conditioned to believe that in this life comes suffering and loss and in the next life God will reward them with perfect, pain-free existences for being his faithful servants. This is why Garcia can so easily dismiss the suffering of billions of people. With a wave of the Bible Wand®, Garcia declares that all of humanity's sickness, diseases, and sufferings are little more than minor inconveniences. In Garcia's mind, Jesus was biggest bad-ass sufferer of all time. No one can kick Jesus off the Throne of Suffering!
Thinking this way causes Evangelicals to be callously indifferent towards the suffering of others. Hungry? Thirsty? Have AIDS? Infected with the Zika virus? On a respirator with COVID-19? Have cancer? Carrying a severely deformed fetus? Unrelenting pain? Homeless? Mentally ill? Victim of sexual abuse? Victim of domestic violence? Stroke? Alzheimer disease? Dementia? Ebola?  S-h-i-t, such suffering is a walk in the park when compared to Jesus' 24-hour beat down and death, says Evangelicals. Don't sweat it! Get saved, and then when you die a horrible, miserable death you will get to go to Heaven. This is why Evangelicals can oppose universal healthcare, birth control, and any other program meant to ease human suffering. Better to go to Heaven with an empty stomach than to Hell with a full one, Evangelical preachers say. Life is all about getting saved, not getting healthy, and living a better life. Sure, if Jesus wants to give Evangelicals fancy cars, expensive clothes, organic food, private schools for their children, health, eye, and dental coverage, and vacations to Fiji, they will take it, but those who are left groveling in the dirt of human existence, why they should get saved, thank Jesus for being worthy of such suffering, and quickly die so Evangelicals don't have to pay for their care.
Did you, at one time, view life and suffering as Andi Garcia does? Please share your thoughts and experiences in the comment section.
Bruce Gerencser, 66, lives in rural Northwest Ohio with his wife of 45 years. He and his wife have six grown children and thirteen grandchildren. Bruce pastored Evangelical churches for twenty-five years in Ohio, Texas, and Michigan. Bruce left the ministry in 2005, and in 2008 he left Christianity. Bruce is now a humanist and an atheist.
Connect with me on social media:
Your comments are welcome and appreciated. All first-time comments are moderated. Please read the commenting rules before commenting.
You can email Bruce via the Contact Form.