Over the years, I have snarkily listed evidence that might change my mind about the existence of God. You know, like the Cincinnati Bengals winning the Super Bowl. I figured this ask would never come to pass. After all, the Bengals have been to the Super Bowl twice in franchise history and hadn't won a playoff game in thirty years. What I didn't count on is the Messiah showing up; his name is Joe Burrow.
Well, here we are. In two weeks, my Cincinnati Bengals will play the Los Angeles Rams for all the marbles! After Evan McPherson kicked the game-winning field goal, my granddaughter turned to me and said, "Grandpa, why are you crying?" Polly and my sons knew why I was crying — a seminal moment in my life, a moment I shall never forget. Win or lose the Super Bowl, these Bungles-turned-Bengals have warmed and thrilled this old man's heart. Sure, it's just a game, but there are moments in the life of a long-suffering fan, that the "game" is much more than just another game.
If the Bengals do indeed win the Super Bowl, I will keep my word and consider their win over the Rams as evidence for the existence of God. The problem, however, will be ascertaining WHICH God is a Bengals fan? Jesus? Allah? Jehovah? Apollo? Anu? Buddha? Or maybe Satan/Lucifer is behind the Bengals' win, his way of thwarting the Rams?
Regardless, I will praise the football gods for the Bengals and their magical, thrilling 2022 season. And if it's not too much to ask, God, it's been over thirty years since the Cincinnati Reds have won the World Series. Pretty please? I really will "believe" if you deliver on this one. 🙂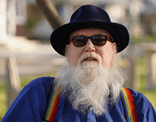 Bruce Gerencser, 65, lives in rural Northwest Ohio with his wife of 44 years. He and his wife have six grown children and thirteen grandchildren. Bruce pastored Evangelical churches for twenty-five years in Ohio, Texas, and Michigan. Bruce left the ministry in 2005, and in 2008 he left Christianity. Bruce is now a humanist and an atheist.
Connect with me on social media:
You can email Bruce via the Contact Form.
Your comments are welcome and appreciated. All first-time comments are moderated. Please read the commenting rules before commenting.