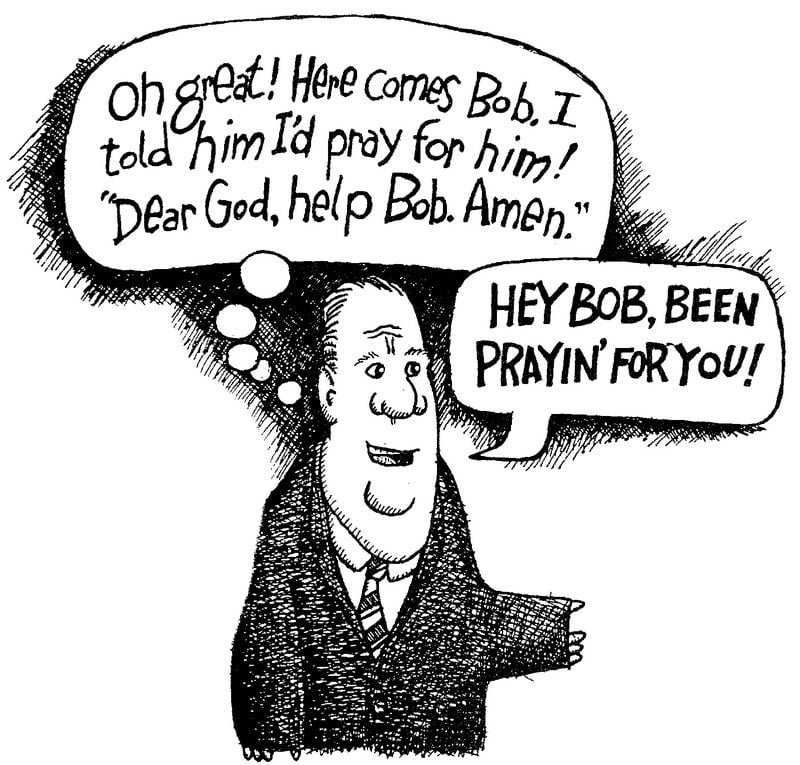 The Independent Fundamentalist Baptist church movement is known for its rules. (Please see The Official Independent Fundamentalist Baptist Rulebook.) Every aspect of life is regulated by church standards, personal standards, and Biblical standards. So many "standards," is it any wonder church members have such a hard time keeping all the rules? For all their talk about "salvation by grace," many IFB preachers actually preach a gospel of works. How does one know he or she is a True Christian®? IFB preachers will say that salvation is dependent on believing the right things; on asking Jesus to forgive you of your sins. If you believe the right things about Jesus and ask him to forgive you of your sins, he will come into your "heart" and save you. From that moment forward, you are a bought-by-the-blood, born-again Christian. By praying the sinner's prayer, you have punched your ticket for Heaven. No matter how you live your life, you are guaranteed a room in God's Heavenly Trump Hotel. That's why many of my IFB critics think I am still a Christian. At the age of fifteen, I was gloriously "saved" by Jesus at an old-fashioned altar at Trinity Baptist Church in Findlay, Ohio. (Please see My Baptist Salvation Experience.) I am still "saved" even if I don't want to be.
While IFB preachers certainly preached up salvation by grace, the other side of the coin was incessant preaching about "standards." While IFB preachers don't explicitly say that unless a person keeps these standards, he or she isn't saved, the implication is certainly there. IFB preachers spend an inordinate amount of time imploring (and haranguing) church members to obey the Bible (as interpreted by their pastors) and the church's standards. Those of refuse to play by the rules are marginalized, labeled as backslidden, out of the will of God, carnal, worldly, and other pejorative terms.
Christians, regardless of their sectarian affiliation, pray. IFB churches are no different. Thus, it should come as no surprise that IFB preachers had rules for prayer too. The typical IFB church service includes at least three prayers: the invocation, the prayer before the offering, the benediction (always led by men). IFB churches also have midweek prayer services — usually on Wednesday evenings. And then there's the all-night prayer meetings (please see 1972: My First and Last All-Night Prayer Meeting), men's prayer meetings, prayer meetings before church services, especially revival meetings. Some IFB churches have congregants gather around people at the altar and pray for them as they are getting saved or getting "right" with God.
Outside of church services, IFB congregants were expected to pray without ceasing; to bathe every aspect of their lives in prayer. Prayer when you get up, pray when you go to bed, pray during your devotional time, pray before meals, pray for the church/pastor/missionaries/unsaved, pray while driving, pray before making decisions, pray, pray, pray.
My pastors during my formative years taught me that there were rules that governed "praying." Praying the wrong way could result in God not hearing your prayer. Evidently, God values form over substance. Want your prayers answered? Start your prayer with Dear Father/Dear God/God and ALWAYS end your prayer with IN JESUS' NAME! Don't spend much time praying for your own needs, wants, or desires. Pray for the needs of others. Pray for sinners. Pray for America. Pray for the preacher. Pray for the deacons. Pray for the missionaries. Pray for the president (if he's a Republican). And at the end, humbly ask God to meet your needs or heal your body. Just remember the JOY acronym: JESUS FIRST, OTHERS SECOND, YOURSELF LAST. In some churches, they use a different JOY formula: JESUS FIRST, OTHERS SECOND, YOU DON'T MATTER.
Further, pray-ers are expected to prostrate themselves before God when they prayed. Unless you just had knee surgery, you were expected to kneel when you pray. I still have visions of elderly people struggling to kneel, unable to get back on their feet without help after praying. Evidently, God won't hear your prayers unless you show him proper fealty.
What's one of the most common phrases heard in IFB churches? "I'm praying for you." This is, in fact, the most common LIE told in churches. Telling people "I'm praying for you" is literally the least thing you can do for someone. I felt so guilty over lying to people, that eventually I started praying for people on the spot. No more promising to pray later. I had a lot less guilt after that — at least about prayer, anyway.
In Part Two of this series, I will share some of my experiences with prayer, both my own and that in the lives of others.
Do you have a prayer story you would like to share? Please do so in the comment section.
Bruce Gerencser, 66, lives in rural Northwest Ohio with his wife of 45 years. He and his wife have six grown children and thirteen grandchildren. Bruce pastored Evangelical churches for twenty-five years in Ohio, Texas, and Michigan. Bruce left the ministry in 2005, and in 2008 he left Christianity. Bruce is now a humanist and an atheist.
Connect with me on social media:
Your comments are welcome and appreciated. All first-time comments are moderated. Please read the commenting rules before commenting.
You can email Bruce via the Contact Form.