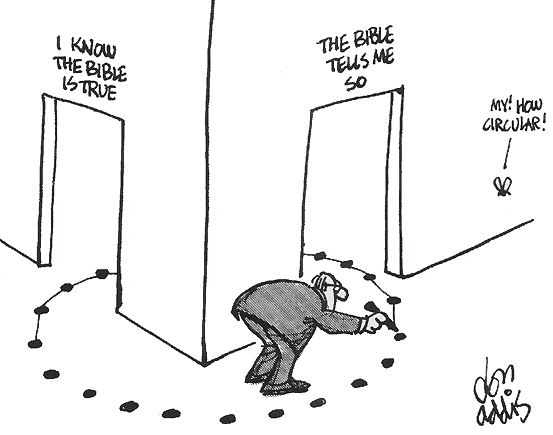 Imagine if I went to an Evangelical preacher's blog and left comments quoting text from the Harry Potter books. Imagine me saying, Harry Potter says ____________ or the path to salvation and eternal life and happiness and peace is through the miracle-working power of Harry Potter. Imagine me telling this preacher that he needed to read and practice the teachings of Harry lest he die and face eternal damnation. I suspect he would rightly say to me, Why should I care what the Harry Potter books say? Why should I pay any attention to what Harry says? These books are just the words of one person, JK Rowling. They carry no weight or authority with me.
Yet, when this preacher and other Evangelicals do the same with the Protestant Christian Bible, they claim that the Bible is "different"; that there's no book like the Bible; that the Bible is a supernatural book written or inspired by a supernatural God; that its words are magical and powerful. As presuppostionalists, Evangelicals expect nonbelievers to accept their claims about the Bible without providing any evidence and support for them. In their minds, the Bible is inspired, inerrant, and infallible, a divinely written book that is TRUTH. When atheists, agnostics, and other non-Evangelicals reject these claims due to a lack of evidence, they are accused of having hardened hearts; people who are deliberately blind to what is right in front of them. Yet, when I take the same approach with them concerning the Harry Potter books, Evangelicals demand evidence for my claims. Why the double standard? Shouldn't all claims be judged by the same evidentiary standards? Just because you say something doesn't mean it's true.
While I am more than happy to discuss or debate the Bible with Evangelicals, when they start making supernatural claims, then I expect them to provide evidence and support for their claims. Of course, no evidence will be forthcoming. Why? There's no evidence to be had. Evangelical claims for the Bible are based on faith, not facts. And I am fine with that as long as Evangelicals admit that their beliefs about the Bible rest on faith, not evidence. When it comes to faith, either you believe or you don't. I don't, and until you can provide empirical evidence for your claims, I cannot and will not believe.
Bruce Gerencser, 66, lives in rural Northwest Ohio with his wife of 45 years. He and his wife have six grown children and thirteen grandchildren. Bruce pastored Evangelical churches for twenty-five years in Ohio, Texas, and Michigan. Bruce left the ministry in 2005, and in 2008 he left Christianity. Bruce is now a humanist and an atheist.
Connect with me on social media:
Your comments are welcome and appreciated. All first-time comments are moderated. Please read the commenting rules before commenting.
You can email Bruce via the Contact Form.