It's been fifteen years since I first started blogging. Initially, I was still a Christian — barely. I was struggling to hang on to some recognizable form of Christianity. For almost two years, I slid down the slippery slope toward unbelief. Emerging church. Liberal/progressive Christianity. Universalism. Agnosticism. And finally, atheism. At every stop, I hoped I had found a resting place. I was weary on my journey. I just wanted to quit thinking and reading, plop myself in my recliner, and watch the Reds lose another ballgame. But, I couldn't. I continued to read, study, and explore, and that's why I am an atheist today.
Along the way, I have had my life minutely dissected by Christians — mainly Evangelicals and Independent Fundamentalist Baptists (IFB). Thinking that I am an existential threat to their faith, these devout believers have laid all sorts of charges and allegations at my feet. One such charge is that I am "bitter."
The Sage VII Dictionary — my go-to software-based dictionary and thesaurus — defines "bitter" (relating to human behavior) this way:
Marked by strong umbrage, resentment, or cynicism
Proceeding from or exhibiting great hostility or animosity
Expressive of severe grief or guilt
Harsh, sarcastic, or corrosive in tone
Evangelicals read my writing, become offended over me saying shit about the dead Jesus or their fantastical beliefs, and angrily say that I am "bitter." While they sometimes use the dictionary definition of bitter to describe me, typically they mean something very different. When Evangelicals are confronted with the life of a man who was part of the Christian church for twenty-five years; a man who pastored Evangelical churches for twenty-five years; a man who devoutly and resolutely loved Jesus, the Bible, and the church; a man whose life was governed by the teachings of the Word of God; a man who is now an avowed atheist and enemy of the one true faith, they don't know what do with me. So they comb through my life looking for evidence of bad experiences or crises that might have fueled my eventual unbelief. Surely, I must have been "hurt" or God didn't deliver on his promises. Unable to square my life with their beliefs, they search for answers to why I am no longer a Christian.
Instead of allowing me to tell my own story or accepting the explanations for my unbelief at face value, they psychoanalyze me, concluding that I had been hurt — by someone, a church, or the Big Kahuna himself — and that's why I am so bitter today.
Here's the problem with this line of thinking: I am not bitter. Ask anyone who knows me if I am bitter and, to the person, they will tell you no. Ask my wife. Ask my six grown children. Ask long-time readers of this blog. You will search in vain for someone that will say "Bruce Gerencser is bitter." I could be bitter about all sorts of things that have happened in my life. Just look at how many Evangelicals treat me; the lies they say about me; their character assassinations; their attacks on my person, my wife, and my children. They have given me plenty of reasons to be bitter, but I am not. I choose not to let them affect my peace and happiness. My pervasive health problems and unrelenting pain have the power to make me bitter if I let them. I choose not to let them have this power over me. I choose, instead, to embrace life as it is. I understand that the universe yawns at my existence. I know life is hard, and then you die. All I can hope for is that there are enough good things in my life as I crawl towards the crematorium. This is my reality: a road paved with heartache and loss and pain and suffering; a road with rest areas where I am refreshed with love, joy, peace, happiness, and satisfaction.
Could I become bitter someday? Sure, but not today. My physical struggles are, at times, monumental and insurmountable, yet I still have much to live for: family, friends, writing, and working to make the world a better place to live. I live in hope of having our mortgage paid off, finishing my to-do list, watching my grandchildren graduate from high school and college, holding a great-grandchild in my arms, spending time with the love of my life, and yes, the Reds winning the World Series and the Bengals winning the Super Bowl.
Do Evangelical family members, friends, and former church members accuse you of being bitter? How do you respond to them? Please share your bitter feelings in the comment section. 🙂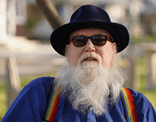 Bruce Gerencser, 65, lives in rural Northwest Ohio with his wife of 44 years. He and his wife have six grown children and thirteen grandchildren. Bruce pastored Evangelical churches for twenty-five years in Ohio, Texas, and Michigan. Bruce left the ministry in 2005, and in 2008 he left Christianity. Bruce is now a humanist and an atheist.
Connect with me on social media:
You can email Bruce via the Contact Form.
Your comments are welcome and appreciated. All first-time comments are moderated. Please read the commenting rules before commenting.