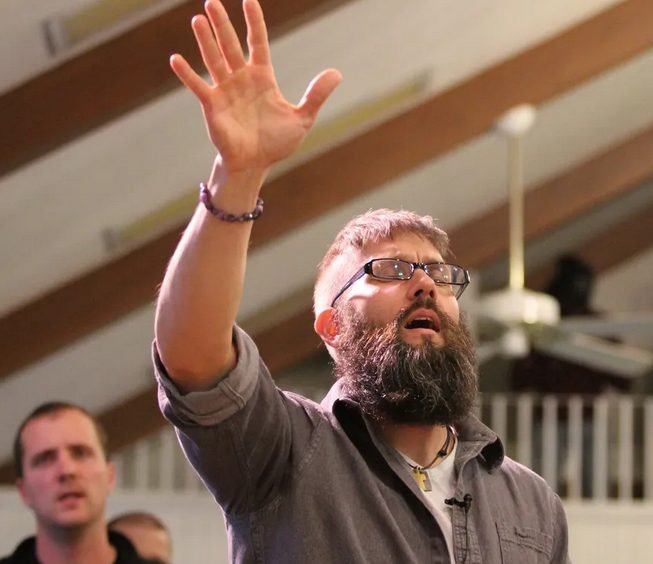 The Black Collar Crime Series relies on public news stories and publicly available information for its content. If any incorrect information is found, please contact Bruce Gerencser. Nothing in this post should be construed as an accusation of guilt. Those accused of crimes are innocent until proven guilty.
Trent Holbert, pastor of The Ridge Church in Black Mountain, North Carolina, was charged in October 2021 with one count of indecent liberties with a child and two counts of statutory sex offense. The Ridge Church is affiliated with the Southern Baptist Convention.
Kentucky Today reported at the time:
Trent Holbert, 41, former pastor of The Ridge Church, was arrested last month and has been charged with one count of indecent liberties with a child and two counts of statutory sex offense, the Biblical Recorder reported. He was previously the pastor of Epoch Fellowship Church in Owenton, Ky., as late as 2017.

….

Both The Ridge Church and the Baptist State Convention of North Carolina have released statements condemning Holbert's alleged actions.

"Trent Holbert has resigned from his position as the head pastor of the Ridge Church," said a statement released Friday from church elder Drew Wheeler. "Our hearts and prayers go out to the family of our former head pastor and the families of all of those involved. The care and protection of children and minors is a biblical and moral mandate that is taken seriously by the Ridge Church. We do not condone such actions as the alleged, and our prayers are with the victims of any such abuse."

The North Carolina convention's statement, released Thursday, said leaders were "deeply grieved" by the charges.

"As a pastor, Trent has been a speaker at convention-related events for adults in the recent past," the statement said. "He underwent background and reference checks prior to his participation in those events. We are not aware that he had any contact or dealings with minors as part of those events. The care and protection of children and minors is both a biblical and moral mandate that we take very seriously. We are praying for everyone who has been impacted by these alleged heinous crimes. N.C. Baptists are offering support to the local association and the church as they face these challenging times, as well. We stand with any and all victims of abuse and are committed to cooperating with authorities during their investigation. We encourage you to contact the Buncombe County Sheriff's Office if you have any relevant information."

According to WLOS news, on May 18, detectives with the Special Victims Unit of the Buncombe County Sheriff's Office executed a search warrant at Holbert's residence. During the execution of the warrant, Holbert was arrested and charged with contributing to the delinquency of a juvenile, and electronic devices were seized from the home.
Holbert's church bio page (which has been scrubbed from the church's website) states:
Pastor Trent is a gifted communicator and a relational junkie. He loves people and gets his fix from being a positive part of their lives. His ministry mindset is holistic. He believes that God's plan and design for humans doesn't stop at spiritual needs. He holds a degree in theology, but as a certified personal trainer and holistic health coach, Trent teaches us how to know our Creator better through optimal physical, emotional, and spiritual health. You can hear him weekly on the Fit For the Kingdom Podcast.
Black Mountain News article on Holbert starting The Ridge Church.
In October 2021, ABC-13 reported:
Newly returned warrants allege Trent Holbert groomed the teen by first befriending her parents who joined The Ridge Church.

Investigators said, because the parents had limited means, Holbert offered their daughter a bedroom in his home and began buying her undergarments as the two started a relationship.

Warrants also allege Holbert asked the teen's parents to sign a parental waiver so that he would be able to take care of her in case they died. Investigators said Holbert called DSS on the teen's parents as well, accusing them of neglect. Warrants show a DSS worker found this claim to be unsubstantial.

On May 18, 2021, detectives with the Special Victims Unit of the Buncombe County Sheriff's Office executed a search warrant at a residence on Tucker Road in Black Mountain. During the execution of the search warrant, Holbert was arrested. He resigned from the church in June.
This week, Holbert pleaded guilty and will spend a minimum of seven years in prison.
A former Black Mountain pastor has pleaded guilty to attempted statutory sexual offense, ensuring that he will spend at least the next seven years behind bars.

Judge Sharon Tracey sentenced Trent Brandon Holbert, 43, to serve between 94 and 173 months imprisoned, according to Buncombe County District Attorney Todd Williams' office. The victim approved of the plea, according to Williams. Williams announced the plea in a Jan. 25 tweet.

In search warrants reported on by the Citizen Times in 2021, the Buncombe County Sheriff's Office said that Holbert – former pastor at The Ridge Church – schemed against the victim's parents.

The Sheriff's Office began investigating after the parents contacted deputies about their child "engaging in a secret and sexual relationship with their former pastor," one search warrant said. 

Holbert bought the victim gifts, including clothes, underwear and feminine hygiene products. A search warrant said that he also gave the child one of his T-shirts after she told him that she had a bad dream so "his smell would help (the child) sleep."

When Holbert reported the child's parents to the N.C. Division of Social Services with allegations of neglect, the claims were found to be unsubstantiated.

According to one of the search warrants, Holbert asked the parents to sign a waiver giving him parental rights if they died. They declined and said the request bothered them.
According to a Google search, The Ridge Church has closed its doors.
Bruce Gerencser, 66, lives in rural Northwest Ohio with his wife of 45 years. He and his wife have six grown children and thirteen grandchildren. Bruce pastored Evangelical churches for twenty-five years in Ohio, Texas, and Michigan. Bruce left the ministry in 2005, and in 2008 he left Christianity. Bruce is now a humanist and an atheist.
Connect with me on social media:
Your comments are welcome and appreciated. All first-time comments are moderated. Please read the commenting rules before commenting.
You can email Bruce via the Contact Form.