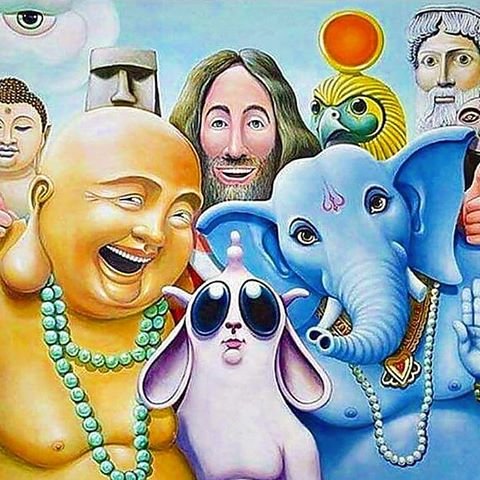 When engaging Evangelicals in discussions, it is important to get them to define what they mean when they use the word "God." On Sundays, Evangelicals are quite specific: God is the Christian deity; the God of the Bible; the Father, Son (Jesus), and Holy Ghost. All other Gods are false Gods. If Evangelicals are true to their faith, they will admit that they believe there is only one path to Heaven — theirs. Not the Catholic road; not the Muslim road, not the Jewish road; theirs. In their minds, True Christianity® is rooted in the merit and work of Jesus Christ on the cross and his resurrection from the dead three days later. For Evangelicals, God, Christianity, and salvation are clearly defined in the Bible. People who disagree with them are either lost or being led astray by heretical beliefs. In recent years, some Evangelicals have lurched towards the liberal fringe of Evangelicalism, believing that many of the beliefs once held dear by God's chosen ones are no longer essential doctrines of the faith. Roman Catholics, Mormons, and Seventh-Day Adventists are now considered "Christian," whereas just a few decades ago every Evangelical considered these sects cults or false religions. God surely works in mysterious ways, does he not? What's next, rock music in worship services? I digress . . .
Engage Evangelicals on matters of church and state and you will find that they quickly lose their particularity about God. Pursue discussions about prayer in public schools, the National Day of Prayer, teaching creationism in science classes, or posting the Ten Commandments on the walls or grounds of government buildings, to name a few, and you will find Evangelicals have abandoned or muted their strict, absolute definition of the word "God." All of a sudden, God is a generic being, a deity found in all religions. These hypocrites value political power more than they do standing true to their beliefs. As we have learned with the part Evangelicals played in the election of pussy-grabber-in-chief Donald Trump, they are willing to wholesale abandon their beliefs and practices if, in doing so, they gain political power. Following the plan set forth in the late 1970s by Jerry Falwell, one of the founders of the Moral Majority, these cultural warriors are willing to sell their souls to the Devil if it means outlawing abortion, abolishing same-sex marriage, and stuffing LGBTQ people back into the dark recesses of closets. It seems, at least for many Evangelicals, situational ethics and morality — wherein the end justifies the means — are now the rule, and not the exception. There was a time when Evangelicals resolutely stood upon the teachings of the Christian Bible. Today, many of them are only concerned with power and control. As a young pastor in the 1970s, I didn't know one Evangelical pastor who didn't believe in the strict separation of church and state. My God, we were Baptists — the original separatists. The pastors I knew wanted nothing to do with the government. Today? These same men, with straight faces, say that there is no such thing as church/state separation, and if anything, our founding fathers only wanted to keep the government from establishing a state church.
Evangelicals may attempt to appeal to a generic God when engaging in public square discussions and debates, but don't let them pull the proverbial wool over your eyes. When they write or say the word "God" they are ALWAYS, WITHOUT EXCEPTION, speaking of the Evangelical version of the Christian deity; the God ensconced in the pages of the Protestant Bible. Let me be blunt, Evangelicals who appeal to a generic God are being dishonest. They don't believe this God exists.
Engage Evangelicals on the "God of Creation" and you will often find that they will begin by appealing to a generic, universal understanding of who and what God is. Often, they will cough up Romans 1:17-20 and Romans 2:11-16:
For therein is the righteousness of God revealed from faith to faith: as it is written, The just shall live by faith. For the wrath of God is revealed from heaven against all ungodliness and unrighteousness of men, who hold the truth in unrighteousness; Because that which may be known of God is manifest in them; for God hath shewed it unto them. For the invisible things of him from the creation of the world are clearly seen, being understood by the things that are made, even his eternal power and Godhead; so that they are without excuse.

….

For there is no respect of persons with God. For as many as have sinned without law shall also perish without law: and as many as have sinned in the law shall be judged by the law; (For not the hearers of the law are just before God, but the doers of the law shall be justified. For when the Gentiles, which have not the law, do by nature the things contained in the law, these, having not the law, are a law unto themselves: Which shew the work of the law written in their hearts, their conscience also bearing witness, and their thoughts the mean while accusing or else excusing one another;) In the day when God shall judge the secrets of men by Jesus Christ according to my gospel.
According to Evangelical apologists, there is no such thing as an "atheist." According to their interpretation of Romans 1 and Romans 2, "God" reveals himself to everyone through creation, and he gives to everyone a BIOS of sorts; a conscience; a base moral code. These "truths" are found in most religions, Evangelicals say, especially in the text-based Abrahamic religions. Evangelicals want to leave people with the impression that the concept of God is a universal truth. However, when pressed — well, backed into a corner by bold atheists — Evangelicals will grudgingly admit that there really is only one God — theirs. Poof! And just like that their generic, universal deity goes up in smoke. When Evangelicals speak of a Creator God or a God who gives everyone a moral and ethical compass, they are talking about a very particular God — theirs. Mark it down, when Evangelicals use the word "God" they are NEVER referring to a generic deity — even if their lying lips suggest otherwise.
Hardcore Evangelical apologists often use the idea of a generic God as a way to hook naïve people, drawing them into discussions that always lead to the man, the myth, the legend, Jesus Christ. I have found that one of the best ways to attack such an approach is to grant their premise: Fine, I readily admit that there is a Creator God, a deistic God who created the universe and endowed humans with a moral/ethical code. Now, please show me how you get from the concept of A GOD to THE GOD; from the generic Creator God to the Evangelical God. And please show me this bridge without using presuppositions or making appeals to the Bible. End of discussion, every time.
Much to the dismay of hardcore atheists, I am quite happy to admit that it is possible (not probable) that a deity of some sort created the universe. I don't believe this to be true, but I am willing to grant its possibility. However, I have yet to see an Evangelical argument that gets me from this to this God being the God of the Bible.
The next time you have an Evangelical try to engage you with generic God arguments, don't believe one word of what they are saying. Evangelicals have never believed in a non-proprietary definition of the word "God." In their minds, there is one God, and Jesus is his name. Well, that and God, the Father, and God, the Holy Spirit. I'll leave that mess for another day.
Bruce Gerencser, 66, lives in rural Northwest Ohio with his wife of 45 years. He and his wife have six grown children and thirteen grandchildren. Bruce pastored Evangelical churches for twenty-five years in Ohio, Texas, and Michigan. Bruce left the ministry in 2005, and in 2008 he left Christianity. Bruce is now a humanist and an atheist.
Connect with me on social media:
Your comments are welcome and appreciated. All first-time comments are moderated. Please read the commenting rules before commenting.
You can email Bruce via the Contact Form.