Not-a-Real-Doctor David Tee, whose real name is Derrick Thomas Thiessen, has returned to his previous ways, writing posts about me and using my writing without proper attribution. His latest post titled, The Bible IS What it Claims to Be — 2 is his latest attempt to smear my character. Before I address what Thiessen wrote, I want to point out Thiessen's post title; particularly his use of the word IS in ALL CAPS. Every time Thiessen does this, I think of this: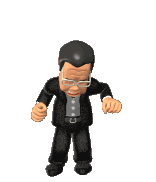 YES, IT IS! YES, IT IS! YES, IT IS! All caps is how people shout digitally, hoping to make a point. Thiessen has spent his entire life in Christian Fundamentalism; a movement where shouting and pulpit pounding is used to say "BLESS GOD, I AM ABSOLUTELY, 100% RIGHT! CAN I GET AN A-M-E-N? So when Thiessen uses ALL CAPS, he's just screaming, with index fingers in each ear, I'M RIGHT!
Now to Thiessen's latest attempt to portray me in a bad light:
To be frank, who is Bruce anyways? What has he accomplished that anyone, including unbelievers, should listen to what he says? he quit on just about everything in his life except his marriage and what does a quitter have to offer anyone?

When Simone Biles quit on her Olympic team you should have read the comments under every article about her. They were not nice and most dismissed her and her opinion, etc. Quitters do not get the brass ring nor do they get any influence.

The moment former Christians quit the faith, they lose access to the truth and help from the only person who can get them to the truth and explain it correctly to them Also, when people quit the faith, they are not moving from an inferior god to a superior one.

Nor are they moving to a better religious faith that actually stops people from committing crimes or sinning, and they are not moving to a greater moral code. What they have done is moved from a faith that has all of those elements and moved to NOTHING.

….

We do not care what the owner of that website says nor do we care what any atheist or unbeliever says. They have nothing to offer anyone because they either reject something and stay in nothing or moved from something to nothing.

They are not correct and never will be. Plus, they have no hidden information that shows that God, Jesus, the Holy Spirit, the Bible, the Christian faith, and so on is a hoax. They have nothing.
Thiessen "frankly" asks, "Who is Bruce, anyways?" Who I am can easily be ascertained by reading my autobiographical writing. Thiessen's question is rhetorical. What he is really saying is that Bruce Gerencser is a nobody. Why would anyone listen to a "nobody"? I am sixty-six years old, yet he dismisses my entire life. Why? Well, in Thiessen's mind, I am a "quitter." I have "quit" everything in my life, except my marriage. This is rich coming from a man who is no longer a pastor; a man who divorced or left his wife; a man who abandoned his baby. Talk about a quitter. Of course, I would never disparagingly call him a quitter. Shit happens. Things change. Jobs, ministries, and marriages come and go.
Thiessen, of course, knows these things. Why he beats the "quitter" drum over and over and over again is beyond me. I have tried through this blog to give an honest account of my life. Thiessen has made no attempt to do the same. He hides in a foreign country, using several aliases over the years. His readers, all ten of them, know little to nothing about him. He parades around proud as a peacock as a "Dr." yet refuses to say where he earned his degree or make his doctoral thesis available to the public. He is free, of course, to do these things, but personal attacks on me and my honest telling of my life carry no weight. I really wish he would stop with the quitter" schtick. He won't because he knows it bothers me. Color me human, but I don't like it when people lie about me.
Thiessen uses the horrible abuse Simon Biles received after dropping out of the Olympics as justification for attacking my character. As a quitter, I shouldn't expect to be treated nicely by others. According to Thiessen, quitters such as Simon Biles and I shouldn't have any influence over others, nor should we get the brass ring — whatever the Hell that means. In other words, leaving Christianity undoes everything I have done in my life. Nothing I do going forward will have meaning and value. Since Thiessen delusionally thinks his words = God's words, all I can say is this: Derrick Thiessen worships a horrible God.
According to Thiessen, on the last Sunday of November in 2008 — almost fifteen years ago — every bit of knowledge and truth in my brain disappeared. From that day forward, I could no longer know and understand "truth." Why? Because all "truth" comes from Jesus, an uneducated traveling preacher who died 2,000 years ago. It is Jesus alone who can explain truth to us.
Thiessen says he doesn't care what I say, yet he has written almost one hundred posts about me or in response to something I have written. I'd say based on this fact that Thiessen has an unhealthy obsession with me. I've repeatedly offered to send him my Stripper Santa Pole Dancing® photo, but so far he refuses to provide me with his mailing address. His loss. 🙂
Thiessen ends his harangue about me with a number of personal attacks, all meant to belittle and demean me.
Perhaps Thiessen has forgotten that Jesus told him how to treat the atheist Bruce Gerencser and others like him:
But I say unto you which hear, Love your enemies, do good to them which hate you, Bless them that curse you, and pray for them which despitefully use you. And unto him that smiteth thee on the one cheek offer also the other; and him that taketh away thy cloak forbid not to take thy coat also. Give to every man that asketh of thee; and of him that taketh away thy goods ask them not again. And as ye would that men should do to you, do ye also to them likewise. For if ye love them which love you, what thank have ye? for sinners also love those that love them. And if ye do good to them which do good to you, what thank have ye? for sinners also do even the same. And if ye lend to them of whom ye hope to receive, what thank have ye? for sinners also lend to sinners, to receive as much again. But love ye your enemies, and do good, and lend, hoping for nothing again; and your reward shall be great, and ye shall be the children of the Highest: for he is kind unto the unthankful and to the evil. Be ye therefore merciful, as your Father also is merciful. Judge not, and ye shall not be judged: condemn not, and ye shall not be condemned: forgive, and ye shall be forgiven: Give, and it shall be given unto you; good measure, pressed down, and shaken together, and running over, shall men give into your bosom. For with the same measure that ye mete withal it shall be measured to you again. (Luke 6:27-38)
Jesus said it, Derrick, I didn't.
Bruce Gerencser, 66, lives in rural Northwest Ohio with his wife of 45 years. He and his wife have six grown children and thirteen grandchildren. Bruce pastored Evangelical churches for twenty-five years in Ohio, Texas, and Michigan. Bruce left the ministry in 2005, and in 2008 he left Christianity. Bruce is now a humanist and an atheist.
Connect with me on social media:
Your comments are welcome and appreciated. All first-time comments are moderated. Please read the commenting rules before commenting.
You can email Bruce via the Contact Form.