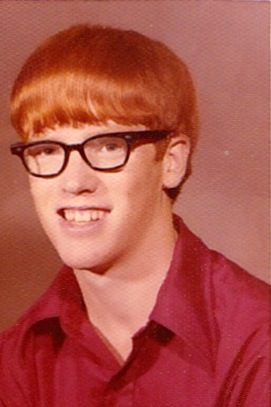 My family moved a lot during the first eighteen years of my life, and I attended nine different schools in three states. The summer before my eighth-grade year, my dad moved us from Deshler, Ohio to Findlay, from a small rural school to one of the largest public schools in the state. My parents divorced after fifteen years of marriage in the spring of my ninth-grade year. Less than a year later, Dad sold most of our worldly belongings and moved us to Tucson, Arizona. I would later learn that Dad was running and hiding from creditors. They eventually traced him to Arizona and repossessed both of our automobiles.
After completing my tenth-grade school year in Arizona, I returned to my mom's home in Bryan, Ohio, planning to enroll in classes at Bryan High School. I really missed my friends and church in Findlay. I expressed this yearning to my youth pastor, Bruce Turner, (please see Dear Bruce Turner) and he floated the idea of me moving to Findlay and living with one of the families in the church. God, or so I thought at the time, put everything in motion, and in short order I found myself living with Bob and Bonnie Bolander — a young couple at Trinity Baptist Church. My stay was short-lived. Bruce Turner found another home for me to stay; that of Gladys Canterberry.
To provide insurance for me and a monthly check to Gladys for keeping me, I was made a ward of court. Every day I would ride my three-speed bike to Findlay High School, attending classes from 7:30 a.m. to 11:30 a.m. I would then hop on my bike and ride to Bill Knapp's (a chain family restaurant) where I worked the first of two shifts bussing tables. I worked the lunch shift, took a two-hour break, and then worked the dinner shift. Afterward, I would ride back to Gladys' house and call it a night. When the weather was bad, I would either walk or take a cab. Regardless, I worked three or four days while carrying a full load of classes. Throw in church, sports, and youth group events, and I was a busy boy. Yet, I never missed a day of school or work.
In May of 1974, I decided I wanted to move back to my mom's home. I couldn't legally do so because I was a ward of the state. I spent several weeks planning my escape, and finally, one week before the end of the school year, Mom drove the fifty-five miles from Bryan to Findlay, picked me up, and then we returned to her home. Gladys was livid. She threatened me (and my mother) with arrest if I didn't immediately return to Findlay. I told her I wasn't coming back; that I wanted to live with my mom. More threats were uttered, I hung up, and that was that. I wasn't arrested, but I was very much on my own. By this time, my younger siblings had moved from Arizona to Ohio and were also living with Mom.
Mom had serious mental health problems. Six months after I returned to her home, she had a total breakdown and was involuntarily placed in the state psychiatric hospital in Toledo. My siblings and I were on our own. Dad got wind that we were without parental supervision and drove from Arizona to retrieve us. While I was powerless in the moment, being a minor, I have always felt bad about moving away while Mom was in the hospital. Dad did the right thing, but I can only imagine how Mom felt coming home only to find her children (and money and food stamps) were gone.
After moving back to Bryan, Mom and I went to Bryan High School so I could enroll for my senior year. Bryan requested my records from Findlay, finding out that the school had not given me any credits for my junior year. Why? Evidently, I missed some final exams. I couldn't retake them, so no credits for eleventh grade. I would have to take the eleventh grade again.
Mom tried to straighten the matter out, even consulting a lawyer. He told her that what Findlay was doing was wrong, but it would take a lot of time and money to fix my record. We had plenty of time, but no money. Knowing this, he suggested I retake eleventh grade.
I was angry, to say the least. I mean really, really, really, red-hair-on-fire angry. During this time, my best friend Dave dropped out of high school. I thought, "That's exactly what I am going to do." I informed my mom that I was dropping out of high school. She, of course, exploded, telling me, "Oh no you're not!" Having just turned seventeen, I knew Mom was all bark and no bite. Eventually, she relented and I dropped out of school.
Being a "dropout" — what an ugly word we use to disparage people who fail to meet societal norms — never materially affected me. I was always able to find employment. Once I had three years of college under my belt, prospective employers quit asking about me dropping out of high school.
In 2002, at the age of forty-five, I decided to get my GED. I was confident that I could pass the exam without taking classes. The GED exam, at the time, took place over several days. On my first day, I checked in for the exam only to have the teacher question whether I should take the test. He knew I hadn't taken the GED class, so I suspect he thought I would spectacularly fail. I smiled and told him I would be fine.
I passed with flying colors. Higher math questions posed a bit of an issue, but the rest of the questions were no problem for me. Not only that, I was generally the first person to finish his test. (Either you know it or you don't, right?) The teacher's face expressed surprise. I so wanted to tell him that it is not wise to judge people you do not know; that I had been doing academic work for thirty years. I may have grown up in poverty, but my mind was rich with knowledge gleaned from books and school. I may have dropped out of high school, but that doesn't mean I was academically deficient. I was a voracious reader thanks to Mom's continued reminders to read! Of course, these reminders often came like this: "Butch, get out of my hair. Go read a book!" 🙂
Bruce Gerencser, 66, lives in rural Northwest Ohio with his wife of 45 years. He and his wife have six grown children and thirteen grandchildren. Bruce pastored Evangelical churches for twenty-five years in Ohio, Texas, and Michigan. Bruce left the ministry in 2005, and in 2008 he left Christianity. Bruce is now a humanist and an atheist.
Connect with me on social media:
Your comments are welcome and appreciated. All first-time comments are moderated. Please read the commenting rules before commenting.
You can email Bruce via the Contact Form.