Article by Jenny Breen, an Associate Professor of Law at the Syracuse University College of Law, where she teaches Constitutional Law, Administrative Law, and Labor Law.
What is the end game here for the U.S. Supreme Court's right-wing majority? It's not pretty.
The leak of the U.S. Supreme Court's draft opinion in the Mississippi abortion ban case has put into authenticated form an announcement that abortion advocates on both sides of the aisle have been predicting for years: stack the Court with Republican-appointed justices and Roe v. Wade will be overturned. The Court's leaked opinion does just that, holding that both Roe and Casey are now bad law because there is no longer any constitutional right to abortion.
The current draft—which will be revised between now and its formal publication, likely in June—tells us a lot about where the Court stands on abortion, of course, but also other constitutional rights and the role of the courts in our constitutional republic.
First, though the opinion purports only to hold that there is no constitutional right to an abortion, thus permitting states to implement laws restricting, banning, or even criminalizing abortions, the language of the draft opinion lays the groundwork for a future federal ban on abortion altogether. Alito's opinion approvingly quotes Mississippi's claims that dilation and evacuation abortions are "barbaric," "dangerous for the maternal patient," and "demeaning to the medical profession" as "legitimate interests" that "provide a rational basis" for the Mississippi ban. (The draft opinion employs rational basis review rather than the tougher level of review reserved for gender-based distinctions because—though it may surprise any human on the planet to hear it—the Court reminds us that previous cases have established that "regulation of abortion is a not a sex-based classification"). These "interests" are, of course, anti-choice talking points, not rational bases for a ban on abortion. Their embrace by the draft majority opinion makes clear that Alito is being disingenuous when he claims that the decision "is not based on any view about when a State should regard prenatal life as having rights or legally cognizable interests." Instead, the opinion is suffused with the unstated but implied belief that legally cognizable life begins at conception.
Second, Alito is also deeply disingenuous when he argues the opinion won't impact other fundamental rights. Alito's opinion holds there is no right to abortion because that right is neither explicitly mentioned in the Constitution nor implicitly contained within the Fourteenth Amendment's protection of an individual's right to liberty. Many of our most cherished constitutional rights are only impliedly contained within the expansive, conceptual language of the Constitution. As Justice Marshall reminded the Court over 200 years ago, "we must never forget that it is a Constitution we are expounding."
So why does it matter to other constitutional rights that Alito doesn't think individual liberty includes the right to decide whether to have an abortion? Because the liberty interest protected by the Due Process Clause and the right to privacy it encompasses are also the bases for the Court's protection of gay marriage, the right to contraception, the right to private consensual sex, and the right to interracial marriage.
"Liberty," the Court explained in Lawrence v. Texas, "presumes an autonomy of self that includes freedom of thought, belief, expression, and certain intimate conduct." Alito says he can't seem to find a liberty interest in abortion because "the most important historical fact" is "how the States regulated abortion when the Fourteenth Amendment was adopted." Needless to say, these other core rights would also not fare well under an analysis that prioritizes what legislatures were doing in 1868. Alito has already suggested as much. His dissent in Obergefell v. Hodges reads like an early edition of this draft opinion, arguing that gay marriage "lacks deep roots" and "is contrary to long-established tradition" and thus is not a right that can be protected by the Constitution.
Finally, the opinion makes clear that the guard rails are gone when it comes to SCOTUS decision making. Throughout the opinion Alito returns repeatedly to the argument that the decision will correct "Roe's abuse of judicial authority" and "return the issue of abortion to the people's elected representatives." Of course, fundamental rights are fundamental rights because they are not up for debate by "the people's elected representatives." We don't ask for state referenda on whether we should permit racially segregated schools. Courts do their best and most essential work for a democracy when they protect the interests that enable humans to live with dignity and autonomy.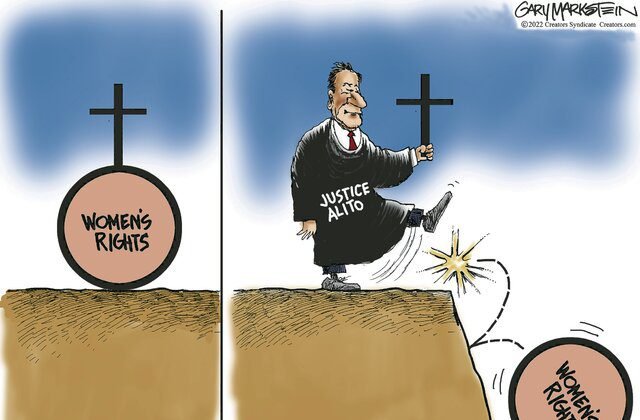 In 2018, Alito wrote the majority opinion Janus v. AFSCME, the decision that held that public employees could not be compelled to pay agency fees to the unions that are required by law to represent them and advocate for their interests. Though public employee unions have passed the small "d" democratic test not once but twice—elected state legislators must first pass a law enabling public unions and then, of course, the public employees themselves must vote for their union—Alito's majority opinion overruled a 41-year-old precedent to hold that agency fees violated the First Amendment rights of public employees. At the time of the opinion, commentators expressed concern that the Court's easy overruling of a case it did not like did not bode well for Roe v. Wade in the hands of a differently constituted Court. And of course, that is precisely what seems to have happened.
Alito tries to ease the shock of the decision to overrule such longstanding and prominent precedent by citing a number of cases—I counted 26 in total—in which the Supreme Court has overruled its own precedent. But I am not aware of a single case on that list in which the Court overruled precedent to take away a previously granted constitutional right.
So what is the end game here? Alito's full vision for the United States has yet to be painted, but thus far it's looking like an America in which "raw judicial power" (words he quotes disparagingly regarding Roe four times in the draft opinion) is used to foist the world views of judicially privileged interests upon the rest of us.
In the meantime, it means that where you live and what private resources you have at your command will be increasingly important to chart the course of your life.
As disconnected as they may seem on their face, overruling decades of precedent to weaken public unions on the one hand and doing the same to revoke a woman's right to choose whether to have an abortion on the other are two sides of the same oppressive coin. They both chart dramatic turns away from an understanding of the law and Constitution grounded in commitments to individual dignity and autonomy in core spheres of life—work and family—and establish a core role for the judiciary in steering the ship in that direction. 
Bruce Gerencser, 66, lives in rural Northwest Ohio with his wife of 45 years. He and his wife have six grown children and thirteen grandchildren. Bruce pastored Evangelical churches for twenty-five years in Ohio, Texas, and Michigan. Bruce left the ministry in 2005, and in 2008 he left Christianity. Bruce is now a humanist and an atheist.
Connect with me on social media:
Your comments are welcome and appreciated. All first-time comments are moderated. Please read the commenting rules before commenting.
You can email Bruce via the Contact Form.