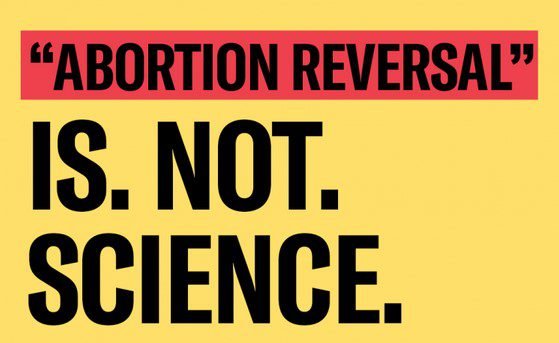 There is no scientific or medical evidence that proves "reversing" a medication abortion is possible: There are no clinical trials and no objective or credible data. It is only a theory that has been introduced by anti-abortion activists and politicians to further attack access. When misinformation spreads, it affects the patients who seek care in my exam room.
Medication abortion involves using an FDA-approved regimen of pills to end a pregnancy prior to 10 weeks. Two medications are included: mifepristone and misoprostol. Used first, mifepristone blocks the hormone progesterone and prevents the pregnancy from growing. If taken alone, mifepristone will end the pregnancy in about half the patients who take it. Misoprostol is used six to 72 hours later to soften and dilate the cervix as well as cause uterine contractions to remove the pregnancy. Together, the medication abortion regimen is 98-99 percent effective.
In theory, it could be possible to stop the effect of mifepristone with high doses of progesterone, but this has never been proven. In medicine, we do not expose people to potential risks for no medical benefit, so we would never recommend this as an option for patients. In the unlikely event someone did not want to take the misoprostol, what healthcare providers would suggest is that there is a significant chance that the pregnancy could continue. If the patient wanted to continue the pregnancy after taking the mifepristone, we could advise to not take the misoprostol, and we would support a patient with that decision as well. Anti-abortion lawmakers have used very unethical and flawed research conducted by one anti-abortion doctor to push laws that require doctors to mislead their patients by telling them of this so-called option.
This series of cases studies from 2012 that was completed at a Catholic university where a few women who had taken mifepristone, changed their mind about the abortion and then continued their pregnancy after receiving progesterone. The report was not supervised by an Institutional Review Board (a committee which protects the rights of human subjects) which would have raised ethical concerns. Second, the American College of Obstetricians and Gynecology (ACOG) found that there is not enough evidence from this report to say that the pregnancies continued due to the progesterone. The ACOG called abortion reversal "unproven and unethical."
The same researcher did another study in the same year with more participants and claimed that he confirmed that progesterone can reverse the effects of mifepristone. But again, his research methods were found to be flawed and there is rigorous systematic review to show that pregnancy continuation was not more likely with progesterone administration. The ACOG, the National Abortion Federation, and Planned Parenthood do not recommend administering progesterone if a patient tries to continue their pregnancy after using mifepristone. There just isn't enough data to support this.
Dr. Mitchell Creinin, an OB/GYN at the University of California, Davis, who has done significant research in family planning, decided to put this issue to rest. He is currently enrolling patients in a study to determine if progesterone can block the effects of mifepristone and increase the chance of pregnancy continuation. He doesn't believe that that it will and he's hoping that his findings will be used to prevent lawmakers from mandating physicians from providing patients with misinformation about medication abortion reversal.
— Dr. Meera Shah, Jezebel, Shattering the 'Abortion Reversal' Myth, April 22, 2019