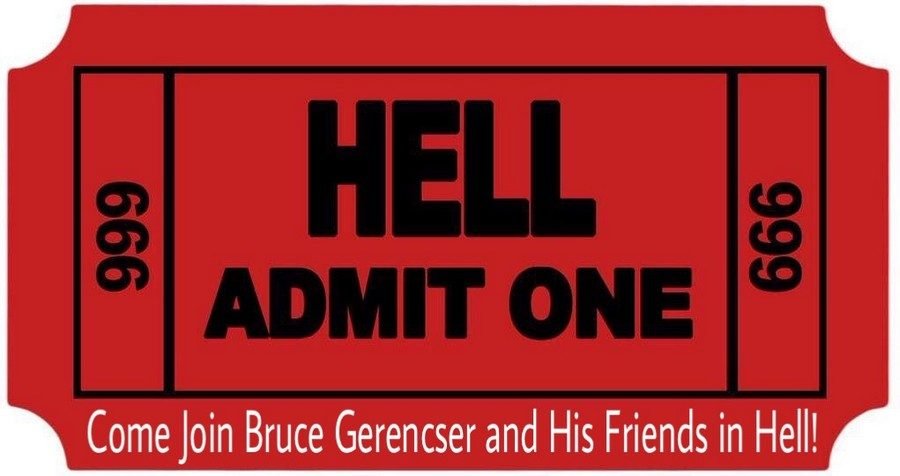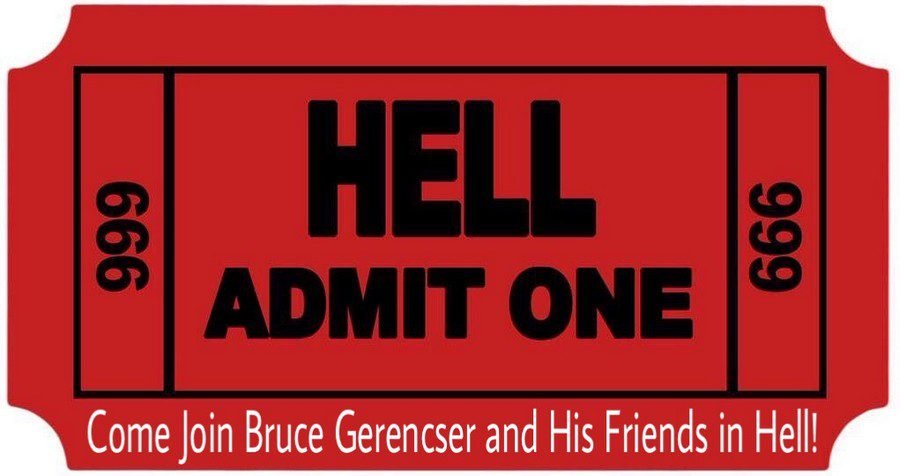 I find it amusing how my Evangelical critics think I live my life. Over the past thirteen years, I have heard all sorts of silly, outlandish things about the former Evangelical pastor, Bruce Gerencser. Evidently, verses about lying and corrupt communication have been cut out of their Bibles. Either that, or their objective is to trash my name, hoping that readers will stop frequenting this site. Or, maybe, just maybe, they are mean-spirited, judgmental assholes who don't know how to play well with others.
Take Spaniard VIII, the purveyor of the Spiritual Minefield: Exposing the spiritual landmines of the devil through the Word of God blog. Sp8 loves to throw shade my way. He's fond of distorting and lying about what it is atheists actually believe. Sp8, in particular, is quite into all things Satan. Anything and everything he disagrees with or cannot understand is labeled Satanic. It should come as no surprise that Sp8 thinks I am a tool of Satan, used by the evil one to deceive people he deems "weak" Christians. Atheists, in general, are Satanic too. Sp8 is a twenty-first-century Fundamentalist equivalent of anti-communist Joseph McCarthy. Everywhere Sp8 looks, he sees Satan. Why, I suspect if Sp8 looks under his bed at night, he sees Satan lurking there, ready to pounce on him if he takes off his spiritual armor (Ephesians 6:10-18).
The remainder of this post is for the Sp8s of the world, people who think I am possessed by Satan, AKA the Devil, Lucifer, Slewfoot, Beelzebub, Son of God, Mephistopheles, AntiChrist, Moloch, Prince of Darkness, Father of Lies, the Evil One, Abaddon, Accuser of the Brethren, Beast, Belial, Dragon, Wicked One, King of the Bottomless Pit, Leviathan, Prince of the Power of the Air, Ruler of this World, Ruler of Darkness, Serpent, Son of Perdition, and Morningstar (names of Satan).
I arise from my bed, ready to face a new day. I raise my hands towards Heaven, praying, "Lord Satan, thank you giving me another day to worship you; to advance your kingdom on earth; to wage war against Sp8 and all the evil Christians. I pray you will give me strength to do your work, on earth as it is in Heaven — err, I mean Hell. Sorry about that, Lord. Amen."
I put on my Satan Rocks tee shirt, God Sucks underwear, pants, and ball cap. I love my hat. It has a big A emblem on its front, signifying my allegiance to the one true faith of atheism. My grandchildren, however, think the A stands for Aardvark. Someday, they will know the truth. I long for the day when my grandchildren worship with me on Halloween — the day when atheists make blood sacrifices to Satan and bob for apples afterward.
I spend the afternoon reading atheist books. I must keep my mind sharp if I ever hope to defeat Sp8 — a man who has John Holmes-sized apologetical skills. Later in the day, my lunch of broiled aborted fetuses, smothered in the blood of Christians, makes its way through my digestive tract. Time to use the bathroom. It is during my daily constitution that I "read" the Word of God. Well, kind of read. I have to decide if I will go Old Testament or New Testament to wipe my ass. Today, it's NT, so I rip John 3 out of my King James preaching Bible and take care of business.
Finally it is time for me to sit down and start writing for The Life and Times of Bruce Gerencser. I offer up a quick word to Satan, and then, filled with anger, rage, bitterness, and hatred for the Christian God, Jesus, the Bible, and Sp8, I begin to write. My blood pressure rises to 180/130 as I slam my fingers into the keys on my Model M IBM keyboard. Soon, I am frothing at mouth, uttering invectives against SP8's God.
Several hours later, I finish writing. Time to post it to my blog. Before I do, I offer up another prayer to my Lord. "Dear Satan. Thank you for filling me with your words. I pray that you will use this post to tear down strongholds and defeat the true evil one, Jesus. May countless souls be saved by reason and common sense. Amen."
As evening turns into night, it's time for me to watch TV. I scan through the twelve Christian channels I receive with my Directv satellite package. "Nothing to see here," I say to myself. "Con-artists, the lot of them, out to fleece their flocks. Keep preaching the word, angels of light." (2 Corinthians 11:14)
My fellow Satan worshiper, Polly, arrives home from work, and we soon head for bed. Polly quickly falls off to sleep, but not me. My mind is filled with thoughts about my hatred for God, Sp8, and all things Christian. I am already planning tomorrow's attack on True Christianity®. Finally, I fall asleep, dreaming of a day when reason rules the land and the Sp8s of the world finally understand that atheists don't believe in God or Satan. Both are mythical beings, the creations of Bronze Age minds. Will the Sp8s of the world ever see the light? Oh Lord Satan, may it be so.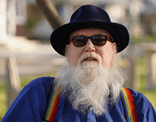 Bruce Gerencser, 64, lives in rural Northwest Ohio with his wife of 43 years. He and his wife have six grown children and thirteen grandchildren. Bruce pastored Evangelical churches for twenty-five years in Ohio, Texas, and Michigan. Bruce left the ministry in 2005, and in 2008 he left Christianity. Bruce is now a humanist and an atheist.
You can contact Bruce via email, Facebook, Twitter, or YouTube.
Your comments are welcome and appreciated. All first-time comments are moderated. Please read the commenting rules before commenting.