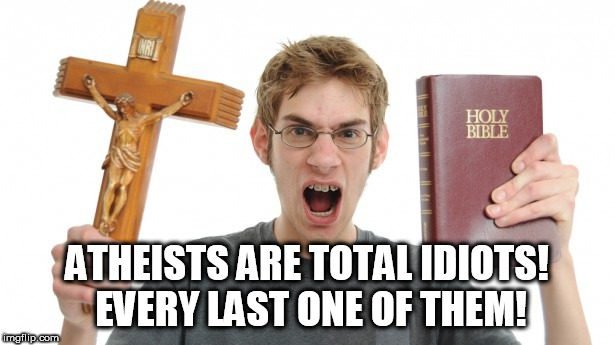 Cowboy Bob Sorensen is An Evangelical Christian who despises atheists; not just atheism, but atheists themselves. Two weeks ago, I featured Cowboy Bob in the Christians Say the Darnedest Things Series. This series quotes Evangelicals without any commentary from me. Welp, Cowboy Bob took offense at me quoting him.
My previous article on this weblog was a retooled post from Fakebook that examined alleged logic and morality from certain misotheists. It prompted reactions. One was built on complete dishonesty, including putting words in my mouth. I saw that he was just another angry bigot who was justifying his rebellion against Almighty God, and not worth my time. (I reckon he sent about ten visits here with his link.) If you go there, note that he doesn't exactly enforce the comments policy for his sycophants.

A second reaction was written by an acolyte of the first writer. His comments on this weblog were the same old boilerplate rhetoric. When I stopped responding and allowing his disingenuous comments, he wrote his own post.
Cowboy Bob thinks I was dishonest. In what way? All I did was quote him. Don't like being quoted? Stop saying inflammatory, hateful shit. I've been reading Cowboy Bob's blog for several years. His hatred for atheists is legendary.
Cowboy Bob also thinks by me quoting him that I'm "justifying" my rebellion towards his peculiar version of the Christian God. This one is a head scratcher for me. Maybe, he means my blog as a whole. Regardless, I am just one man with a story to tell. I'm not in the justifying business. That's Cowboy Bob's schtick — justifying the Bible and its abhorrent teachings. Jesus, Cowboy Bob, you are a member of a blood cult. You are the one that has a lot of justifying to do.
Cowboy Bob also took issue with something my friend Ben Berwick wrote in a post titled The Creation Cowboy. (I didn't even know Ben wrote this post until today.) I'll leave it to Ben to defend himself. Calling Ben an acolyte of mine is hilarious. Ben's not even an atheist. We became acquainted though being targets of fake Dr. David Tee, whose real name is Derrick Thomas Thiessen. That's it. That we've become friends is awesome. But acolyte? Child, please. I don't have followers. I have readers, some of whom are friends and acquaintances. Cowboy Bob is the one who belongs to a cult. He and Thiessen should get together. Both are rabid Bible-thumping creationists.
For the record, here's the comment Cowboy Bob left on Ben's post. You be the judge of his character. I know what I think. 🙂
To show the brilliance of The Mighty Atheist™, you begin with an ad hominem, using cowboy as a pejorative. This is followed by a hasty generalization about my knowledge of atheists based on just onearticle. I've got some bad news for you, Sunshine, I've been writing about atheists, theology, and other things for somewhere around fifteen years. That means I won't fall for tricks. So, have fun with your argument from silence and other logical fallacies in your vindictive, petty post. Mayhaps when your frontal lobes develop and you can have a rational discussion, I'll let you comment on my posts again, mmmkay?
Evidently, Cowboy Bob didn't like the comments readers left on my post. I went back and read the comments. I didn't see anything that violated the comment policy. Are regular readers and commenters given greater latitude, comment-wise? Yep. Everyone can have a bad day. However, Evangelicals often come in commenting with both barrels blazing. I make no apologies for cutting such people off after one or two comments. My house, my rules. Don't like it, start your own blog.
Finally, Cowboy Bob thinks it is beneath him to respond to me; not that there's anything for him to respond to since all I did was quote him. He implies, based on referrals from this site, that no one reads this blog. He fails to consider that my quote was sufficient to fairly represent him, so there's no reason for readers to click the link to his site. I am certain, based on the server logs, that a wee bit more than ten people read Cowboy Bob's quote. 🙂
Cowboy Bob's goal is to discredit and demean. I'm confident that fair minded readers will see right through his subterfuge — all ten of you anyway. 🙂
Bruce Gerencser, 66, lives in rural Northwest Ohio with his wife of 45 years. He and his wife have six grown children and thirteen grandchildren. Bruce pastored Evangelical churches for twenty-five years in Ohio, Texas, and Michigan. Bruce left the ministry in 2005, and in 2008 he left Christianity. Bruce is now a humanist and an atheist.
Connect with me on social media:
Your comments are welcome and appreciated. All first-time comments are moderated. Please read the commenting rules before commenting.
You can email Bruce via the Contact Form.