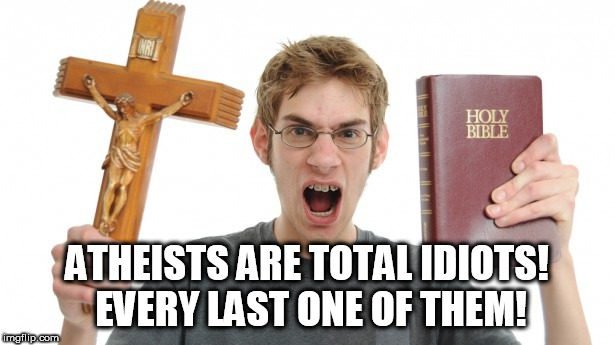 Those "freethinkers' marching in lockstep, getting their "facts" from atheopath talking points clearinghouses, seem determined to argue with Christians and creationists about practically everything.
….
Many professing atheists seek their identities in denying the existence of God, which is galactically stupid even on the surface. Study on it a spell. How many a-Easter-Bunny-ists write and sell books, form groups, make videos, have people pay money to join their "reason circle" to combat the Easter Bunny, use anti-Bunny profile icons, and more? It's because there is no Easter Bunny, but they know God exists and suppress the truth! For some inexplicable reason, ridicule is an acceptable substitute for rational discourse and proves them right. Contradiction and ridicule are not refutation. You savvy that, pilgrim?
It is amazing that so many of Satan's handmaidens reflexively contradict us, thrusting their atheopathy into the bright spotlight. For example, informed creationists [oxymoron] often have to correct evolutionists and professing atheists on their own belief systems and scientific truth. Also, you would think that people who claim to believe in reason, science, and logic would have at least some skill in using those things. Instead, we are subjected to bullying and malarkey. Most are all hat, no cattle.
….
In their rabid hatred of God, Christians, and especially biblical creationists, bigots like this [and most atheists] are fond of perverting Scripture. It's who they are and what they do, even when the truth applies to them — and they end up proving God right yet again.
— Cowboy Bob Sorensen, The Creation Cowboy, Internet Atheists Proving God is Right about them — Again, August 8, 2022