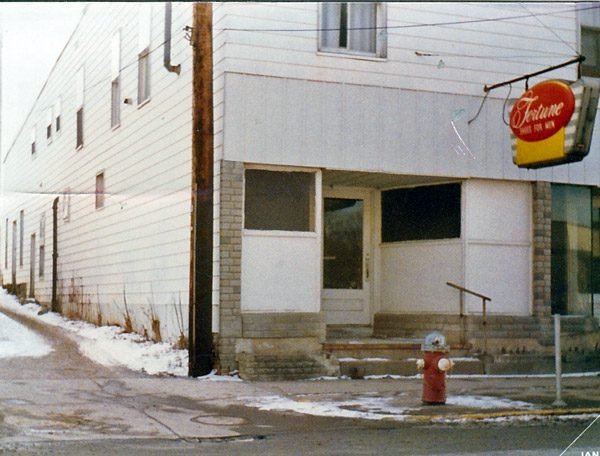 In July 1983, I started a new Independent Fundamentalist Baptist (IFB) church in the southeast Ohio community of Somerset. I rented a storefront, spent a couple of weeks cleaning up and remodeling the space, and then on the second Sunday in July, Somerset Baptist Church held its first service. There were sixteen people in attendance, including Polly and our two youngest children. At the time, we lived half an hour north of Somerset in the lakeside community of Buckeye Lake. I worked for the village as a grant writer, litter control program manager, workfare program manager, and property code enforcement officer. In September of 1983, we moved from Buckeye Lake to New Lexington, ten miles south of Somerset. We didn't live but a few months in New Lexington, thanks to our rented home having a horrible odor from the previous renter's animals peeing all through the house. Our landlord replaced the carpet and shellacked the underlying wood floors, but the awful smell remained. In early December, we packed up our meager belongings and moved to a ramshackle farmhouse near Glenford.
Our new home had been moved from Glenford proper to the top of a hill just outside of town. It was an uninsulated, drafty house that had free natural gas for heating. Perry County had a lot of oil/gas wells, including the one that sat behind our house. It was good that the gas was free. Ohio winters can be cold, and the winter of 1983-84 was one such winter. We set the furnace at eighty degrees, running it constantly, just to keep the house warm enough to live in. One of the side effects of having a natural gas well nearby was that our water well was infiltrated by the gas. Drinking water had to sit before use so the gas could dissipate. The gas levels were such that we could light the gas straight out of the kitchen faucet. Fun times. Worse yet, the gas made the water quite hard, so we had to use water-softening agents when we took baths.
The one nice thing about this house was that it had a fairly new basement. It became the inside playground for our two young children and our foster child. Of course, there were things our boys could get into. One day I went to the basement only to find our son Nathan and our foster son JR rolling up papers and sticking them in the standing pilot on the hot water tank so they could set them on fire! (The boys had seen me do the very same thing when lighting the pilot.) One spring day, the boys were playing in the basement when Polly called them up for lunch and a nap. At the time, we had two kittens. The boys had been playing with the kittens and left them in the basement when they came up to eat. Unbeknownst to us, they left them in the cooler and shut the lid. This, of course, killed the kittens.
Christmas 1983 was one we would never forget. My grandparents, John and Ann Tieken, along with my mother, her new husband Michael Monshine, and my sister and her family joined us for Christmas. Polly and I were excited about having my family over for Christmas — our first and only such event. The Tiekens joined us for church that morning, and everyone else arrived early afternoon. It was bitterly cold and snowy, and while driving the five miles to our home from church, the radiator on our car froze up, leaving me stranded. I walked to a nearby house, used their phone, and had someone come and get me. Little did I know that my car radiator freezing was the best thing that would happen to me on that day.
The radiator freezing, of course, elicited a lecture from my grandfather about making sure I had enough antifreeze in the radiator. Grandpa's lectures, warranted or not, were a "gift" he gave me every time he saw me. Having my mom and the Tiekens in the same room was risky, thanks to past violence, sexual abuse, and Jesus-loves-you judgmental behavior. Grandpa was a mean, judgmental son-of-a-bitch who loved Jesus. Ann was more of a passive-aggressive type of person, but she too could cut you to the quick with her self-righteous judgments. Needless to say, the entire afternoon was filled with tension; so much so that Polly and I were relieved when it was over. I made matters worse by not letting Mom or her husband smoke inside our home. I told them they would have to stand outside on our front porch to smoke. The temperature that day? Nine degrees below zero. This "order," of course, infuriated my mother. She let it be known that she would NOT come to my house again if she couldn't smoke inside. She kept her word, killing herself a decade later without ever darkening the door of my home again.
1983 was quite the year for the Gerencser family. We would have many more eventful days in the years ahead. In fact, I suspect if I gave a full and honest reckoning of my life, I would find that EVERY year had life-altering moments. Sure, life is filled with the mundane, but there are those days and moments when the circumstances of life alter our present and transform our future. The eleven years Polly and I and our growing family spent in Somerset fundamentally changed us and laid the groundwork for what one day would result in us leaving the ministry and walking away from Christianity.
Bruce Gerencser, 66, lives in rural Northwest Ohio with his wife of 45 years. He and his wife have six grown children and thirteen grandchildren. Bruce pastored Evangelical churches for twenty-five years in Ohio, Texas, and Michigan. Bruce left the ministry in 2005, and in 2008 he left Christianity. Bruce is now a humanist and an atheist.
Connect with me on social media:
Your comments are welcome and appreciated. All first-time comments are moderated. Please read the commenting rules before commenting.
You can email Bruce via the Contact Form.