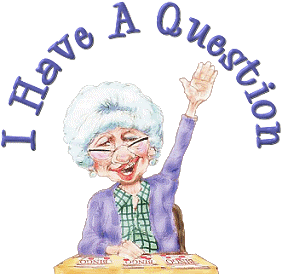 Recently, Dr. Michael Brown, an Evangelical Christian apologist, asked atheists seven questions. Brown explains his reason for doing so this way:
If you consider yourself an atheist today, or if you considered yourself an atheist in the past, I'd love to ask you some honest questions.

But I do not ask these questions to win a debate. Or to be antagonistic. Or to buttress my own beliefs by exposing alleged weaknesses in your position. To the contrary, I ask these questions so I can better understand your mindset as an atheist.
What follows are my answers to Brown's seven questions. I will send my responses to Brown after this post goes live.
Before I answer Brown's questions, I want to share with him my background.
I was part of the Evangelical church for almost fifty years. My parents started attending Tim LaHaye's church, Scott Memorial Baptist Church in El Cajon, California, in the 1960s. Both made public professions of faith and were devout Christians until they divorced in 1972. Our family attended church every time the doors were open. At the age of fifteen, I went forward during a revival meeting and one of the church's deacons led me to saving faith in Jesus Christ. Two weeks later, I stood before the church and confessed that I believed God was calling me to preach. Several weeks later, I preached my first sermon.
At the age of nineteen, I enrolled in classes at Midwestern Baptist College, a small Independent Fundamentalist Baptist (IFB) college in Pontiac, Michigan. While at Midwestern, I met a beautiful dark-haired girl named Polly. She was the daughter of an IFB pastor and the granddaughter of a United Baptist preacher. Two your later we married, and on July 15, we will celebrate forty-four years of marriage. We are blessed to have six grown children, thirteen grandchildren, and an old cat named Joe Meower.
After leaving Midwestern in 1979, I started working for a GARBC (General Association of Regular Baptist Churches) church. Over the course of the next twenty-five years, I also pastored two IFB churches, a Sovereign Grace Baptist church, a Christian Union church, a non-denominational church, and a Southern Baptist church, all in Ohio, Texas, and Michigan.
In 2005, I left the ministry, and in 2008 I left Christianity altogether. In early 2009, I publicly professed that I was an atheist. My wife would also later confess that she no longer believed in the Christian God.
Now that I have given a brief summary of my past, let me take a stab at Brown's questions.
Question One: Would you say that you are (or, were) an atheist based primarily on intellectual study or based on experience? Or did you never believe in God at all?
While my personal experiences as an Evangelical Christian and a pastor certainly played a part in my deconversion, I primarily deconverted for intellectual reasons. My journey away from Christianity began when I concluded that the Bible was not inerrant or infallible. From there, I took a careful look at my beliefs, particularly the central claims of Christianity. I concluded that these beliefs could not be intellectually and rationally sustained. Once I came to this conclusion, I recognized I could no longer call myself a Christian.
Question Two: Would you say that even as an atheist you still have a sense of purpose and destiny in your life, a feeling that you were put here for a reason and that you have a mission to accomplish?
We give ourselves meaning and purpose. There's no external force — God, the Universe, the Holy Spirit — that gives us meaning and purpose. While I recognized external human forces affect my life and the decisions I make, I am the captain of my ship. I see no evidence of an otherworldly being or force affecting my life.
Do I have a reason for living? Sure. This is the only life I will ever have, so I am in no hurry (most days) to die. I want a better tomorrow for my children and grandchildren, so I work to that end to affect social and political change.
Do I have a mission? Sure. I think Evangelicalism, especially in its Fundamentalist forms, is harmful, causing untold heartache and damage. As a writer, my goal is to tell my story and expose the abusive, harmful underbelly of Evangelical Christianity.
Third Question: Would you say that you are 100% sure there is no such being as God—meaning, an eternal, all-powerful, all-knowing being? Or would you say that, for all practical purposes, you have concluded that this God does not exist, although it is impossible to prove such a negative with absolute certainty?
I am an agnostic atheist. I am agnostic on the God question. I cannot know for certain if a god of some sort exists. The evidence suggests such a being does not exist, but it is within the realm of possibilities that a deity may one day reveal itself to us.
When it comes to specific religions, say the Abrahamic faiths, I am confident these religions are myths.
Because I see no evidence for the existence of a deity, I live my day-to-day life as an atheist.
Fourth Question: Do you believe that science can provide answers for many of the remaining mysteries of the universe, including how the universe began (including where matter came from and where the Big Bang derived its energy), the origin of life, and DNA coding?
I don't know. Science continues to give us answers to previously unanswerable questions. Whether science ever explains to us what happened before the Big Bang is unknown. Science does adequately explain our world from the Big Bang forward, and that's enough for me. Unlike many Christians and atheists, I have little interest in philosophical debates about the existence of God and the beginning of the universe. I'm dying — literally — so I choose to live in the present. I am far more interested in balancing our checkbook than I am the Kalam Cosmological Argument.
Fifth Question: Have you had any experiences in life that caused you to question your atheism? Has something happened to you that seemed genuinely supernatural or otherworldly? Or have you been confronted with some information that shook your atheistic foundations, such as a scientific argument for intelligent design? If so, how have you dealt with such doubts to your atheism?
No. One step in my deconversion was giving an honest accounting of the "miracles" and "answered prayers" in my life. My wife did the same. We concluded that we could rationally explain all but a handful of experiences. This was not enough evidence for us to conclude that the Christian God of the Bible did it. Unexplainable? Sure, but I reject the God of the gaps argument Evangelicals often use to explain the unexplainable. I am content with saying, "I don't know."
Sixth Question: Are you completely materialistic in your mindset, meaning human beings are entirely physical, human consciousness is an illusion, and there is no spiritual realm of any kind? Or are you superstitious, reading horoscopes or engaging in new age practices or the like?
Yes, I am a materialist.
I see no evidence of a spiritual realm or souls. I believe that new age practices, horoscopes, Tarot card readings, and homeopathy, to name a few, are in the same category as prayers and miracles: unsupported by evidence.
Seventh Question: If you were convinced that God truly existed—meaning the God of the Bible, who is perfect in every way, full of justice and mercy, our Creator and our Redeemer—would that be good news or bad news? And would you be willing to follow Him and honor Him if He were truly God?
I am already convinced that the God of the Bible does not exist, and I can't imagine any evidence will be forthcoming to change my mind. Thousands of Evangelical zealots and apologists have tried to evangelize me, without success. It has been years since I heard a new argument for the truthfulness of Christianity. As Solomon said, there's nothing new under the sun. Every few days, I will get an email, message, or social media comment from an Evangelical who is certain they have the remedy for my atheism Alas, they fail every time.
Even if I could be convinced that the God of the Bible is real, I still wouldn't worship him. Richard Dawkins was right when he said:
The God of the Old Testament is arguably the most unpleasant character in all fiction: jealous and proud of it; a petty, unjust, unforgiving control-freak; a vindictive, bloodthirsty ethnic cleanser; a misogynistic, homophobic, racist, infanticidal, genocidal, filicidal, pestilential, megalomaniacal, sadomasochistic, capriciously malevolent bully.
Such a deity is unworthy of my worship. The only god I worship is my wife. 🙂
If you would like to answer these questions, please send your responses to info@askdrbrown.org.
Bruce Gerencser, 66, lives in rural Northwest Ohio with his wife of 45 years. He and his wife have six grown children and thirteen grandchildren. Bruce pastored Evangelical churches for twenty-five years in Ohio, Texas, and Michigan. Bruce left the ministry in 2005, and in 2008 he left Christianity. Bruce is now a humanist and an atheist.
Connect with me on social media:
Your comments are welcome and appreciated. All first-time comments are moderated. Please read the commenting rules before commenting.
You can email Bruce via the Contact Form.