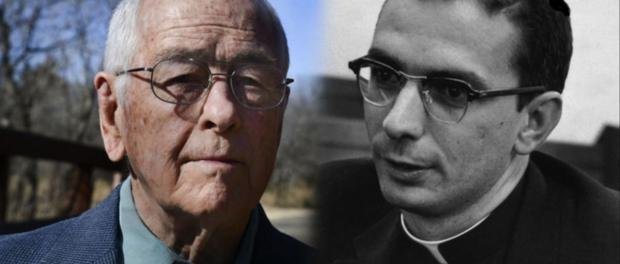 John Feit, a former priest at Sacred Heart Catholic Church in McAllen, Texas, was found guilty today of murdering a 25-year-old parishioner in 1960.
My San Antonio reports:
A former priest accused of killing a Rio Grande Valley beauty queen in 1960 was found guilty of murder with malice aforethought Thursday after a jury deliberated for about six hours.

John Feit, now 85, sat stone-faced and showed no emotion as he was convicted of killing Irene Garza, a 25-year school teacher, when he was 27 and serving as a fill-in priest in the Valley. Family members of the victim hugged each other after the verdict was read.

Garza was last seen going to Sacred Heart Catholic Church in McAllen where Feit heard her confession. Her body was found five days later in a canal. Autopsy results showed she had been raped while unconscious and died of asphyxiation, likely from suffocation.

Garza's grisly killing during Holy Week 1960 haunted South Texas for decades and was the subject of a 48 Hours television special.

Feit's conviction brings an end to one of the oldest cases in the Hidalgo County judicial system, but leaves unresolved allegations of a deal cut between the district attorney and church leaders to stop the investigation into Feit and avoid a scandal.