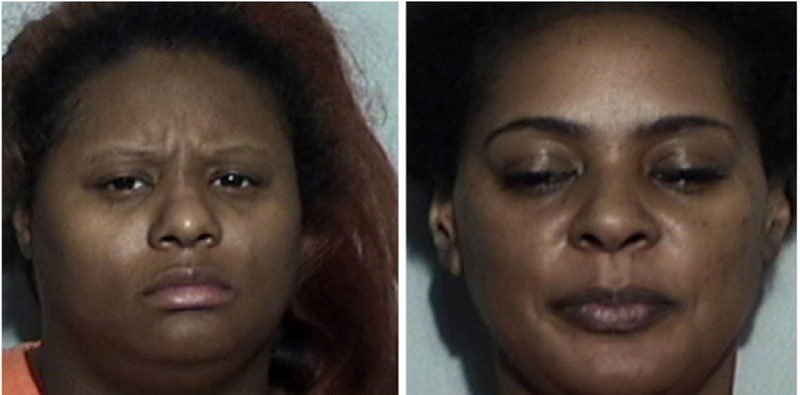 The Black Collar Crime Series relies on public news stories and publicly available information for its content. If any incorrect information is found, please contact Bruce Gerencser. Nothing in this post should be construed as an accusation of guilt. Those accused of crimes are innocent until proven guilty.
In 2017, three Toledo, Ohio Evangelical pastors, Anthony Haynes, Cordell Jenkins, and Kenneth Butler were accused of child sex trafficking. Since then, Haynes and Jenkins have received life sentences for their crimes, and Butler was sentenced to 17½ years in prison.
I have written numerous posts on this sordid story:
In 2019, Cordell Jenkins' wife, Laura Lloyd was sentenced to 21 months in prison for lying to federal prosecutors.
The final chapter of this story has now been written. Alisa Haynes — the wife of Anthony Haynes — and his stepdaughter, Alexis Fortune, have been sentenced to 24 months and 48 months respectively in federal prison for witness tampering.
In 2019, the Toledo Blade reported:
…are accused of kidnapping one of the teen victims Saturday, according to a criminal complaint filed in U.S. District Court Toledo.

During that time, they're accused of pointing a gun at her and choking her with a black computer cord to convince her not to go through with testifying at Mr. Haynes' trial.

The women are charged with tampering with a witness, victim, or informant just weeks before Mr. Haynes' trial is scheduled in U.S. District Court, where the victim is slated to testify.

….

At roughly midnight Saturday, the girl — whose name was not released — stated she was home with her younger sister when she heard someone knock on her apartment door. She looked through the peephole but could not see anyone, according to the criminal complaint.

he girl knew by the person's voice that it was Ms. Fortune; she opened the door and saw Ms. Fortune wearing a mask, black gloves, and holding a silver revolver, according to the criminal complaint. Ms. Fortune is accused of pointing the loaded gun at the girl's head, forcing her way into the apartment — locking the door behind her — and taking the girl's phone.

Ms. Fortune is accused of then choking her with a computer cord, according to the complaint. Shortly after, Ms. Haynes entered the apartment and Ms. Fortune directed the girl into the kitchen for a "heart-to-heart" conversation.

"Alexis told [the victim] how hard it is for their family to live financially and emotionally since Anthony's been arrested, how they are depressed, and begged [the victim] not to go to trial," according to the complaint.
In May 2020, Haynes and Fortune were both sentenced to federal prison for trying to get the victim to recant her story.
Alisa Haynes, 45, the wife of Anthony Haynes, and his stepdaughter, Alexis Fortune, 25, appeared by video conference to be sentenced by visiting Judge Bernard Friedman. Both women agreed to proceed with the hearing by video rather than in person at U.S. District Court in Toledo due to the coronavirus. 

Haynes was sentenced to an agreed upon 24 months in federal prison, while Fortune was sentenced to 48 months for their roles in having a victim in a multiple year sex-trafficking case leave a voice message on Haynes' cell phone which contradicted her story to law enforcement. 

"Ms. Fortune gave one of the victims a phone in order to leave not just one, but two voicemail messages recanting what the victim said to law enforcement officers about what happened in the underlying sex-trafficking case," U.S. Assistant Attorney Ashley Futrell said on Tuesday. "Your honor, that was the goal and the purpose of this night."

On Tuesday, Fortune asked Judge Friedman why she was being sentenced to 48 months when the guideline range suggested a 30 to 37 month sentence for the sole offense of tampering with a witness or victim. She was originally charged with false statement or representation made to a department or agency of the United States and using, carrying, and brandishing a firearm during and in relation to a crime of violence.

Through a plea agreement, 48 months was a negotiated sentence as federal prosecutors said her initial charges would have led to significant time behind bars. The firearm offense alone carried a minimum of seven years in federal prison, said U.S. Assistant Attorney Michael Freeman. 

Haynes and Fortune previously pleaded guilty in November to tampering with a witness or victim for going to the girl's apartment on Jan. 4, 2019, which led to several hours of them and the victim's minor sister driving around Toledo. 
Bruce Gerencser, 66, lives in rural Northwest Ohio with his wife of 45 years. He and his wife have six grown children and thirteen grandchildren. Bruce pastored Evangelical churches for twenty-five years in Ohio, Texas, and Michigan. Bruce left the ministry in 2005, and in 2008 he left Christianity. Bruce is now a humanist and an atheist.
Connect with me on social media:
Your comments are welcome and appreciated. All first-time comments are moderated. Please read the commenting rules before commenting.
You can email Bruce via the Contact Form.