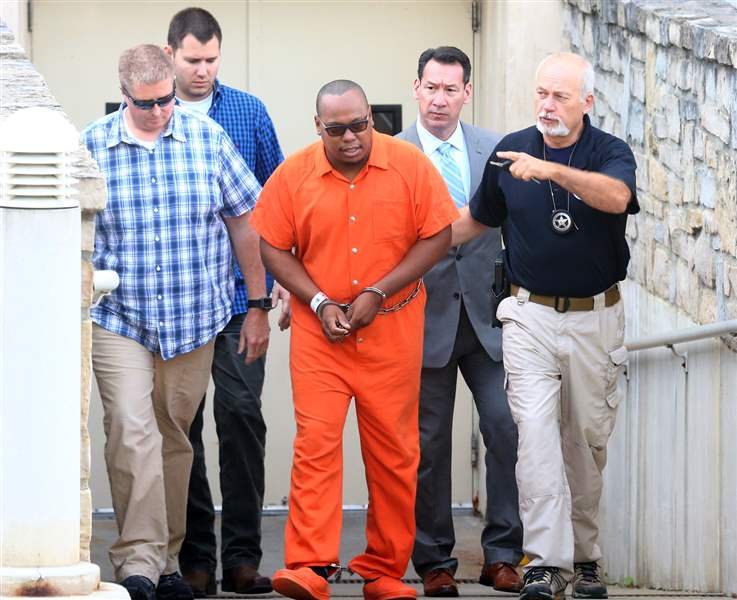 Earlier this year, Toledo Evangelical pastors Cordell Jenkins and Anthony Haynes were accused of "knowingly recruiting, enticing, harboring, and transporting people they knew were younger than 18 years old to engage in commercial sex acts." You can read about their arrests here.  Another Evangelical pastor, Kenneth Butler, has been arrested and charged with sex trafficking. Butler's case is connected to Jenkins' and Haynes' cases. Butler is the pastor of Kingdom Encounter Family Worship Center in Toledo, Ohio.
A Toledo pastor arrested last night for sex trafficking waived his preliminary hearing in court Thursday.

Kenneth Howard Butler, 37, is in custody of the FBI following his arrest. He will have a detention hearing October 12.

Butler is a pastor at Kingdom Encounter Family Worship Center on Reynolds Road.

Butler's arrest comes months after the arrest of two other local pastors, Cordell Jenkins and Anthony Haynes, who were also charged with sex crimes. Authorities confirm all three cases are connected.

According to federal court documents, a 15-year-old girl says she met Butler at Haynes church in Toledo. The girl says Butler talked the girl in the church parking lot, expressing interest in having sex with her. Court documents show another church member approached the pair, interrupting the conversation.

The girl says Butler drove her to work and to Butler's church in Detroit, Mich. At the age of 16, the girl says Butler had sex with her. She says Butler placed money in the center console of his car for her.

Court documents explain that Haynes' wife called Butler and recorded a conversation in which he admitted to having sex with the underage girl, saying he thought she was "close to" the age of 18. He also allegedly admitted to giving her money afterward. The documents also say Butler instructed the teenage girl to lie if questioned by the FBI.

Court documents further say Butler admitted to having sex with the minor girl. The document also shows Butler admitted to knowing the girl was a minor and giving her money on multiple occasions. He denied that the money was in exchange for sex.

….