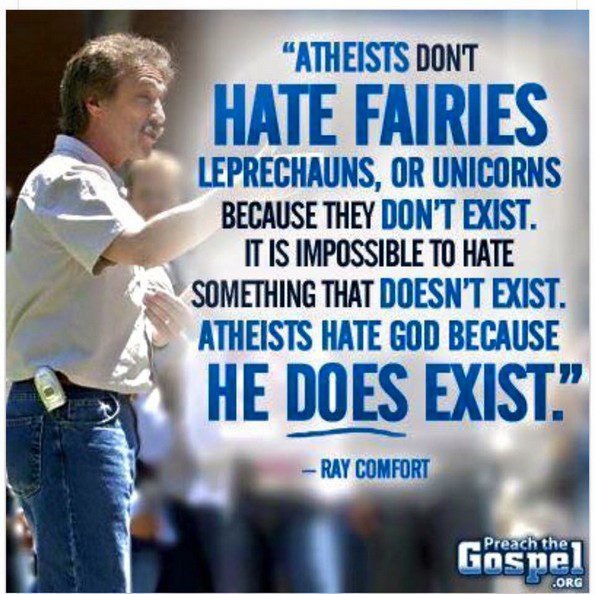 Christian bloviator Matt Barber — a former boxer who evidently took one too many hits to the head — took to his blog today to regale readers with his ignorance concerning atheism. Barber, a creationist, wrote the post to detail his Bible-based beliefs about the creation of the universe. He vomits up arguments that have been repeatedly refuted, and like a peacock strutting his stuff, Barber arrogantly states that his argumentative brilliance deals atheism (and science) a mortal blow. Of course, only in Barber's Fundamentalist universe do such arguments find adoring and cheering crowds. In the real world, suggesting that the Big Bang proves the existence of God — God being, of course, Barber's Evangelical deity — is rightly ridiculed and dismissed.
Be they theist, atheist or anti-theist, on this nearly all scientists agree: In the beginning there was nothing. There was no time, space or matter. There wasn't even emptiness, only nothingness. Well, nothing natural anyway.

Then: bang! Everything. Nonexistence became existence. Nothing became, in less than an instant, our inconceivably vast and finely tuned universe governed by what mankind would later call – after we, too, popped into existence from nowhere, fully armed with conscious awareness and the ability to think, communicate and observe – "natural law" or "physics."

Time, space, earth, life and, finally, human life were not.

And then they were.

Writing in the Wall Street Journal, Christian author Eric Metaxas notes, "The fine-tuning necessary for life to exist on a planet is nothing compared with the fine-tuning required for the universe to exist at all. For example, astrophysicists now know that the values of the four fundamental forces – gravity, the electromagnetic force, and the 'strong' and 'weak' nuclear forces – were determined less than one-millionth of a second after the big bang. Alter any one value and the universe could not exist. For instance, if the ratio between the nuclear strong force and the electromagnetic force had been off by the tiniest fraction of the tiniest fraction – by even one part in 100,000,000,000,000,000 – then no stars could have ever formed at all. Feel free to gulp. … It would be like tossing a coin and having it come up heads 10 quintillion times in a row. Really?"

Secular materialists claim it can't be – that such explanation is a "God of the gaps" explanation and, therefore, must be banished from the realm of scientific inquiry. They demand that anything beyond the known natural is off-limits. Atheists attribute all of existence to, well, nothing. It just kind of happened. Genesis 1:1 of the materialist bible might read: "In the beginning nothing created the heavens and the earth." Even in the material world that's just plain silly. Nothing plus nothing equals something? Zero times zero equals everything?

And so, they have "reasoned" themselves into a corner. These same materialists acknowledge that, prior to the moment of singularity – the Big Bang – there was no "natural." They admit that there was an unnatural time and place before natural time and space – that something, sometime, somewhere preceded the material universe. That which preceded the natural was, necessarily, "beyond the natural" and, therefore, was, is and forever shall be "supernatural."

Reader, meet God.

In short: the Big Bang blows atheism sky high.
Scientists readily admit that they do not yet have answers for what preceded the Big Bang. Like  Ken Ham, Barber ultimately appeals not to science, but to the Bible. God said ______, end of discussion. Barber thinks that by invoking God as the cause of the Big Bang that he has provided an argument that cannot be refuted. Of course, even a child can refute this argument. If everything in the universe has a cause, then where did God come from? The God who caused the Big Bang and created the universe acted within time and space, so he/she/it must also have a beginning. Neither scientists or religionists have answers for what happened before the Big Bang. The difference is that scientists are still trying to find answers. Creationists, on the other hand, appeal to the Bible, trusting that unknown ancient sheepherders or tribal lords had a better understanding of the universe than modern scientists.
I am curious however of one thing. Is Matt Barber saying he actually believes that God used the Big Bang to bring the universe into existence? If the answers is yes, then what happened to believing the Bible, particularly Genesis 1-3? You know, the verses, if taken as written, that say God created the universe in six literal 24 hour days, 6,021 years ago. Surely creationists have no need of making an argument for fine-tuning. Isn't it enough to say God did it?
Barber also had these things to say about atheism/atheists in general:
"They say there are no atheists in the foxhole. Even fewer when death is certain. None once the final curtain falls. God's Word declares, "The fool hath said in his heart 'there is no God'" (Psalm 14)."

"In my experience it is something common among atheists: an inexplicable, incongruent and visceral hatred for the very God they imagine does not exist. Indeed, Romans 1:20 notes, "For his invisible attributes, namely, his eternal power and divine nature, have been clearly perceived, ever since the creation of the world, in the things that have been made. So they are without excuse." Yet excuses they make."

"As I see it, atheism provides a case study in willful suspension of disbelief – all to escape, as the God-denier imagines it, accountability for massaging the libertine impulse."
I know, nothing atheists haven't heard countless times before.
If you have some spare time during your daily constitution, you can read Barber's post here. Warning, doing so could cause diarrhea.