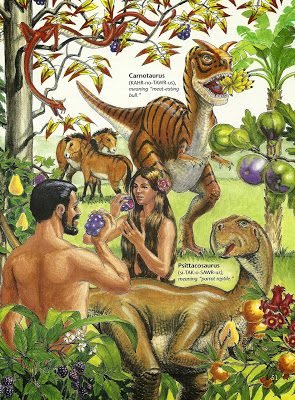 repost, edited and updated
James Hoskins, one of the writers for the Pathos blog, Christ and Pop Culture, wrote a post about the upcoming debate between Bill Nye and Ken Ham. I left several comments on the post and I thought readers would enjoy reading my interaction with a young earth creationist by the name of Riley:
Riley
Regarding dinosaurs and humans coexisting, we know that to be true already. So it seems plausible that the dragon myths point back to what we would now call dinosaurs. As far as the anatomical details, some of it was probably embellished and exaggerated over time, while other details come from witnessing different strains of dinosaurs.
Nemo
Citation needed. Before the Paluxy River tracks, I'd like to point out those were faked. Also, to add to my post about the origin of dragon myths, early European paintings showed them to be about the size of large monitor lizards (St. George, most notably). Over time, their size was exaggerated.
Riley
Ancient literature documents dinosaur siting's. Citation: Job 40 (thought to be the oldest book in the Hebrew Bible)
15 "Behold now, Behemoth, which I made as well as you; He eats grass like an ox.16 "Behold now, his strength in his loins And his power in the muscles of his belly. 17 "He bends his tail like a cedar; The sinews of his thighs are knit together. 18 "His bones are tubes of bronze;
His limbs are like bars of iron. 19 "He is the first of the ways of God; Let his maker bring near his sword. 20 "Surely the mountains bring him food, And all the beasts of the field play there. 21 "Under the lotus plants he lies down, In the covert of the reeds and the marsh.
22 "The lotus plants cover him with shade; The willows of the brook surround him. 23 "If a river rages, he is not alarmed; He is confident, though the Jordan rushes to his mouth. 24 "Can anyone capture him when he is on watch, With barbs can anyone pierce his nose?
Nemo
The behemoth in Hebrew mythology was the beast embodying the land, with the Leviathan representing the sea. Occasionally, the ziz, representing the sky, would be mentioned.* You must realize that the Book of Job was written well before any of the other books of the Old Testament, and contained some references to older myths.
As for the "tail like a cedar", that was most likely a euphemism for it's reproductive organs, a reference to the beast's virility. Creationists have tried to insist that the Behemoth was a sauropod (to explain the size) despite the fact that sauropods had teeth unsuited to the eating of grass, and instead ate the leaves at the tops of trees. Sauropods also, contrary to early beliefs about them, were not partially amphibious creatures.
Bruce
Funny how you abandon literalism when it is convenient. Where does this text use the word dinosaur. This is a behemoth not a dinosaur. Isn't that what the TEXT says? At best, all you can say is that you don't know what a behemoth is. Apply the Evangelical hermeneutic that Scripture interprets Scripture. Where does the Bible say that the behemoth is a dinosaur?
You want people to literally accept the Genesis 1-3 creation account, yet you are free to read your own interpretation into Job 40. Is this not hypocritical?
Further, even if this is a dinosaur, shouldn't Evangelicals call the dinosaur a behemoth? After all, that is what God called it. Dare you replace the Word of God with your own word?
Riley
Someone is sure in a bad mood! I don't think I'm reading anything into the text when I conclude based on the textual description that it is what we would call today a "dinosaur." What else has a tail like a cedar that swings? The word Behemoth was taken straight from the Hebrew by English translators because they didn't know how to translate the word. But I think the context points to it being a dinosaur. I have no problem if you prefer to call it a "Behemoth", but most people won't know what you mean.
Bruce
How could you possibly know what my mood is? Don't confuse my directness with anger or being in a bad mood.
Why is it that no modern translation translates the word dinosaur? Even the CEV translates it hippopotamus. What in the Hebrew text warrants translating the word dinosaur? In fact, according to Strong's Exhaustive Concordance, the Hebrew word behemoth( H930 if you want to look it up) is the plural of the word behemah (H929) which is translated everywhere else in the Bible as cattle or beast. Even in your beloved Gen 1-3, it is translated cattle.
You have no textual warrant for translating the word dinosaur, other than your presupposition about dinosaurs. This isn't about creation or science. It is about being honest with what the text says.
At best, all you can say is that you don't know what a behemoth is. But, based on the singular use of the word, it is likely some sort of cow. The translating of the word as dinosaur is not not found until modern creationists needed "prove" their theology.
All I am asking is that you be honest with the text.
Riley
I am doing my best to be honest with the text, friend. From the immediate context I think signs point to it being a dinosaur. I never said it should be translated, "dinosaur." I think given the uncertainty the traditional rendering, "Behemoth" is preferable to speculative renderings of hippopotamus and whatever else some modern versions have.
Riley
And so would small lizards now extinct not qualify as dinosaurs in your book?
Numerous other comments you can read here
Riley
I didn't say I "believed" the explanation for the appearance of lizards breathing fire, at least not in the same sense that I believe what is in God's word. But any intelligent person can discuss possibilities without making it a matter of faith.
Don't get hung up on the word, "Behemoth", considering it just means a large beast and is not more descriptive than that, based on the linguistic data we have. Examine carefully the rest of the description in the passage. What do you think it could be?
Tehsilentone
You're ignoring the obvious rebuttal you must already know if you wish to argue your perspective. When it says a tail like cedar it is not saying it is large and thick. The text does not specify the trunk. It is assumed by this line to be much more reasonably than a dinosaur, a hippo, elephant, maybe giraffe? As their tails are whippy and light as a ceder switch.
If there is no reason to believe something is real why try to argue for it. Goodness. Just cause you don't believe it to your very core doesn't mean you aren't horribly muddying the waters.
Then Riley goes where all Evangelicals go when backed into a corner:
To me it makes very little difference whether the "Behemoth" in Job 40 is dinosaur or not. It's not really worth arguing over, since it's not an important matter of faith what kind of animal it was. The point of the passage is that God must be very powerful if he can create a large powerful animal which is far beyond human control. I just tend to think that it is a dinosaur when I read the description. This question might perhaps merit a more detailed exegesis, but this is not the forum for that. I have not studied this passage in depth in the original Hebrew (though I have read it through once or twice in Hebrew.) I could be wrong, but I am taking "like a cedar" to be like the tree, i. e. the cedar beam. I already know that dinosaurs and humans coexisted from the Genesis 1 account.
end of discussion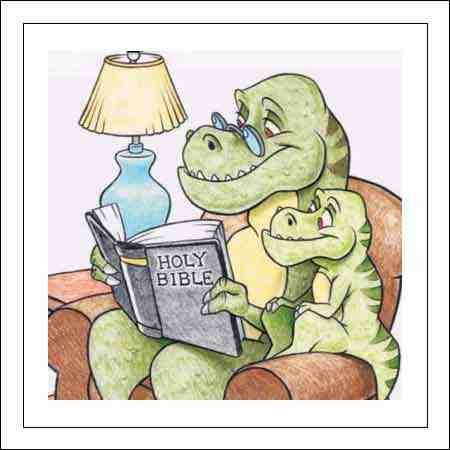 Riley wants to do some "detailed" exegesis of the Hebrew. I think I gave him all he needs to know. He has no warrant for saying behemoth actually means dinosaur. The only reason he does so, and the only reason any creationist does so, is because they need to fit dinosaurs into the young earth creation timeline. They KNOW they existed because the fossil record tells them they did, so the behemoth in Job 40 and leviathan in Job 41 become dinosaurs. This is a classic example of having a presupposition and making the Bible fit that presupposition.
As I have stated many times before, I think it is wrongheaded to argue science with creationists. The better line of argument is the Bible text itself. Their faith lies not in science, but in the Bible. Cause them to doubt the Bible and they are more likely to consider that they just might be wrong about creationism. Once their god, the inspired, inerrant Bible, is crushed, then those educated in the sciences can help lead them into the light.
If you have a creationist friend or family member, I encourage you to try to get them to read several of Bart Ehrman's books. Ehrman destroys the notion that the Bible is an inspired, inerrant text. It's impossible for a creationist to honestly read Ehrman and come away still believing the Bible is the inspired, inerrant Word of God. This doesn't mean that they will necessarily abandon Christianity, but it does mean, if they are honest, that they will recognize that the religious authority figures in their life have misled them. They might even conclude that their pastor, Sunday school teacher, and every other Evangelical Bible expert has lied to them. As Ehrman makes clear in several of his books, many Evangelical pastors know the truth about the nature of the Bible, but they refuse to share what they know with congregants. Telling the truth could result in conflict and loss of employment, so they stand week after week before their fellow Christians and lie about the history and reliability of the book they call the Word of God.
[signoff]