Several years ago, in response to one of my letters to the editor of the Defiance Crescent-News, local resident Nancy Dietrick sent me a postcard: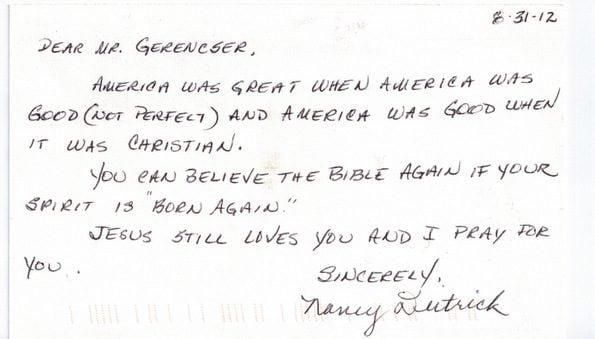 Instead of writing me a letter like several local Christians have, Dietrick decided to send me a postcard. I have no doubt local post office workers enjoyed her message to the village atheist.
What confused me was the notion that once I was "born again" I would understand the Bible. Isn't that backwards? I thought one had to embrace the gospel message in the Bible in order to be born again? Doesn't this require me to at least read some part of the Bible? I am so confused.
Not really.
Dietrick seems to forget that I was once "born again". She seems to forget that I was a Christian for 50 years and a pastor for 25 of those years. I am quite certain that I know the Bible as well as anyone in NW Ohio. I have read the Bible through countless times. Add to this the Bible reading I did as I prepared my sermons, it is safe to say that Bible comprehension is not my problem. In fact, the Bible is one the major reasons I am now an atheist.