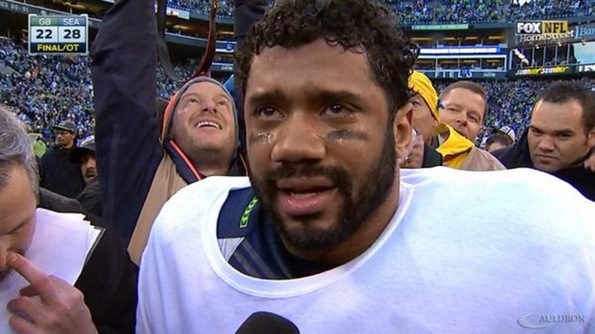 According to Russell Wilson, quarterback for the Seattle Seahawks, the Christian God is a Seahawks fan, at least for this week. Wilson had the worst game of his career, throwing four interceptions and was suffering four sacks. Wilson practically handed the game to the Green Bay Packers. But, Wilson had a secret weapon that Aaron Rodgers didn't know about, God. Yes, Wilson called on the big man upstairs to give the Seahawks what they needed to defeat the Green Bay Packers.
Eight hours before game time, Wilson put in a praise order to Jesus:
After the Seahawks stunning comeback win, Wilson and some of his Christian teammates knelt on the field and thanked God for their victory. Wilson later said:
"Just making the plays at the end. Keep believing. There was no doubt, I just had no doubt. We had no doubt as a team. The funny thing is I was on the sideline right before we went off that last drive and I told (offensive coordinator Darrell) Bevell, 'be ready for the check', for the play that we just ran through the touchdown. I said 'I'm gonna pull a touchdown and win the game'. And sure enough man. I just believe that God prepared me for these situations. God's prepared our team too as well. Like I said, I'm honored to be on this team. I'm going to the Super Bowl again."
You see, there's the problem. God was too busy helping Wilson prepare to beat the Seahawks to devote any time to rape and pillage going on in Nigeria. God was too busy helping Wilson understand the Packers' defensive schemes to concern himself with children going to bed tonight without eating. What a mighty, mighty God Wilson serves, a God who can't be bothered with the pressing needs of his creation because he's too busy fixing a football game in Seattle.
Wilson tweeted out after the game: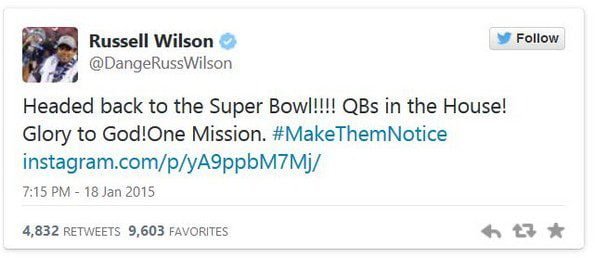 As an atheist, I am amused by these kind of masturbatory displays of Christianity. Since Wilson's God is a fiction, I know that the game was decided on the field. Green Bay had it in their grasp and let it get away. Wilson found a way to put off his horrible play and bring his team down the stretch to victory.
What troubles me is how many Christians are thrilled when a player or musician makes a public display of God affection. They are almost beside themselves when they hear their God, not just any God, THEIR God, mentioned on TV. Rarely do they consider how such things cheapen not only their religion but the God they worship.
Do they really want to speak up for a God who takes time out of his busy schedule to help a football team win a game? The same could be said when people praise God for helping them to find their keys. Is this who the Christian God is — a divine bellhop who stands by waiting to meet the every whim of self-indulgent followers of Jesus?
Christians of every stripe should be offended when players such as Russell Wilson attribute their victory to God, the deity who loves every sport. It seems God helps football teams score the winning touchdown, baseball teams score the winning run, and golfers make the winning putt. I suppose God's team even has some bowlers on it and he helps them get the 7-10 split to win the game. Is this what the Christian God has become, a genie who grants wishes to those who call upon his name?
If that is so, why then is he silent when millions of people will call on his name asking him to save them from starvation, torture, rape, calamity, and death? Is God so busy with American sports players that he has no time for no account starving children in Africa? Is he so tuned in to helping Russell Wilson grab victory from the jaws of defeat, that he has no time to help those who are being raped, abused, and murdered by ISIS and Boko Haram?
So, I ask you dear Christian, is THIS the God you want me to worship and serve? Is Jesus really little more than Russell Wilson's touchdown Jesus? If so, count me out. I want nothing to do with such a petty, heartless deity.
The good news is, God is fixing to get an ass-whipping two weeks from today. The Seattle Seahawks will play the New England Patriots in the Super Bowl.  And here's one thing I know: Tom Brady the Patriot quarterback and his coach Bill Belichick? They won't spent any time in prayer meetings beseeching God to help them defeat the Seahawks. Instead, they will  be doing what consummate professionals do. They will study film, they will cook up schemes to help them win, and then Tom Brady and Co will go out on the field and play as smart and as hard as they can. And if and when they win? You can count on one thing, neither of them will be praising Jesus for the victory.
070316