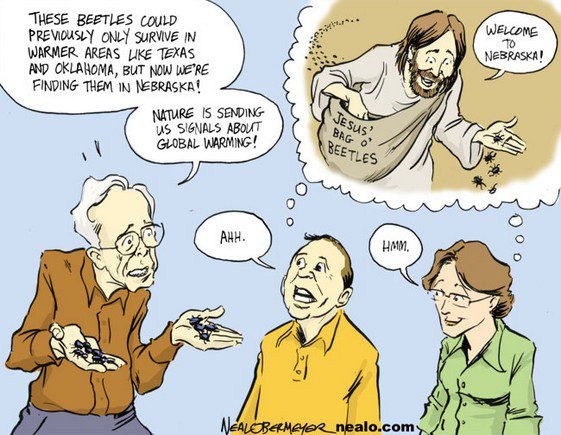 Warning! Risqué cartoon below.
Recently, Answers in Genesis published an article by Dr. Alan White about global warming. The article, The Globe is Warming, But It's Not Your Fault, is chock-full of statistics and charts. Like every defender of a 6,000 year old earth, White spends a lot of time talking about science. I am not sure why he bothers to do so. After all, according to White:
The Globe Is Warming, But It's Not Your Fault!…

…Christians are less likely to be concerned about the climate going out of control since they believe the earth and its climate were designed and created by an all-knowing and all-powerful God. Those who believe that the heavens and the earth are the result of a random, accidental process naturally will be concerned about what may happen next…

…What is your worldview? Do you trust that God brilliantly designed and created everything and trust that He has your best interests at heart, or will you always be worried that the planet is on the verge of going out of control?…
Let me sum up White's viewpoint: The Christian God of the Bible is in control of everything, so if the earth is warming it is because God wants it this way.
At the heart of Evangelicalism is fatalism. Since God is sovereign and in control of his creation, if the overall temperature of the earth rises and the seas someday engulf Pacific islands, it's because God wants it this way.  Evangelicals believe God has the whole world in his hands. He is working out his purpose and plan, and there is nothing humans can do to thwart him.
Usually, people who think like this also believe that Jesus will soon return to earth to judge the living and the dead, destroy the heavens and earth, and make a new heaven and a new earth. Since God is in control of everything and he is fixing the burn the house down, there's no need to call the fire department.
Why is then that Evangelicals like White are content to appeal to the sovereignty of God when it comes to climate change, but when it comes to the culture war, they fight and work as if their God doesn't exist or is on vacation? If God has everything under control, wouldn't that include abortion and same-sex marriage?  Since God, the biggest abortionist of all, could stop women from having an abortion and could cause the courts to rule that marriage is between one man and one woman, that he doesn't must mean that God ordained abortion and same-sex marriage.
I am simply taking White's argument to its logical conclusion. God's in control, don't sweat it. Since God holds the world and the itty bitty baby in his hands, there's no need for Christians to concern themselves with the future. Dr. White needs to explain why fatalism is the proper response to global warming but not abortion and same-sex marriage. The same God who controls the global thermostat is the same God who controls the life and death of every human being. Theological consistency demands Christians let go and let God. Even if they don't let go, God is still going to work out his purpose and plan.
Those of us who spent a lot of time in Sunday school remember the story recorded in Daniel 4 about God teaching King Nebuchadnezzar about who is really in charge. One day, while walking in his palace, prideful Nebuchadnezzar had this to say:
Is not this great Babylon, that I have built for the house of the kingdom by the might of my power, and for the honour of my majesty?
God, busy helping the Israelites find the keys to their chariot, stopped what he was doing and focused his attention on punishing Nebuchadnezzar for his insolence. How dare the King think that Babylon is his kingdom! I'll show him:
While the word was in the king's mouth, there fell a voice from heaven, saying, O king Nebuchadnezzar, to thee it is spoken; The kingdom is departed from thee. And they shall drive thee from men, and thy dwelling shall be with the beasts of the field: they shall make thee to eat grass as oxen, and seven times shall pass over thee, until thou know that the most High ruleth in the kingdom of men, and giveth it to whomsoever he will.The same hour was the thing fulfilled upon Nebuchadnezzar: and he was driven from men, and did eat grass as oxen, and his body was wet with the dew of heaven, till his hairs were grown like eagles' feathers, and his nails like birds' claws.
As Daniel 4 makes clear, Nebuchadnezzar got the message:
And at the end of the days I Nebuchadnezzar lifted up mine eyes unto heaven, and mine understanding returned unto me, and I blessed the most High, and I praised and honoured him that liveth for ever, whose dominion is an everlasting dominion, and his kingdom is from generation to generation: And all the inhabitants of the earth are reputed as nothing: and he doeth according to his will in the army of heaven, and among the inhabitants of the earth: and none can stay his hand, or say unto him, What doest thou?…Now I Nebuchadnezzar praise and extol and honour the King of heaven, all whose works are truth, and his ways judgment: and those that walk in pride he is able to abase.
The theology of this story is embedded in the DNA of Evangelicals. The Bible is clear, God is God and all power, authority, and control belongs to him. No need to fret, fuss, or worry about global warming and climate change. Yet, when it comes to social issues, Evangelicals act as if God doesn't exist. Why the hypocrisy?
Fatalism, also known as the sovereignty of God, is nothing more than a tool used by Evangelicals to avoid or do away with data that conflicts with their literalist interpretation of the Bible. Since White believes his God created the earth 6,020 years ago, he dismisses any science that doesn't fit in the creationist box.
White could have saved Answers in Genesis readers a lot of time if he had just stated his belief about God's sovereignty and left it at that. In White's worldview, God is the end all, he's the Alpha and Omega, the first and the last, the beginning and the end. The answer to every question is GOD, and not just any God, the CHRISTIAN GOD!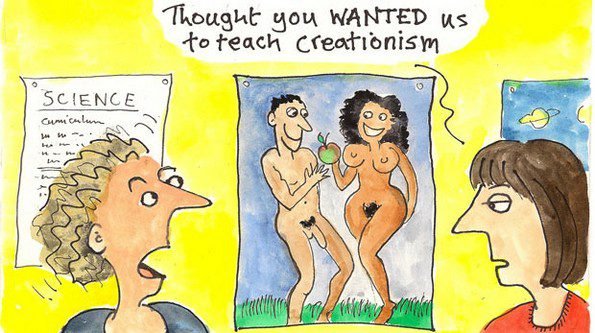 082216