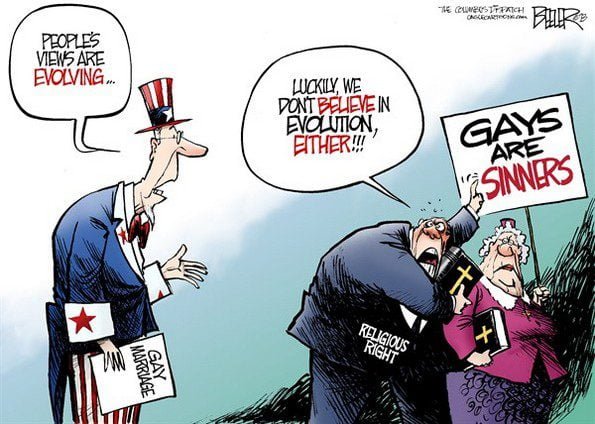 As the U.S. Supreme Court decision on same-sex marriage looms on the horizon, Evangelicals have taken to asking and answering the question, should a Christian attend a same-sex marriage?   Here's what  Bryan Fischer, chief shit-stirrer for the American Family Association (AFA), had to say:
Should Christians Go to a Gay Wedding?

The short answer is "No."

…Why should a Christian politely decline to attend a homosexual wedding? For exactly the same reason a Christian baker should politely decline to bake a gay wedding cake. It sends a message of affirmation for something God has plainly condemned.

A wedding is a celebration. Guests are there to rejoice with and congratulate the couple. Their presence represents approval.

Approving of homosexual "marriage" in any way, shape or form is one thing no sincerely devoted follower of Christ can do. This is simply because a homosexual "marriage" is based on a sex act the Bible uniformly condemns from beginning to end as immoral, unnatural and unhealthy.

Homosexual "marriage" is a sham and a counterfeit. In reality, there is no such thing as a homosexual "marriage," since God has defined marriage from the dawn of time as the union of one man and one woman. Jesus reaffirmed God's definition of marriage with words that came from his own lips during his incarnation.

You can call a homosexual union a "marriage" if you choose, you can even write it into law, the Supreme Court can even tyrannically impose it on an entire nation, but calling it a "marriage" doesn't make it one…

…The research done by the CDC – not a part of the vast, right-wing conspiracy – has plainly shown that homosexual behavior among men is a greater risk to human health even than intravenous drug abuse. (Roughly 65% of all males who have even been diagnosed with HIV/AIDS contracted it through having sex with other men, while 25% contracted through IV drug use.)

To use a stark but appropriate parallel, ask yourself this question: if a friend decided to open up a shooter's shop, a drug den where folks could go and inject themselves in a warm, inviting atmosphere, could you attend the open house and celebrate the grand opening?

(One can understand that a parent might attend a same-sex ceremony in an effort to retain some relational connection with a much-loved but wayward child. But a parent should only do that after first communicating that attendance should not be read as approval.)

Is a refusal to attend a same-sex wedding of a friend or family member an act of hate? No, on the contrary it is an act of love. Genuine compassion says, "I love you too much to give my approval to behavior that will damage you in body, soul and spirit. It is because I love you that I cannot come."

Sometimes love means we must say "No." And saying "No" to attending a gay "wedding" is one of those times.
First it was wedding cake, now it is the ceremony. Evangelicals continue to find various ways to frame their objection to homosexuality and same-sex marriage, hiding the fact that the real issue is their hypocrisy, bigotry, and homophobia.
Consider that most of the heterosexual couples who walk down the aisle of an Evangelical church are not virgins. The Bible has a lot to say about fornication, yet I don't see Evangelicals boycotting heterosexual marriage ceremonies. Divorced church members, having met a wonderful Christian person, have marriage ceremonies at the local Evangelical church, yet I don't see Evangelicals boycotting these marriage ceremonies. Surely, they know what the Bible says about divorce? Many of these remarrying divorcees, according to the Bible anyway, are adulterers. Not only are they living in sin, the Bible says such people will not inherit the kingdom of God.
The truth is, there is one sin above all sins in the Evangelical church and that is the sin of homosexuality. In the eyes of people like Bryan Fischer, homosexuals are unsaved, vile sinners who, according to Romans 1, have been given over to a reprobate mind. There is, in their mind, no such thing as a Christian homosexual.
What is it that makes homosexuality a sin? Surely it can't be same-sex attraction? I think the Bible is clear that God judges us on our actions not our desires and thoughts. If the homosexual is judged a sinner just because they admit they are attracted to the same-sex, wouldn't any Evangelical who has a weakness for donuts be considered a glutton because they walk down the snack and pastry aisle and long to feast on pastries? Even though they refrain from actually giving in to their donut desire, are they a glutton just because they admit they have a love for pastries? I know, silly, but this is the logic being used by those Evangelicals who, because of a person's admitted desire, determine the homosexual is a sinner.
What makes one a fornicator or an adulterer? Most Evangelicals would say, the illicit sex act. And I think that this is THE issue for many Evangelicals; the very thought of a same-sex couple having sex disgusts them. Generally, the disgust is greater for same-sex male couples than it is for same-sex female couples. Why is this?
Heterosexual Evangelical men have a hard time understanding two men having sex, whereas two or more women having sex is their secret fantasy. This reflects the hypocrisy of the Christian culture when it comes to sex in general. Let a male school teacher have sex with a sixteen year old student and the teacher is charged with statutory rape. Yet, when a 16-year-old boy has sex with a female school teacher, it is often considered every teenage boy's dream.  I know it was mine years ago when I had a hot student teacher. When she taught, she had every boys attention.
Male homosexuals tend to have sex one of two ways: orally or anally. If the Evangelical says that it is the sex act that makes one a reprobate homosexual, then they have a real problem on their hands. Heterosexual couples also have oral and anal sex. Are they sinning against God? Some churches and pastors, seeing this as a glaring contradiction, consider anal and oral sex a sin. According to them, God gave man a penis and woman a vagina; one meant to be inserted in the other.
Bryan Fischer, like many of his ilk, argues that homosexual sex puts a person a greater risk health-wise. However, couldn't that be said of most any human behavior? I don't see Fischer decrying overeating at church picnics. Surely, he knows that overeating can result in obesity, diabetes, and heart disease, right?  Far more Evangelicals die of these diseases than homosexuals with HIV. The same goes for sexually transmitted diseases. Far more Evangelicals get STD's than do homosexuals or same-sex couples. Why no outrage about the Christian church's STD crisis?
An Evangelicals refusal to attend a gay friend or family members same-sex marriage has nothing to do with standing firm on the Word of God. As I have shown in this post, Evangelicals routinely ignore sinful behaviors among their own. The are the textbook definition of a hypocrite. The only reason an Evangelical refuses to attend a same-sex marriage is because they are a hateful bigot. Going to the wedding is not going to cause God to strike the Evangelical dead. Western civilization will not collapse if they attend a same-sex wedding. The Evangelical doesn't have to change their beliefs in order to attend. Outside of the ceremonial kiss, there is nothing in a same-sex marriage that is different from a heterosexual wedding.
The Evangelical church has a huge PR problem on its hands. Their opposition to same-sex marriage, abortion, and birth control have presented the American public with a picture of hate. Ask the non-Evangelical what they think of Evangelicalism and they will likely say that Evangelicals are judgmental and hateful. If the goal is to win people to Jesus and increase their numbers, Evangelicals are failing miserably. As our culture continues to evolve on issues like homosexuality, Evangelicals are relegated to the fringe, a place usually reserved for nut jobs and cults. Is this really how Evangelicals want to be perceived? If not, then quit with all the whining about same-sex marriage. Yes, the Bible says homosexuality is a sin, but Evangelicals are capable of looking past a variety of sins in order to show love and support to their non-Christian family and friends.