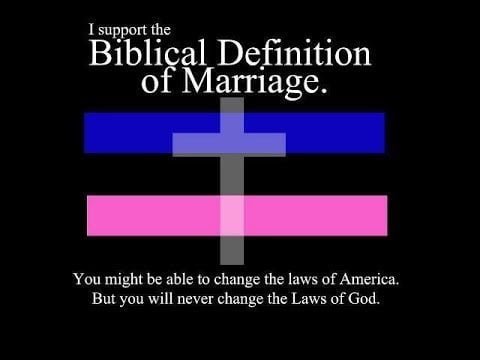 On Friday, the godless, anti-American,socialistic, communistic,  jihadist, liberal, satanic-inspired U.S. Supreme Court overturned Ohio's constitutional ban of same-sex marriage. Ohio Governor John Kasich, also known as Mr. Wall Street, publicly admitted the marriage battle is over: (link no longer active)
"I've always felt that marriage is, you know, one of these traditions between a man and a woman, but the Court has spoken. And I've said all along that when the Court makes a decision, we abide by the law of the land. And they made their determination and—just move on. It doesn't mean I'm not disappointed, I am, but the decision has been made."
Williams County Commissioner Al Word, formerly the sheriff of Williams County, evidently slept through high school government class. Word told The Bryan Times (behind paywall):
"Why don't they change the voting process so the minority always wins?  I believe everyone should be treated with respect, whoever they are, but this has gone completely over the edge. I'm in total disbelief and most people don't realize the gravity of the whole thing. It changes who we are and how our issues get decided."
Evidently, Word thinks the United States is a democracy where the majority rules. However, as anyone who has ever taken a government class should know, the United States is a republic with a representative form of government. Majority or minority has little to do with it, and in the case of the Supreme Court ruling, the issue is the court's interpretation of the Fourteenth Amendment, especially the equal protection clause.
I understand why Word is upset. In 2004, Ohioans voted to restrict marriage to "only a union between one man and one woman." This constitutional amendment passed 62-38 percent statewide. In Williams County the margin was 73-27 percent. According to The Bryan Times, the voting margins were similar in nearby Defiance, Fulton, Henry, Putnam, Paulding, and Van Wert counties.
But, let's look at the numbers (link no longer active) for God's Kingdom-Northwest Ohio Division, also known as Williams County. In 2004, there were 26,722 registered voters in Williams County and 18,294 of them voted on the marriage amendment. (68% voter turnout) 13,275 voted for Issue One, and 5,019 vote against the amendment. Yes, 73% of those who voted cast a vote in favor of the marriage amendment. However, when measured against the number of registered voters, the number drops to 50%. As in the case of most Ohio ballot initiatives, they are voted up or down by a majority of a minority. (in 2004, Ohio had its largest voter turnout in years)
I think Ohio Senator Sherrod Brown is right when he said:
"The court has spoken. The public is behind the court and the court speaks for the public…I am convinced Ohio voters, if they had it to do over would agree. Marriage equality is the law of the land now, period, just like civil rights. It's a victory for everyone, gay and straight. Those who disagree will be relegated to the dustbin of history."
After the Court's decision, The Bryan Times contacted "virtually every church in Bryan"  to get a response. Only two pastors responded: Pat Schwenk, pastor of New Hope Community Church and Kevin Kellum, pastor of Grace Community Church. Both pastors were deeply disturbed by the ruling.
Schwenk stated:
This is certainly not the firs time the U.S. Supreme Court has made a ruling contrary to the truth of God's word. It's not a decision we celebrate, nor is it one we despair over either. God is still in control. Regardless of the moral and spiritual drift happening in our country, our response should be to faithfully honor God first, while loving others–even when there is disagreement.
Kellum stated:
Troubling, for a number of reasons. The church's worldview of marriage has always been that it's a vow between a man and a woman. Now we're in uncharted territory. We've talked about openly with the congregation. Our doors are open to any race, gender, and (sexual) orientation.  We still have hope and we still believe and obey the word of God and depend on him for guidance on our lives, and we continue to look to God for his definition (of marriage). I'm concerned that there is a whole generation of young people who have no foundation in the church's teachings, and with this ruling, I expect that to continue, to present a challenge to the church.
Don't be blinded and misled by the talk of loving others and open doors. These words are loaded with Evangelical presuppositions, and all that is meant by their perfidious words is:
Yes we love homosexuals, they need Jesus, so our doors are open so that they can repent and find Jesus as their Lord and Savior. And if they don't, they are going to be eternally tortured by God in hell.
Neither pastor is willing to openly and without reservation embrace homosexuals and welcome them into the membership. Married same-sex couples will find that very few local churches are willing to treat them as they do married heterosexual couples. As long as the Bible is the authoritative standard, same-sex couples will never be treated justly, fairly, and equally in churches like New Hope and Grace Community Church.
Over in Defiance County, the Crescent-News asked readers what they thought of the Court's ruling. Here's what several local fundamentalists had to say on the newspaper's Facebook page: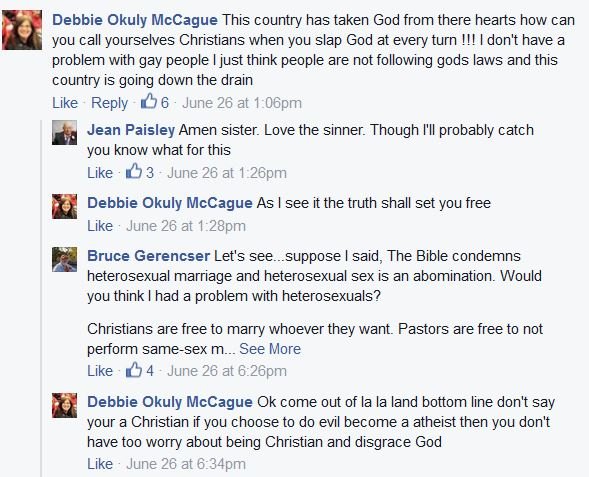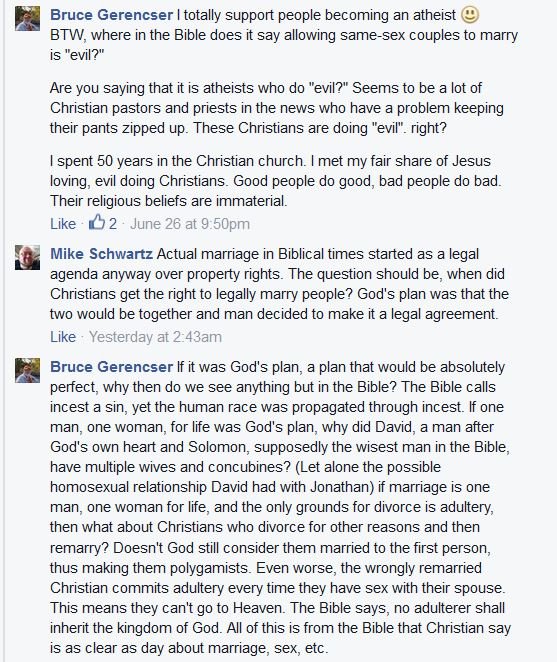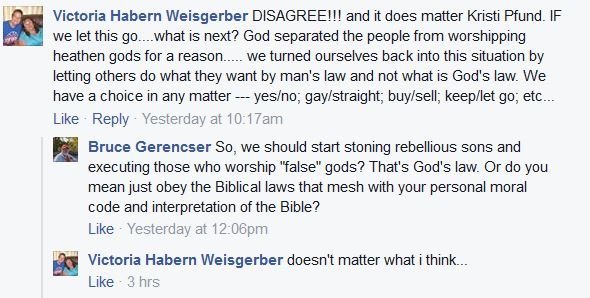 I left more comments on the Crescent-News's page than anyone else, yet when the newspaper printed many of the comments in today's edition of the paper, none of my comments were printed. It's hard not to conclude that they either "overlooked" my comments, they were too long, too intellectual, or they didn't want to give the village atheist any more press.
The Bryan Times was able to find an openly gay local man willing to comment. Here's what Denver Henderson of Bryan had to say:
"Yesterday, I could do anything everyone else does–buy a car, own a house, pay taxes, fall in love–but there was always one thing I couldn't do. Tomorrow I can. It's not a big national question of 'Can we?' anymore. Now it's the personal question of 'Do we want to?'  (That kind of freedom is)  what it feels like to be a part of 'We the People.'  It's a big deal. It's history happening right now and you don't get to see that very often."
Notes
Over the years, I've tried to give the Crescent-News editorial staff the benefit of the doubt when it comes to things like not printing my comments, but I have reached a point where I am no longer willing to do so. If I am missing something here, then I'd love for Steve VanDemark, Dennis Van Scoder, Todd Helberg, Mark Froelich , or Bruce Hefflinger to point it out to me. From "lost" letters to the editor, a "lost" 35th wedding anniversary announcement, numerous resumes submitted for a photography position flushed down the toilet, and no response to emails, comments, and tweets, it's hard not to conclude that the newspaper has no interest in engaging me at any level. Even when fundamentalists personally attack me in their letters to the editor, making inflammatory and untrue statements, the newspaper says nothing. Why is this?
Grace Community Church is a part of the Ohio Mennonite conference. While there has been some movement towards accepting same-sex marriage at the national level, I suspect most NW Ohio Mennonite pastors/churches consider homosexuality and same-sex marriage a sin.
New Hope Community Church is a garden variety Evangelical church. Here's their doctrinal statement (proof texts removed):
The Infallibility of the Bible
We accept the miracles, creation, etc., as literal accounts.
To repudiate any portion of Scripture as unreliable is like changing an inch on a ruler.
If one inch is changed, the entire system of measurement is altered.
The Absolute Diety of Christ
The Virgin Birth of Christ
The Historical Creation of Man
Man did not accidentally evolve from lower forms of life.
God created man as a unique spiritual being.
The Sinful Nature of Man
Man is not basically good.
He is basically evil.
The Substitutionary Death of Christ
Others have died difficult, martyrs' deaths.
Jesus is the only One who died for the sins of the world.
The Bodily Resurrection of Christ
Some say Christ arose in spirit or His teaching lives on.
But the Bibles teaches Jesus arose bodily from the grave.
A Literal Return of Christ to Earth as Promised
The Resurrection and Assignment of All People to Heaven or Hell
We are sometimes criticized for too rigid a stand.
But Jesus said, "Narrow is the way…"