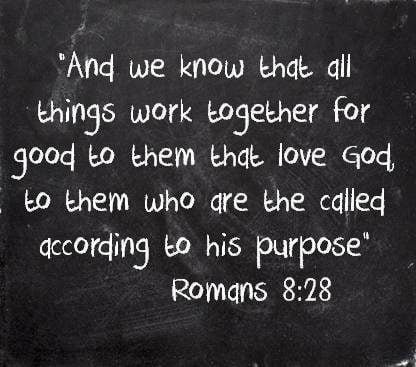 Evangelical Christians believe that their God is the giver and taker of life and that he controls the universe. As the old song goes, he's got the whole world in his hands. Everything that happens in their lives  is according to the purpose and plan of their God. When tragedy comes their way, they turn to prayer and the Bible to find hope and comfort. The Bible says in Romans 8:28:
And we know that all things work together for good to them that love God, to them who are the called according to his purpose.
and in I Corinthians 10:12,13:
Wherefore let him that thinketh he standeth take heed lest he fall.  There hath no temptation taken you but such as is common to man: but God is faithful, who will not suffer you to be tempted above that ye are able; but will with the temptation also make a way to escape, that ye may be able to bear it.
According to the Bible, everything that happens in the Evangelicals' lives is for their good and God will not  create any burden in their life without making  a way for them to bear it.
The Bible says in Hebrews 13:5:
…I will never leave thee, nor forsake thee.
and in  Matthew 28:20:
…lo, I am with you always, even unto the end of the world.
and in Psalm 37:25
I have been young, and now am old; yet have I not seen the righteous forsaken, nor his seed begging bread.
According to the Bible, God/Jesus promises to always be with the Evangelical, even to the end of the world. He promises to never forsake them. No matter what, God will always be there for them.
It is important to understand what I have written above in order to make any sense of what I am about to write next. Jason Williams is the assistant pastor of High Street Baptist Church in Columbus, Ohio. (See church's blog here.) High Street is an Independent Fundamentalist Baptist (IFB) church that was once pastored by one of the most hardcore IFB pastors I ever met, Charles Mainous.
A year or so ago, Williams and his wife lost their unborn child. Williams wrote a post for the Old Path's Journal about the loss of his child. He wrote (page no longer active):
How many of you have been in a relationship and lost someone you love? Maybe it was because of a break up and you are hurting badly and feel rejected. Maybe you even lost someone dear to you because of death. If so, then perhaps you are like me and you are asking God, "Why did you take this person from me?"…

…It was during this very difficult time in my life when I was asking God why He took my child, that He showed me Psalm 61. Psalm 61 is a Psalm of healing. It details all the things that God gives us. As I read this chapter, it was as if God was saying to me. "Yes, I did take your baby, but look at all of the things that I have given you."…

…Your loss is a gift from God! He looked down from Heaven and deemed you worthy to glorify Him! What a gift! To think that God would think I am worthy to praise Him blows my mind! I am just a sinner, but He looked past my sin and gave me a trial so that I can stand in front of others and tell them that He is good!

Because God took our baby, I have been able to stand in front of our church and praise Him! So many people came to me afterwards and told me that the testimony made them realize just how good God is! That night a politician texted me and told me our testimony caused his faith in God to grow! What a gift God gave me! The chance to glorify Him!…
Williams believes that God killing his baby was good for him and his wife, and that God used the death of their baby to advance his purpose. Through the death of their child, other people can see how GOOD, how AWESOME, God is! Only those indoctrinated in the Evangelical worldview could ever take the tragic death of a baby and turn it into an awesome event. Since God is good and only does what is good for the Evangelical, whatever happens in the Evangelical's life is g-o-o-d. This kind of thinking forces the Evangelical to accept a warped view of the world, a view that has no place for bad things to happen.
Now, an Evangelical might object and say, bad things do happen, but God turns them into good. This is nothing more than semantics. Since the Evangelical must never call a good work of God bad, how can anything REALLY be bad? No matter what happens, God will turn it into good and Evangelicals must never, ever forget that God is always good and only does that which is good for them. Over and over they are told this, so when bad things happen in their  lives, they dismiss, discount, and reject how they really think and feel about the tragedy or circumstance they are going through. They are never permitted to say, what has happened to me is bad and nothing good can come from it.
Ten years ago, my sister-in-law was killed in a motorcycle accident. I vividly remember how Polly's Evangelical family went through the mental gymnastics necessary to turn Kathy's death into good. During the invitation at her funeral, a person raised their hand and said that God had saved  him. Polly's family thought, If one soul gets saved then Kathy's death was worth it. At the time, I was still a Christian, but I made it very clear that I didn't accept such thinking. I told them If I was asked to choose between the life of my sister-in-law and a soul getting saved, the whole world could go to hell. Nothing good has come from Kathy's death. Polly lost her only sister, Polly's parents lost a daughter, and she left behind a husband, children, and grandchildren who love her and miss her.
Look, I understand why people like the Williamses, Polly's family, and many Evangelicals think like this. Bound by their literal interpretation of the Bible, they are forced to embrace a way of looking at life that is a complete denial of how life REALLY is. If thinking like this helps them to find peace and sleep through the night, then who am I to object, right? Fine, but they should not expect people like me to think the same way. I subscribe to the 'you can't turn a sow's ear into a silk purse' way of looking at life. I am a realist who tries to see the world as it is. This forces me to see that bad things do happen, things that lack any sort of goodness. Of course, seeing the world this way is part of the reason I am an atheist.
I want nothing to with a God who afflicts (tortures?) people so he can teach them a lesson, punish them for sin, or remind them of what an awesome God he is. Such a God is a psychopath  who derives pleasure from the suffering of others, a God who delights in tormenting and killing people. If such a person were my neighbor, I would quickly decide to move somewhere else.
Some Evangelicals think my refusal to accept that God is working all things for my good, in light of my pain and suffering, has turned me into a person who hates God. If such a God exists, then YES, I hate him. If the pervasive pain I have every day of my life is God teaching me a lesson then YES, I hate my tormentor. No decent human beings would treat someone they love this way, yet I am expected to believe that I am in pain tonight because God loves me and has a wonderful plan for my life? Not a chance.
Yes, my pain and suffering informs and powers my writing. I doubt I could be the writer I am today without it. But, if you asked me to choose between being a writer and having a life free of the debilitating pain I am in, I would gladly not write another word. The only way for me to come to terms with where I am in my life is for me to realize that shit happens. Due to genetics, choices I have made, choices others have made, environmental exposure, and luck, my life is what it is. I accept my life as it is. If Polly and I were in the Williamses shoes, we would surely grieve as they have. However, we would not cling to the notion that God killing our child was somehow for our good. Instead, we would recognize that some babies die in the womb. Death is the one constant in our world. Every day, people die. When my sister-in-law died, she died because she was at the wrong place at the wrong time. When the woman in front of the motorcycle made a quick u-turn, there was no way to avoid hitting her.  Just like that, Kathy was thrown from the motorcycle, struck her head  on the pavement, and she was dead. I can still remember the anguish in my mother-in-law's cries as she got the news while at our house on Memorial Day. Just like that, everything changed.
This is the reality of life. I understand why people use religion to escape this reality, but I cannot do so.  Bad things happen, and all the prayers and all the religious-speak in the world won't change this fact. How about you? As a former Christian, how do you now view and understand the world and the bad things that happen? Do you ever wish you still had God and faith to hold on to when bad things happen?  If you are a Christian, how do you deal with the bad things that happen in your life? Please share your thoughts in the comment section.
121615