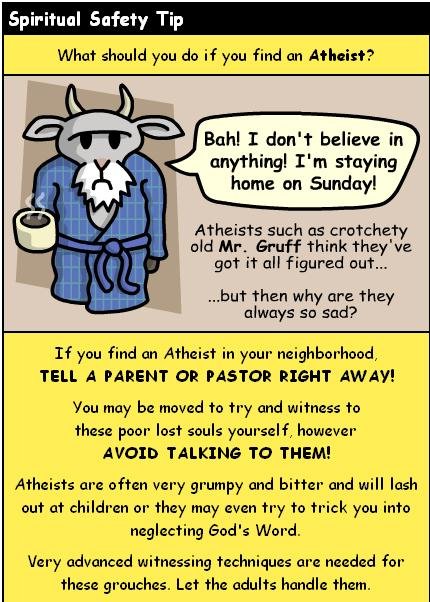 My writing tends to attract a number of Evangelical readers. If they happen to come to this site via a search engine result that takes them to a specific page, and they are not overly curious about who I am, they might even conclude that I am a Christian. I've received numerous emails from Christians praising me for my stand on the Word of God, only to get another email later expressing how disappointed they are about finding out I am an atheist. One woman even told that she wished she hadn't learned this because now she couldn't trust any of my writing (please see Curiosity, a Missing Evangelical Trait).
Evangelicals say that truth is important to them, but the fact is they only want truth from certain sources. They only trust their own, and they are unwilling to believe that truth can be found outside of their peculiar theological rut. It seems that everything I learned about the Bible, Christianity, and the ministry over the first fifty years of my life became toxic and worthless the moment I said I no longer believe. All of a sudden, a once trusted source is now considered a heretic, a liar, a deceiver, and a tool of Satan.
Several years ago, an Evangelical woman commented on this site and tried to solicit my support for her war against clergy sexual abuse. She loved my writing about the subject and was certain we were of a common mind. At the time, she didn't know I was an atheist. Once she found out I was, here's the email she sent me:
I was not familiar with your story and change of heart concerning God's word. I can tell you I don't believe in religion but I do believe in the bible. Big big difference. People, circumstances, man made religions will always hurt us and let us down. I have never felt the pressure to conform to anything or anybody. I have never tried to take the burdens of this world on my shoulders and have never judged my belief in God's word based on my circumstances. Why? The bible is clear on who we are and aren't in Christ. This world is set in motion both good and bad by our Heavenly Father. We are all called individually to find our way to our creator via the bible. I am a RN,grandmother, saved at nine. The things I have seen in my years working with dying patients has only strengthen my belief. Those who choose to look at the leaders of organized religion and believe their every word and interpretation of the bible. Are the ones that burn out,walk away and give satan the victory. If I thought for one minute this life was it. I would never have brought children into it. Man could never have created our beautiful nature around us. Sit in the woods and listen, look,and you will find our creator. Look away from man and your own reasoning. It will always leave you with feelings of loss and doubts if you don't. Praying for you.
I can only imagine how disappointed she was when she found out I was not on Team Jesus. I will leave it to others, if they are so inclined, to respond to her silly notion about religion vs. the Bible. I will say that it is religion that gave us the Bible, not the other way around. The Bible was birthed by the church. Only Evangelicals fail to understand this, thinking that God tossed a leather-bound King James Bible over the portal of heaven and when it landed on earth it immediately gave birth to Christianity.
On another post, Brian and Zoe responded to her statement about not having children if this life is all there is.
Brian said:
" If I thought life here as we know it was all their is. I couldn't face another day. I would not want to be a mother grandmother or nurse. What hope could I give my loved ones and patients. I know without a doubt I have a creator above that loves me just like I am. Knowing him makes me want to love give forgive and keep reaching out."

I am so sorry that life is so meaningless to you, that you couldn't face another day! That you would spurn motherhood and being a grandmother and nurse! Wow, what utter depravity you must live with…. I am so sorry. As a mother, a grandmother and nurse you likely give such love and help… YOU give…. Why do you throw that away as if it is worthless? I find statements like yours very very sad. What on earth happened to you to make you state such things? Just open your heart (to yourself.)
Zoe had this to say:
Cheryl wrote: " If I thought life here as we know it was all their is. I couldn't face another day. I would not want to be a mother grandmother or nurse. What hope could I give my loved ones and patients."

Zoe responds: Sure you could Cheryl, you just don't know it. You aren't so very different than many of us who also once could have and did have those same thoughts. I suspect like many of us because you are a mother a grandmother and a nurse, you indeed could face another day, many days. 🙂

My unbelief in your God does not affect who I am as a caring and kind person. I spent time yesterday with a Christian family who is facing a life and death situation. My unbelief did not affect my love for them or my ability to be present, to help, to make supper, to care for children, to encourage and support them. It certainly also did not interrupt my hope for the best possible outcome. As a nurse myself (no longer in practice) I am also still a great sounding board regarding medical terminology. My unbelief in a theistic being like yours doesn't change who I am as a human being.
Bruce Gerencser, 66, lives in rural Northwest Ohio with his wife of 45 years. He and his wife have six grown children and thirteen grandchildren. Bruce pastored Evangelical churches for twenty-five years in Ohio, Texas, and Michigan. Bruce left the ministry in 2005, and in 2008 he left Christianity. Bruce is now a humanist and an atheist.
Connect with me on social media:
Your comments are welcome and appreciated. All first-time comments are moderated. Please read the commenting rules before commenting.
You can email Bruce via the Contact Form.