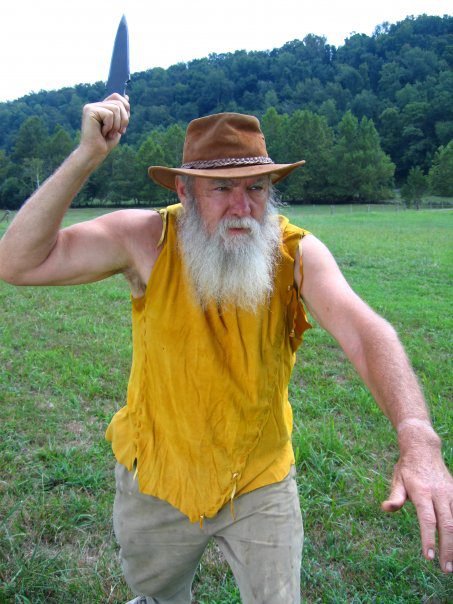 Michael Pearl, author of To Train Up a Child, continues to advocate the ritualistic beating of children in the name of God. In the November-December 2015 of No Greater Joy Magazine, Pearl called on his fellow child beaters to withstand the onslaught of liberals who want to take away their right to spank their children. Here's an excerpt from an article titled The Rod and Reproof:
The progressive secularists intimidate parents with assertions that spanking children causes them to use violence to solve problems.

It is stated so many times and with such conviction that parents who should know better have suffered an erosion of their confidence. The conclusion of these "researchers" is based on the reported experience of professionals who work with juvenile delinquents and violent criminals. A large number of those who have committed violent crimes will confess, among other things, that they were spanked, beaten, or in some way physically violated when they were children. Thus the statistician concludes that these offenders' violent history is a result of the violence done to them. All forms of physical discipline are thrown into the mix, including criminal acts of violence and abuse. There is no attempt to separate spanking administered in moderation by loving parents from criminal beating. The progressive views all forms of corporal chastisement as "hitting."

…There is absolutely no correlation between corporal chastisement and violent tendencies in the chastened child. All social science reporting is controlled by special interests and is skewed to accommodate some social or political agenda. See my recently expanded book, To Train Up a Child. There is a lengthy section in defense of corporal chastisement, quoting a number of studies that clarify the issue.

I have probably had more experience with families and children than any ten "researchers." They research by interviewing troubled children or by reading the publications of others. My "research" comes from thousands of homes I have visited and parents and youth I have counseled. I spent hundreds of hours over the course of 15 years ministering in a boys' home, becoming well acquainted with the youth. I became close friends with some of them after they were grown and had children of their own. I have spent over 2,000 hours in prisons speaking with the inmates and hearing their stories.

I have found that children possess an intuitive understanding of the motives behind parental discipline. You cannot fool them. They know the difference between discipline they deserve and unjustified violence or anger. When a child has willfully broken the rules or expressed a will to defy authority, he is not shocked or offended when his parents are angry and resort to physical chastisement. The kid knows he is "getting what he deserves." He may holler and squirm, but he walks away knowing there is a just authority to which he is subject, that there is a law of cause and effect he must observe, and that all wrongdoing meets with an unhappy end. The properly chastened child is more emotionally stable than the child left to his own devices, as studies confirm…

…Many Christian homeschool parents are being swept up in the Left's propaganda. Don't become subject to the vain imaginations of unregenerate professionals who deny the Word of God and despise Christianity. Stand on the old tried and proved principles that worked in former generations. Stand on the words of God where he clearly addressed child-rearing principles. Times are changing for the worse. Don't change with them…
What say ye, dear reader?