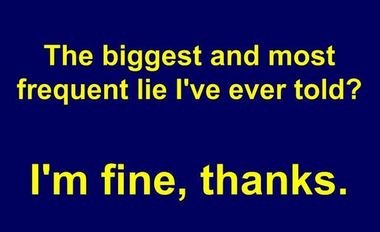 Regular readers know that I battle chronic illness and unrelenting pain from the moment I get up until the time I fitfully fall asleep in the wee hours of the morning. For those of you who are new readers, let me give you the short version of my medical resume:
I have Fibromyalgia, which causes pervasive fatigue and muscle pain. I also have nerve pain in my face, hands, and thighs, loss of motor function and strength, osteoarthritis in every joint, including my back, frequent loss of bladder control, diabetes, and high blood pressure. Since late last year I've gone through numerous tests in an attempt to figure out why I am losing weight and frequently don't feel like eating. An endoscopic ultrasound found a lesion on my pancreas and enlarged lymph glands. So far, they have not turned cancerous. I've been treated twice this year for squamous cell carcinoma (hip and lip) and several years ago I had a basal cell carcinoma removed from my nose. I have a labrum tear in my right shoulder and joint damage in my left shoulder, feet, and knees. I require the use of a wheelchair and/or a cane to get around.
This is my life. There's little I can do to change it. I hunker down and try to live the best way I know how. It's been a decade since I've had what I call a good day. These days, a good day is one where the pain is manageable and I can work in the office for a few hours and maybe go to a football game with my sons. A bad day is one where narcotic pain medications do little to ameliorate my pain and I am left curled up in bed wishing I were dead. Depression is the dark passenger in my life, and there are times when I fight the desire to end the suffering and pain.
I know there is no cure on the horizon, no magical drug that will make everything better. I've been tested, retested, and tested again, so much so that I glow in the dark. I have blood work at least six times a year. My last blood draw required seven vials of blood, and that was after the phlebotomist stuck me three times trying to find one of my deep veins that would give enough flow to fill seven tubes. Despite all these tests, I remain, to some degree, an enigma to doctors, a patient with symptoms that don't neatly fit into a specific diagnosis box.
As a skeptic, atheist, and humanist, I accept that life is what it is. I know that a deity isn't going to magically heal me, and I've concluded neither are doctors. I have two choices in life; either endure whatever life bring my way or roll over and die. So far, I've chosen to endure, Yes, I hope for better days and I certainly desire for the good days to outnumber the bad days. But, regardless of my thoughts and desires, the die of my life is cast. In eighteen months I'll be 60 years old. I've lived a decade longer than my father, who died of a stroke at age 49, and five years longer than my mother, who killed herself 23 years ago. I've watched death rob me of those I love, and I have little doubt that death is lurking in the shadow of my life, ready to claim me for its own. Death, like life, is certain, and as anyone who is chronically ill can tell you, the prospect of death is an ever-present reality.
Yet, I can have delusional moments where I pretend I'm not sick. There are times I become quite depressed as Polly goes off to work each day. As a man who was taught that the husband is supposed to be the breadwinner, I find it emotionally and mentally painful to watch the most important person in my life go to work every day so we can have a roof over our head, food to eat, and all the trappings of a typical Midwestern lifestyle. I tell myself that Polly was a stay-at-home mom for many years and now our roles are reversed, but I still wish I could be the one kissing my spouse goodbye and saying I love you as I walk out the door for work. I know this will never be the case, but I can, at times, trick myself into believing that I can once again be Bruce Before Illness and Pain.
The chronically ill are known for convincing themselves that things are not as they seem. Put mind over matter, well-wishers tell the sick person. I've tried just such an approach many times over the years. Sickness be gone, pain depart, I say to myself. I can do anything I want to do. The only thing standing my way is me! Try as I might to convince myself that a wonderful new day has dawned, it's not long before reality slaps me up the side of the head and asserts its rule over my life.
I continue to scan the help wanted ads, looking for the perfect job for a broken down, incapacitated old man. Every once in awhile, I'll apply for this or that job, thinking that the prospective employer will be sure to call. Rarely does the phone ring. Recently, I applied for a job that required 2-5 hours every other week stocking display counters at the local Meijer. I sent the company my resume, and a week or so later they contacted me for an interview. On the day of my interview, I made sure I looked my best, donning a crisply pressed shirt and dockers. Not wanting to give off the cripple vibe, I left my cane at home and uprightly walked into Meijer for the interview. I was sure that this was the perfect job for me. Just enough work to restore a bit of my self-esteem and provide added income for our household budget.
The interview went well. I generally interview well. Having hired hundreds of people in my day, I know what an interviewer is looking for. I was pleasant, made eye contact, and asked the interviewer questions about herself, the company, and the job. She seemed to be excited about the prospect of hiring someone like me. Or perhaps, I just thought she was excited. Regardless, I left the interview thinking I would soon be stocking batteries at the local Meijer. A few days later I learned the company chose someone else for the job.
Not being chosen for an inconsequential, low paying job resulted in a weeks of depression and thoughts of suicide. Try as she might, Polly couldn't rescue me and all my counselor could do was keep me holding on to the proverbial knot at the end of life's rope. In time, the dark clouds lifted and I was able to put the rejection behind me.
I can convince myself that I can still work like I did before 1997, the year I was diagnosed with Fibromyalgia. I'll convince myself that I can stand on my feet for hours at a time, even though I can rarely stand for more than an hour. Just shopping for groceries requires me leaning on a shopping cart, and by the time I leave the store my body is screaming in pain.
My body never lies, but I do. I lie to myself, and I often lie to Polly. I'll tell Polly that I want to apply for a job at this or that store and she'll give that look I've see uncounted times before. But I can do it, I tell her. I won't know until I try, right? The love of my life lets me drift on the sea of my delusion, knowing that I will sooner or later realize I can't do what the job requires me to do. She never looks down on me or chides me for trying the impossible. She knows, based on almost 40 years of loving me, that I am a proud man, a man who has a hard time embracing his life as it now is.
Sometimes, I will inflict greater pain on myself, refusing to give in to what my body demands of me. Last Friday, my sons and I attended a local high school football game. The night before I got about 4 hours of sleep, and wisdom dictated that I cancel my plans to go to the game. So much for wisdom. I went to the game and endured three hours of being battered by people walking up and down the aisle. A man in back of me, thinking he still was in high school, spent the night cheering loudly and stomping his feet. Every time he stomped his feet my body rippled with painful shock waves. By the time the last touchdown was scored, I was ready to murder the man where he stood.
After the game was over, I haltingly made my way down to the ground. This particular school decided to build its football stadium a long distance from the parking lot, and I wondered if I was going to be able to make it back to the car. With head down, teeth gritted, I walked toward the car. My sons, still in their prime, quickly, even with grandchildren in tow, outdistanced me, and soon they were yards ahead of me. They stopped, allowing me to catch up, only to find me straggling behind a few minutes later.
During the game, we had been talking about Polly's parents, her Dad's upcoming hip replacement, and their unwillingness to change their way of life. Pride was their problem, we decided. As I walked towards the car, a woman in a golf cart stopped and asked if I would like a ride to the car. Everything in my being said YES, but pride turned her offer of help away with a, no, I'm fine. Thank you. A few minutes later another woman in a golf cart stopped and again asked if I needed a ride. I gave her the same answer I gave the first good Samaritan. My oldest son, watching my obstinate denial of reality, laughed and reminded me of my own pride. I chuckled, and then continued on my way to the car.
My son,of course, was right. It's pride, the desire to rise above my illness and pain, that often brings more pain and debility. Try as I might to see my life as it is and embrace my new reality, I continue to have times when I attempt to conjure up the Bruce that existed before illness and pain took from me much of what made me a man. I look at old photographs and weep, lamenting a life that once was. And then I dry my eyes and remind myself that nothing I do can bring back that which is lost. The best I can do is embrace life as it is. I have a beautiful wife, six wonderful children, and ten awesome grandchildren. Surely, I'm blessed with that which many people would give anything for, I remind myself. I can choose to lament what's been lost or rejoice over what I still have.
Today, I rejoice. Now, where's the employment section of the paper?
[signoff]