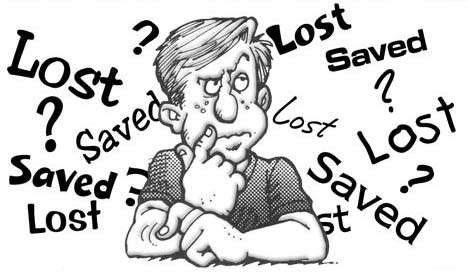 My story poses a real problem for Baptists.  According to Baptist soteriology (doctrines pertaining to salvation), once nonbelievers are saved (born again, becomes a Christian), they can never lose their salvation. This belief is called once saved always saved, eternal security, or the perseverance/preservation of the saints.
All Baptists, except Free-will Baptists, believe that once a person is saved there is nothing a Christian can do nothing to lose his or her salvation. John 10:28, 29 says:
And I (Jesus) give unto them eternal life; and they shall never perish, neither shall any man pluck them out of my hand.  My Father, which gave them me, is greater than all; and no man is able to pluck them out of my Father's hand.
This is why some Baptists believe I am still saved. No matter what I do, Jesus will never disown me. No matter how much I blaspheme God, Jesus will never leave me or forsake me. It is like getting  married without having any provision for divorce. Once married, you are married for life. No matter what the husband or wife does, be it adultery or physical abuse, their marriage cannot be dissolved. So it is for me. No matter what  I say or do, I am still saved. God might chastise me or even kill me, but there is nothing I can do to get God to let me out of my eternal life contract.
Of course, this kind of thinking is silly and some Baptists realize this, leading them to take a different approach to my life. Instead of once-saved-always-saved, they say I never was saved.  According to them, I never really put my faith and trust in Jesus Christ. While I may have outwardly given evidence that I was saved, inwardly I knew that I really wasn't. I was a faker, a pretender, a wolf in sheep's clothing. My becoming an atheist is proof to them that I never really was a Christian. In their mind, I always was an atheist.
In a post titled, The Logical Consequences of You Never were a Christian, I wrote:
People who believe a Christian can not fall from grace are forced to dismiss me as a life-long deceptive servant of Satan. For 36 years I deceived every Christian, every church member, every pastor, every evangelist, every Christian college professor I came in contact with; and most of all I deceived my entire Christian family.
No one, over a span of 36 years, ever said "I think Bruce Gerencser is not a Christian."  Think about this for a moment. Think of the deception necessary to pull this off.
I preached thousands of sermons…all preached in the power of the flesh.
I  prayed thousands of prayers, none of which was ever heard by God.
Hundreds of people who made professions of faith did so after hearing the preaching of a deceiver, a follower of Satan.
Hundreds of people who were baptized by me were immersed by a charlatan;  a man who rejected the  vows confessed during a baptism.
I counseled hundreds of people over the years. Every person I counseled received counsel from a false prophet.
Every moment spent in private prayer, every moment spent in devoted study of the Word of God, all the time spent in devotion to the living Christ was spent as a person no better than Judas.
The truth is, Baptists (along with Evangelicals who eschew the Baptist label but have a similar soteriology) are in bondage to their theology. To admit I once was a Christian means that their belief about eternal security is false. Instead of admitting that I once was a Christian, keepers of the Book of Life  scour my life looking for defects in my story. They then exploit these defects to show I really never was a Christian.
Years ago, I was co-pastor of Community Baptist Church in Elmendorf, Texas. When we moved to Texas, another family, Larry and Linda Johnson,who were members of the church I pastored in Ohio, moved with us. Every person joining Community Baptist had to give a credible testimony of faith in Jesus Christ. Larry told his salvation story to  Pat Horner, my fellow pastor.  Pat became alarmed over what Larry told him. Larry used language to describe his faith that most Baptists didn't use. He talked more about God than he did Jesus. Pat took this as evidence  Larry might not really know Jesus. I assured him this was not the case. Larry was a good man who took matters of faith seriously.
So it is with some Baptists who read this blog. Instead of accepting my story at face value, they look for things in my story that don't line up with their own experience. They then conclude I never really was saved. They go to great lengths to deconstruct my life, poking and prodding, looking for anything that will invalidate my claim of once being a Christian. And guess what? They always find what they are looking for.
When people are committed to upholding certain theological belief at all costs, they end up thinking and saying things that are silly. So it is when people say I never was saved or that I am still saved. The only way anyone can judge the validity of a person's life is by how he lives. I told parishioners countless times over the years, we give evidence of faith in Christ by how we live not by what we say we believe. This fact seems to be forgotten by my critics. Look at my life as a Christian and as a pastor.  What in my conduct and lifestyle remotely suggests I was not saved? If I wasn't a Christian then it is fair to ask if anyone is.
Part of the problem is that I am willing to talk about my failures as a Christian and as a pastor.  I am willing to admit that I sinned, that I did things considered wrong by most Baptists. These confessions are taken as proof that I never was saved. Evidently, the perfection standard applies only to Jesus and Bruce Gerencser. None of the people I pastored or the men I considered colleagues in the ministry was perfect.  Because they are still professing Christian means they are judged by a different standard than I am. They are allowed to be sinful, yet saved, but I am not.
Thousands of people read this blog. Many readers are former Evangelicals. If I asked them what was the one thing that Christians said that offended them the most they would likely say, Christians who dismiss my past life by saying I never was a Christian. Sadly, many Christians fail to see, or don't care, how offensive such a line of thinking is.
Put the shoe on the other foot. Suppose atheists began going through a Christian's life with a fine tooth comb, pointing out discrepancies or contradictions in his life story. Imagine being told, it is evident you never really were saved. I suspect they would be quite offended by such a statement.
Here's what I know…I once was saved and now I'm not.