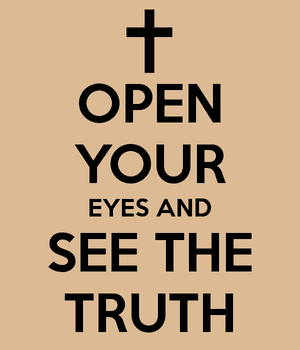 What follows is an email I received from a Christian who felt the need to show me the error of my way. My response is emboldened and indented. I get letters like this quite often. Unfortunately, many Evangelicals have a pathological need to be right. Not only do they have the need to be right, they are driven to make sure everyone else thinks and believes exactly as they do, They can't conceive in their minds of any reason why someone would believe differently. Jesus becomes the perfect man or woman every person should want to marry. When confronted with stories like mine, many Evangelicals lack the capacity to wrap their minds around the notion of someone purposely walking away from the most a-w-e-s-o-m-e God e-v-e-r. (Please read last three words out loud with a valley girl voice.)
Email begins here
I was just reading your blog and my heart was touched. The Father definitely loves you, and his children should also. I want to apologize sincerely for every person who has spoken harshly to you in the name of Christianity. Please do not mistake there  words or feelings for God's. Jesus loves us all so much that when we sin and mar ourselves with the grime of this world He consistently reaches for us and continues to ask us to take his hand so that He can rescue us. I'm sure you've heard some of this before, and if not, i would guess that this is probably the reason you have "fallen" away. Just know that it is never too late to grab His hand. He doesn't care how long it takes to win your heart, just as long as you receive and believe in Him.
So, what you are saying here is that I should ignore what Christianity is and instead embrace some form of hypothetical Christianity. Here's the deal, and Christians need to understand this….It doesn't matter to me what the Bible says, what you believe, or what you say your church believes. All that matters how you and your fellow Christ-followers live your lives.

If Jesus is all you say he is then it seems to me he would make a big difference in the life of Christians. But he doesn't. For all your preaching and Bible verse quoting, the truth remains that there is little to no difference between an atheist and a Christian. Outside of where one sits on Sunday Morning the difference is nil.

Why would I want to embrace a religion that makes no difference in my life? Look around. Christians bicker and fight amongst themselves. They argue over the most trivial of things. Christians don't agree on anything. Christians can't even agree on salvation, baptism, and communion. If you can't get those things right, why should I believe that you are right on anything else?

I would like to caution you though, because teaching people to blaspheme the Holy Spirit is a serious offense to God.
Since I don't believe your God exists or the Bible is truth, your threat carries no weight. This might work for people who are still Christian, but not with me. I gladly and willingly blaspheme your God. He knows where I am. If he wants to kill me, here I am.
Imagine if you had 3 children, and one of them gets upset with you because you wouldn't do things their way, so out of anger, frustration & disappointment that one decides to run away and tell everyone how horrible you are, or better yet, tell people that you never existed, that your other children made you up in their minds because they needed to feel secure and were not intelligent enough to take care of themselves. Now, say if you came back to that parent's home and found a way to sneak in and convince the other 2 children that the lies you have been spreading about that parent are true. If you convinced them to join you in running away, can you imagine how that parent would feel? They would be enraged because you not only put yourself in danger, but you drug their other children into the situation and now they will be out of a home, without food and security. You all would be exposed to horrid things that the parent was only trying to protect you from in the first place. He would have to punish you.
I have no idea what you are saying here. It makes NO sense. That said, I encourage people to think for themselves.
A just God cannot just tolerate sin, that is why He made a way for them to be pardoned. He sent His Son to live a sinless life, and at the end take a punishment that anyone who sinned deserved [brutal death]. Afterward He rose from death to prove that He had power over it and went before the Great Judge [God] so that if anyone believed (so wholeheartedly that they would openly confess it before anyone) that Jesus indeed was the Son of God and subjected Himself to murder that He would trade what He [rightfully] deserved [eternal life enjoyed with the Father] for what we [rightfully] deserved (brutal death). He's coming back to earth again, and this time he will be stripping the planet of every evil so that His people can live in freedom and in close relationship with Him. He can't rid the earth of evil without being extremely severe because evil does not play nice or fair. Besides that, his anger is burning because of the suffering of not only human beings, but all creation, as a result of our sin. God is righteous and so are His judgments! Holy Spirit, please open their eyes to see the truth!
A just God cannot tolerate sin? Really? Look around.  Your God is tolerating all sorts of sin. In fact, it seems God doesn't care about sin at all; even among his followers: they sin willfully and often. When's the last time there has been an Ananias and Sapphira report? Christian TV is proof that God is not serious about sin.

God's anger is burning over suffering? How do you know this? What proof do you have? In the Bible when God was angry he acted out. I don't see God anywhere today. Suffering abounds and your God does nothing.

You are parroting the Bible. You believe that it is truth. I get that, but you need to understand that I believe what I can see. When your God shows up and does some real God work then I will believe. Until then, I remain unconvinced that your God is anything more than a fiction concocted by people to explain their understanding of a pre-science, pre-modern world. Perhaps it is time to create a new God that is modern and understands science.

Whether you believe God is real or not, He is! And I will pray that you will have an encounter with him for yourself that will change your heart toward the Lord. I pray that your eyes will be opened to the truth. God is real, His love is real and a true encounter with Him is life changing. Prayerfully you will truly meet the King and willfully submit to Him without Him having to force you to. The bible does say that every knee will bow and every tongue will confess that Jesus, the Christ [Anointed One] is Lord. There is a great judgment coming to all who deny Him. I pray that you will not have to be judged in that day.
So God is real because you say he is. Awesome. End of discussion. Do you believe faeries are real? Why not? Whether you believe or not, faeries exist! I have never seen one BUT I read about them in a book so they must be real. Believe!!
I love you Bruce, although I have never met you and my hearts desire is that you will give in to the wooing of our Lord and savior Jesus the Christ. He loves you soooo much, I just wish you could see it. He won't condemn you, if you would just turn to Him and admit your need for His forgiveness. He needs you to recognize that you have wronged Him, but He'll treat you like nothing ever happened once you repent. Repent, for the Kingdom is at hand and the hour of destruction is approaching quickly.
No, you don't love me. Don't give me this syrupy, cheap Christian love. My wife, kids, grandkids, family, and friends love me. They don't have some fucked-up Jesus-love for me. They love me for who I am. You can't do that. Unless I become like you, you can never accept me for who I am. Just as your God does not love everyone, you really don't love everyone either, and you need to stop telling yourself that you do. Your email to me is filled with invective and judgments. You, a total stranger, think you have the right to speak to me like this. Such arrogance.

I wronged God and need to confess it to him? It will be a cold day in a mythical hell before that happens. The people doing the wrong are people like you. You come preaching a religion and a God I want nothing to do with. You offer me no tangible proof for God other than "you say so." You shit all over my front porch and then say to me, isn't that wonderful!

You say the hour of destruction is approaching quickly. Today? Tomorrow? Next week? Next year? When? Christians keep threatening nonbelievers with "God is coming to whip your ass," but he never shows up. Either God is a coward, he's dead, or you are misrepresenting him. Perhaps your God is like the God Baal Elijah mocked in 1 Kings 18:27:


And it came to pass at noon, that Elijah mocked them (the prophets of Baal) , and said, Cry aloud: for he is a god; either he is talking, or he is pursuing, or he is in a journey, or peradventure he sleepeth, and must be awaked.

Perhaps your God, like Baal, is busy talking, using the toilet, on vacation, or asleep.

I am sure you mean well, but I am to the place in life where I am no longer willing to ignore people like you. I have had enough. When people like you come into my house and throw around feces covered in a veneer of love, I'm going to expose you and your God for who you really are: arrogant control freaks who demand everyone be like them lest they suffer eternal damnation and torture in hell.


What a wonderful God you serve. On behalf of my fellow atheists, let me say, NO THANKS!