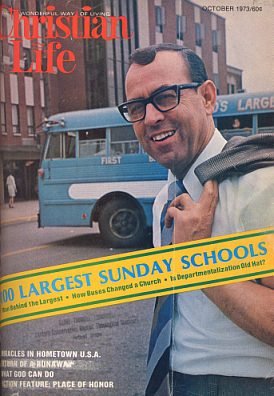 I received the following email from a woman with the moniker Jesus First in her email address:
So glad that you read every email. I agree with the "older" Florida woman who told you the truth. There was No evidence that Jack Hyles ever did anything wrong or he would have been fired too. There was No affair. How sad that you spend alot (sic) of time writing and writing and writing about the sins of others and never consider that God will judge you one day. You look sickly, are you leaving this earth soon?. Also Linda Hyles's damnable statements about her family would be thrown out of a law of court. There is no truth to her sick boring speech. She is in a cult now, that stupid fool. She ran to her father's funeral to get her "share" of money, I sure hope she didn't get any. Johnny couldn't stand her lies and divorced her 19 years ago. Apparently she couldn't get another man since she uses her ex's name.
I continue to be amazed by those who live in denial over what Jack Hyles did years ago. The evidence of his infidelity is there for all to see and either Jack Hyles was an adulterer or there was a colossal conspiracy to make him look like one. My money is on GUILTY as charged for the late Jack Hyles, the narcissistic, megalomaniac former pastor of First Baptist Church in Hammond Indiana. Hyles' son David and son-in-law Jack Schaap followed in his adulterous footsteps. While David Hyles escaped punishment for his crimes, Schaap is currently serving a 12-year prison sentence for his. Jack Hyles escaped punishment for his adulterous behavior. He was instrumental in facilitating his son's philandering by securing a new church for him to pastor after his illicit behavior with female First Baptist congregants was revealed.

As is often the case with Independent Fundamentalist Baptist (IFB) sexual predators, they escape prosecution, only to set up shop again in a new town or state. With a fresh pool of potential victims, these men continue to abuse until someone, be it a church member or an abuse victim, says ENOUGH and goes to law enforcement authorities and reports the abuse. Even then, the statute of limitation frequently precludes abusive pastors from being prosecuted for their crimes. Often, their victims turn to the internet and public sites like this blog to expose the offending pastor's criminal behavior. In doing so, they hope that this will keep the pastor from ever being able to use a church as a cover for his crimes.
I find it interesting that most of the email I get from defenders of Jack Hyles comes from women. I can't quite figure out why this is so. Maybe some of the women who read this blog can help me with this.
If this email is an example of putting JESUS FIRST, I shudder to think what would be written if someone put JESUS SECOND.
Bruce Gerencser, 66, lives in rural Northwest Ohio with his wife of 45 years. He and his wife have six grown children and thirteen grandchildren. Bruce pastored Evangelical churches for twenty-five years in Ohio, Texas, and Michigan. Bruce left the ministry in 2005, and in 2008 he left Christianity. Bruce is now a humanist and an atheist.
Connect with me on social media:
Your comments are welcome and appreciated. All first-time comments are moderated. Please read the commenting rules before commenting.
You can email Bruce via the Contact Form.