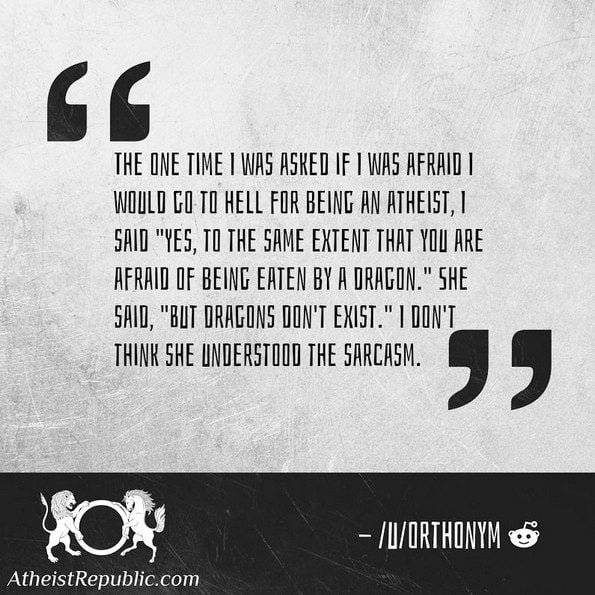 For many people, being RIGHT is crucial. Evangelicals place a premium on being RIGHT. After all, THE Bible says, Jesus is THE way, THE truth, and THE life.  Evangelicals, hanging their entire existence on a definite article, spend inordinate amounts of time making sure that their eternal destiny is settled. Life is viewed as little more than preparation for the life to come. No matter what happens, Evangelicals know that God will grant them a divine payoff the moment they die. Heaven is their goal, and reaching God's Trump Hotel requires Evangelicals to believe the right doctrines.  Right beliefs lead to heaven, wrong beliefs lead to hell.
No Bruce, Evangelicals say, we believe that salvation, the forgiveness of sins, and eternal life are gained through the merit and atoning work of Jesus Christ on the cross of Calvary. It is through JESUS, not right beliefs that sinners are saved.  While Evangelicals love to preach up salvation by grace, underneath all their talk about the freeness of salvation lies a rigid set of beliefs.
Evangelicals love to quote John 3:16:
 For God so loved the world, that he gave his only begotten Son, that whosoever believeth in him should not perish, but have everlasting life.
However, what Evangelicals really mean when they quote this verse is this:
 For God so loved the world, that he gave sinners the right beliefs, that whosoever believeth the right doctrines should not perish, but have everlasting life.
Ask former Evangelicals if being right was of any importance to them and the churches they attended. Ask them if significant time was spent making sure church members believed the right doctrines. If their experiences were anything like mine, they will say that there were certain doctrines which were considered essential to Christianity— inspiration of the Bible, the deity of Christ the virgin birth, the substitutionary atonement of Christ, bodily resurrection of Christ, salvation through Jesus alone, heaven, hell, physical return of Jesus to earth, to name a few. Believe, and thou shalt be saved. Don't believe, and thou shalt be considered heterodox, heretical, or unsaved.
Recently, an Evangelical sent me an email that contained one sentence: Bruce, what if you are wrong — again?  The author assumes that atheism is my destination, that I have intellectually arrived and no further inquiry is required. Nothing could be farther from the truth. When I walked out of the doors of church seven years ago, I left behind being right on the church's altar. From that day forward, my life has been one of seeking and exploration. My goal is not to be right as much as it is to drink deeply at the well of human existence.
Now, this does not mean that I don't value truth. I do, but my search for it is no longer has as its goal some sort of metaphysical payoff. As an Evangelical, I diligently read and studied the Bible. The Apostle Paul spoke of KNOWING whom I have believed, and that is exactly what I wanted to do. I wanted to intimately know the King of Kings and Lord of Lords — Jesus Christ. I spent thousands of hours immersed in the Bible and prayer. Seek and ye shall find, knock and it shall be opened to you, the Bible said, and I wanted to be a spiritual seeker and door knocker. These days, I still do a fair bit of reading and study — as my health allows — but I no longer feel pressed to make sure I am right. I want to be right, but I know that — unlike the Bible — the pool of wisdom, knowledge, and understanding is so great that I will likely leave most of it untouched by the time I die.
I spent 50 years in the Christian church. While I am sure there are things that I do not know about this or that branch of Christianity, when it comes to Evangelicalism I have exhausted the subject matter. It has been years since Evangelicals have used original arguments in their attempts to woo me back into the fold. Most public Evangelicals-turned-atheists will say the same. Instead, Evangelicals trot out well-worn, easily refuted arguments, thinking that they have won the day. Sorry Evangelicals, until you come up with something new, I am content to ignore you and move on to new and exciting ideas.
While I have shut the book on Evangelicalism and Christianity, this doesn't mean that I have all the answers. While I am certain that the Gods created by humans are no Gods at all, there could come a day when I am presented with new data concerning the existence of a God or Gods. Who knows, right? I doubt it, but I it certainly is "possible" that our alien overlords could make themselves known some day and I will have to admit that I was wrong — again. Until then, I plan to keep walking on the path of reason, science, and skepticism. And if I find out I am wrong? I will likely write a blog post detailing the data that turned my beliefs on their head.
How about you, Evangelicals? Are you willing to openly engage the vast bookstore of literature that challenges the truthfulness and veracity of Christianity? Are you willing to follow the path wherever it leads? Are you willing to call into question those beliefs you hold dear? Are you willing, if the path leads to such a conclusion, to abandon Christianity? Are you really a seeker of truth, or are you just looking for data that reinforces your beliefs? Are you willing to lose your salvation for the sake of intellectual honesty? Or does the comfort that comes from certainty trump intellectual pursuit?
If you answer NO to these questions, I understand. That said, don't tell me that you are a seeker of truth. A truth-seeker is one who is willing to follow the path wherever it leads. You are not willing to do this. Until you are willing consider the possibility of being wrong, you will remain safely lodged in the Evangelical castle of certainty. Millions will join you in its safe confines, but I hope, some day, that you will venture outside of the castle's secure walls, and enter the wild, woolly, and wonderful world of reason.
[signoff]