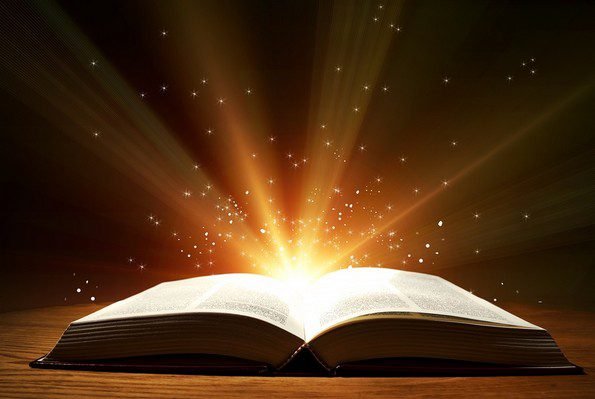 Evangelicals believe that the Bible is the inspired, inerrant, infallible Word of God. It is, in every way, a supernatural book written by a supernatural God. Its pages purportedly contain words that have magic power. While Evangelicals deny that the Bible is in any way a magical book, their recommendation of it belies their denial.
Evangelicalism is a text-based religion. The 66 books of the Protestant Bible are the foundation of every Evangelical belief. Remove the Bible, and Evangelicalism crumbles and falls to the ground. This is why scholars such as Bart Ehrman are so deadly to evangelical faith. What happens when Evangelicals learn that the Bible is not what their Christian forefathers, parents, teachers, and pastors claim it is? What happens when Evangelicals learn that the Bible is not inspired, nor is it inerrant nor infallible? What happens when Evangelicals learn that the Bible has internal contradictions and is riddled with mistakes and errors? What happens when Evangelicals learn that virtually all of their cherished beliefs are subject to debate and question? What happens when Evangelicals learn that the history found in the Bible is suspect and the creation story is a lie? What happens when Evangelicals, troubled by doubts and fearful of losing their faith, ask pastors, church leaders, and Christian friends for help?
Doubting Evangelicals naturally turn to people of faith to help them with their fears and doubts. Who better to help allay their troubles than those who have walked the Christian path before them. Surely they have struggled, having questions and doubts about the veracity of the Bible and its teachings, the doubters think. So they naïvely seek out the counsel of those they have entrusted with their spiritual welfare. Sadly, they quickly learn that questions and doubts are not welcome, and that toeing the theological line is more important than finding honest answers to sincere questions. These doubters immediately find out that fidelity to orthodoxy and resolute commitment to what is perceived to be the faith once delivered to the saints is all that matters. For all their talk about having freedom in Jesus, Evangelical pastors and church leaders demand cult-like sameness from those who are church members. People who refuse to blindly submit are most often marginalized or excommunicated. These supposed men of God, fearing that doubts and questions could wreak havoc to their churches, do all they can to make sure that dissidents have no opportunity to spread their "lies" among congregants.
A pastor friend of mine, who shall remain nameless, is going through a crisis of faith. Several years ago, he and I briefly crossed swords over the Bible and its teachings. Our discussions ended with us each going in separate directions. Several months ago, out of the blue, he contacted me about the struggle he was having with certain Evangelical theological beliefs. While some atheists might see this as an opportunity to make a convert for godlessness, I am more concerned with helping my friend continue his journey, wherever it might lead. My goal has never been to make converts. Having been exactly where my friend now is, I have first-hand knowledge of the gut-wrenching struggle he is going through. To be confronted with the notion that everything you once believed might be a lie can, and does, cause great emotional and mental distress.
My friend has shared with me some of the discussions he has had with pastors and fellow Christians. I am astounded by how often he has been told to set reason and intellect aside and just have faith. Just believe Brother Horatio — not his real name — and all will be well! But try as he might, Horatio has found it impossible to turn off his brain and just faith-it.
Recently, one man asked him if he would be willing to commit to just reading the Bible for the next 90 days. No other books, no blogs, no discussions with outside sources, just read the Bible. The thinking behind this request is that the Bible has some sort of magical power, and that if my friend will just immerse himself in its pages his doubts, fears, and questions will dissipate and he will find himself once again following after Jesus.
I walked away from Christianity in November 2008. In the initial months after my deconversion, I was inundated with emails from pastor friends and former parishioners pleading with me not to give into this temptation from Satan. Recognizing that secular books were a big part of my deconversion, my pastor friends and former parishioners asked me to stop reading these books and to commit myself to only reading the Bible. They were certain that if I just stopped reading Bart Ehrman and other non-Christian authors and start reading the book-above-all-books — the Bible — that I would soon see that Satan was using these other writers to lead me astray. Little did they know that it was the Bible itself that played a big part in my deconversion. Taking a fresh look at beliefs that I had held for five decades forced me to conclude that the Bible was not what Evangelicals say it is. While I certainly think that the Bible has some moral and ethical value, it is now very clear to me that it is in no way an inspired, inerrant, infallible book written by the Christian God.
Evangelical zealots need to understand that telling people who have spent their lifetime studying and reading the Bible to just "read the Bible" is patently offensive. Having preached through most of the books of the Bible, I think it is safe for me to say that I have a thorough understanding of the Biblical text. Unlike most Evangelicals, who never seem to have the time to read God's love letter to humanity, I devoted myself to reading every book, every chapter, and every word of the Bible. I did this numerous times over the course of my 50 years in the Christian church — especially as a pastor. I am not ignorant of the Bible's teachings and neither is my pastor friend. The Bible is the problem, not the solution.
Suggesting that the Bible is some sort of magic book is ludicrous. It would be quite easy for me to prove the falsity of such claim. All I would have to do is devote myself to reading the Bible every day for 90 days, or whatever faith-renewing time frame is appropriate. And when no change takes place, where will Evangelicals place the blame? On God and his magic book? Of course not. The blame will rest on me. God is above and beyond culpability. If the magic words found in the Bible fail to restore me to faith it is because of some defect in me, not in God and his supernatural book.
Over the years, numerous Evangelicals have written to tell me that I just needed to — in faith — ask God to reveal himself to me. If I would do this, they were certain that Jehovah would, in no uncertain terms, make himself known. Humoring such people, I often pray their suggested prayers. Despite praying, the heavens remain silent. God is to blame, right? Maybe I am not one of the elect or perhaps I have committed the unpardonable sin. Whatever the reason might be, the blame never rests with God. It is always my fault. I did not have enough faith when I prayed, because if I had had enough faith then God would have revealed himself to me. That he did not shows that the fault lies with me, not God.
While I certainly think that most of the people asking me to read the Bible or to pray the prayer of faith sincerely want to be a help to me, they should understand that I cannot be swayed by metaphysical claims requiring faith. Either one believes or one doesn't. It is not that I do not want to believe as much as it is I cannot believe. I do not have the requisite faith necessary to set aside reason and rational thought and believe ancient religious stories written thousands of years ago. Since it is unlikely that any new evidentiary argument for the existence of the Christian God and the veracity of the Bible is forthcoming, I hope that Evangelicals will understand when I reject requests to read their magic book or incant magical prayers. I am no longer willing to accept such childish requests that require me to shut off my mind and just believe.