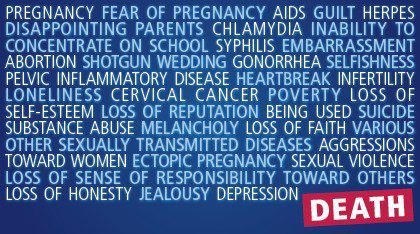 According to a June 2016 Barna Group study, two-thirds of Americans believe it is okay for couples to live together without the benefit of marriage. The study found:
The majority of American adults believe cohabitation is generally a good idea. Two thirds of adults (65%) either strongly or somewhat agree that it's a good idea to live with one's significant other before getting married, compared to one-third (35%) who either strongly or somewhat disagree.
It comes as no surprise that Millennials — mirroring the sexual revolution of their Boomer parents — are twice as likely to approve of cohabitation than their grandparents and great-grandparents: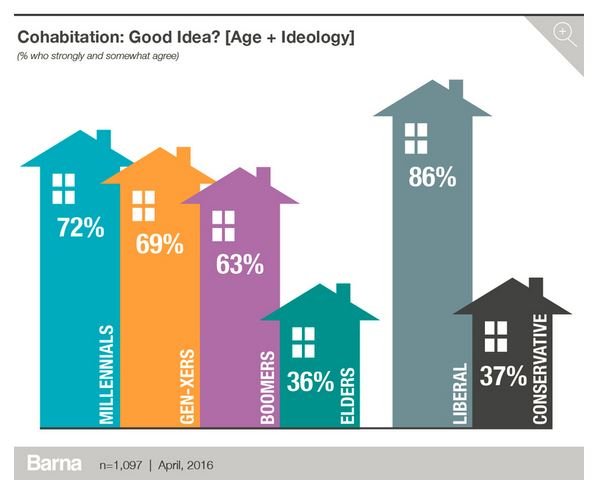 It should also come as no surprise that religion is the primary reason people disapprove of cohabitation. Barna reports:
41 percent of Christians think cohabitation is a bad idea.
88 percent of non-religious people believe cohabitation is a good idea.
According to Barna, 57 percent of Americans have either currently or previously lived with a boyfriend/girlfriend. Again, those who are religious are less likely to shack up, but even here, a large number of Christians choose to "try the car before buying it."
Barna concludes:
"America is well beyond the tipping point when it comes to cohabitation," says Roxanne Stone, editor in chief at Barna Group. "Living together before marriage is no longer an exception, but instead has become an accepted and expected milestone of adulthood. Even a growing number of parents—nearly half of Gen-Xers and Boomers, and more than half of Millennials—want and expect their children to live with a significant other before getting married.

"The institution of marriage has undergone significant shifts in the last century," continues Stone. "What was once seen as primarily an economic and procreational partnership, has become an exercise in finding your soulmate. Where once extended families lived within a handful of miles from each other, now the nuclear family often strikes out on its own. Such shifts placed a new emphasis on marriages as the core of family life and revealed fault lines in many marriages. These pressures, along with a number of other social phenomena—including women's growing economic independence—led to unprecedented divorce rates in the second half of the twentieth century. As a result, many of today's young people who are currently contemplating marriage, see it as a risky endeavor. They want to make sure they get it right and to avoid the heartbreak they witnessed in the lives of their parents or their friends' parents. Living together has become a de facto way of testing the relationship before making a final commitment.

….

"However, religious leaders will be wise to notice that a growing number of their constituents—particularly in younger demographics—are accepting cohabitation as the norm," concludes Stone. "As with premarital sex, the arguments against cohabitation will seem increasingly antiquated as the general culture accepts and promotes it. When everyone in their circles and everyone on television is living together, young people will begin to see it as benign. Religious leaders will need to promote the countercultural trend by celebrating the reasons to wait—rather than trying to find evidence for why it's wrong (because such tangible, measurable evidence may not exist).
I suspect that most readers of this blog are not surprised by Barna's findings. Boomers, Gen-exers, and Millennials alike have endured three generations of religious and political moralizing, all the while watching those screaming against "sin" do the very things they so strenuously oppose. Their message of do as we say not as we do now falls on deaf ears. Perhaps it is time for 2016 rewrite of God's "timeless" moral code, one that reflects that women now have the freedom to use birth control and lustily fuck whomever, wherever, and however. Women are no longer subservient to the sexual whims of men. Sexual slavery, once the gospel of American Christianity, no longer plays well in Peoria. And this, dear readers, is the real problem, at least in the minds of conservative, Evangelical, and Fundamentalist clergy and political leaders. Women no longer need men or marriage to find fulfillment, and this scares the hell out of preachers and conservative politicians. As Barna admits, we are now well past the tipping point when it comes to cohabitation. Time will tell if Christian moralizers will finally admit this fact and choose to focus on matters of faith instead of what goes on behind closed bedroom doors.